Corey Crawford is probably the most polarizing player on the Chicago Blackhawks. Not in regard to off-ice issues or a dichotomy of personal appeal, but in terms of his value to the team. Plenty has been made of his struggles in the first round of the 2014-15 playoffs and his apparent inconsistency. There have been rebuttals that tout impressive statistics and evidence of Vezina level performances.
While neither side is inherently incorrect, it all must be viewed through the lens of the team as a whole. Going into the 2016-17 season, the front office has pushed the "youth movement" message, and there looks to be some merit to that. While Richard Panik may have bright moments and could improve given the chance, assuming that a player the Toronto Maple Leafs sent down to the AHL is going to be a permanent first line winger is not a recipe for long-term success. That leaves the front office with the task of acquiring a top six left winger. Does it make sense to use Crawford's cap hit to make room for that player?
Blackhawks Cap Conundrum
The Chicago Blackhawks have been praised for their cap management, and rightly so. They've faced hard realities in 2010, 2013, and 2015 having seen many players move on to have impactful roles on other teams. The topic has been discussed ad nauseam, but it remains Stan Bowman's reality.
At the time of re-signing Crawford, in September 2013, a six-year deal with an AAV of $6.0 million was relatively good value. Crawford was entering the prime of his career. The Blackhawks had just won their second Stanley Cup in four years and now had their star goalie locked in long-term. Three years and two $10.5 million contracts later, the Blackhawks' cap situation is dramatically different.
Crawford is the fourth-highest paid player on the team behind Jonathan Toews, Patrick Kane, and Brent Seabrook, but a slew of free agents need new contracts after this season, notably Artemi Panarin. One of those "other" pending free agents forgotten in most discussions is Scott Darling, who will become an unrestricted free agent in less than one year.
Crawford has been fodder for trade rumors since the new contract was announced, with some using it as evidence that the Blackhawks can't afford to keep him. The Blackhawks have plenty of cap options, and Stan Bowman has repeatedly shown he has the gumption to pull off trades with big names. But should Crawford be one of those names to be shipped out?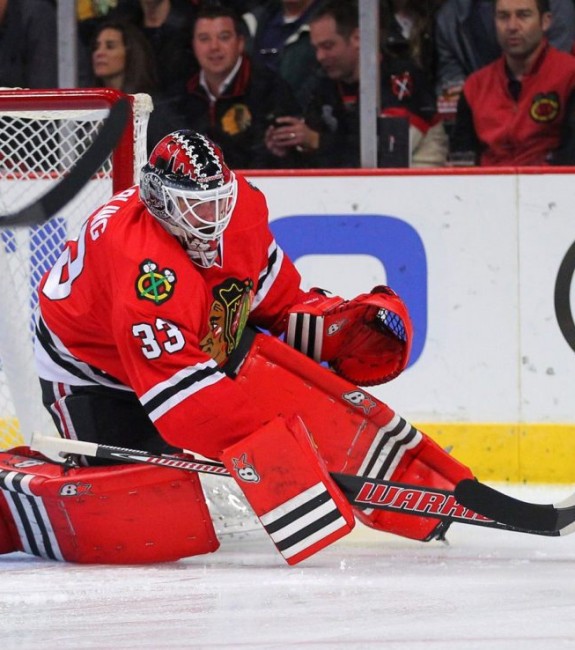 Chicago's Darling
What would the situation in net look like without Crawford? Darling would slot in as the de facto starter unless another top goalie was coming back in the presumed trade. For the purpose of this analysis, we'll assume it's a pure cap dump trade for prospects and picks since other analysis would mean we'll have to narrow down teams (more on that later).
Is Darling that much of a downgrade? From 2014 to 2016, Darling has a high-danger save percentage of 83.01% over 49 total games per Corsica Hockey. With 144 games played during the same time, Crawford has more experience, but a lower high-danger save percentage at 82.87%. Darling also has a better medium-danger save percentage over the same time with a 94.79% compared to Crawford's 93.53%.
When we look at low-danger situations, Crawford appears the wiser choice with a 98.24% to Darlings' 97.10%. By no means are these stats the only factor in determining the superior goalie, and it must be acknowledged that Darling has a smaller amount of games to review. But it might stand to reason that more consistent starts would give Darling the confidence and the ability to keep more of those low-danger shots out of the net.

Goalie Comparables
Out of all goalies who have played over 1500 minutes since the beginning of the 2014-15, Crawford and Darling are almost directly next to each other in the high-danger save percentage rankings. They both have higher percentages than Henrik Lundqvist, Jake Allen, and Martin Jones. Darling is also third in medium-danger save percentage, only trailing Louis Domingue and Antii Raanta. When we get to low danger situations, the alarm bells start ringing again.
Darling is third to last, only beating out Corey Schnieder and Semyon Varlamov. Even if we look at only one number, the Fenwick save percentage, which is the percentage of unblocked shots that are saved, Darling is still beaten out by Crawford, but above peers such as Marc-Andre Fleury and Ben Bishop.
I don't think there is overwhelming evidence to the argument that Darling would be a massive drop-off. But where there is smoke, there's fire, and Darling hasn't shown the consistency you may be expecting for a team in a championship-caliber "win now" phase. On the other hand, Crawford's perceived inconsistency has been a source of concern for some fans. There could be some merit there, or it could be that fans have come to expect a bit too much out of a historic franchise that won three Cups in six years.
The Blackhawk's Frenemies
Success comes with a price, and if part of that price is trading away Crawford, they'll have to find a dance partner. Plenty of teams would welcome the addition of Crawford, but not every team needs him, nor wants to help the Blackhawks out in any way.
The Pittsburgh Penguins have their own problem of balancing the young star in Matt Murray with the proven skill of Marc-Andre Fleury. The Tampa Bay Lightning have Ben Bishop and Andrei Vasilevskiy, the Philadelphia Flyers roll out Michal Neuvirth and Steve Mason, the Detroit Red Wings have Jimmy Howard and Petr Mrazek, and the Dallas Stars have the high paid duo of Kari Lehtonen and Antti Niemi. Most teams, regardless of media statements to the contrary, would like to have one go-to guy.
---
Complete Blackhawks Coverage From THW
---
Allen has taken over the net with Brian Elliott being shipped out. If the Blackhawks are looking to trade Crawford now, the market for goalies might be a bit diluted. Teams have plenty of options to ask about, and Crawford's cap hit might scare some away. That leaves your typical cap-dump partners of teams like the Arizona Coyotes or the CarolinaHurricanes. Unfortunately, Arizona is shockingly low on cap space after their stint of acquiring overpaid players in return for youth. Carolina helped take on the Bryan Bickell contract, RIP Teuvo, but they have their own goalie tandem situation to figure out. When you get down to finding somewhere to send Crawford, there is no perfect fit.
Bowman could be the GM who makes some dominoes fall by getting out in front of the apparent goalie surplus, but that doesn't seem to be his style. Crawford may stay in Chicago until there's a clearer picture, especially since has a no-movement clause and will need to be protected in the upcoming expansion draft, so Bowman's hand will eventually be forced.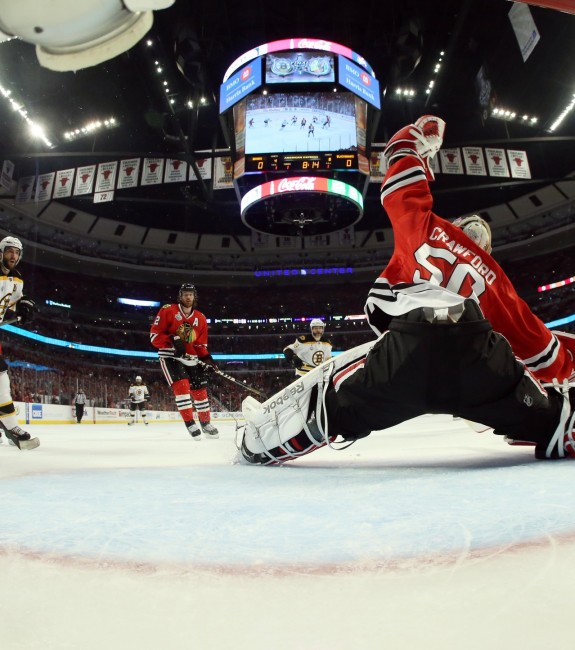 Maybe Darling gets a larger opportunity to claim the net by sharing more of the crease, especially as long playoff runs start to take their toll on Crawford. By the time we start the next season, there will be some large changes in The Windy City, but other areas may make more sense to change than inside the crease.