Forward Denis Malgin is having a decent rookie campaign, even if he was recently sent down from the Florida Panthers to the Springfield Thunderbirds of the AHL. In this translated interview, Panthers player Denis Malgin discusses what he has in common with Leonardo Di Caprio, talks about the Switzerland National Team, and reviews his demotion to Springfield.
* You can enjoy the original Russian language interview by Dmitri Groshev here *
Early Days
– Denis, do you know what's in common between you and actor Leonardo Di Caprio?
– I don't know what you're talking about. Is there anything we have in common?
– The city of Perm, in Russia. It is rumored that his grandmother is from there.
– I didn't know, interesting. My grandparents still live in Perm, and I try to visit them every year. It's where my family comes from!
– But you were born in Switzerland.
– Yes, in Olten. My father was playing there, and he did until he retired. Then we moved to Bienne, where I started playing. I started my professional career in Zurich, playing for ZSC and their farm team in the second league. I was drafted [in the NHL] from there. Playing in Switzerland did a lot for me, I played against grown men and learned how to play more physically. I think that it helped me in adapting faster to the NHL.
– Is it true that you played soccer too?
– Yes, it is. I was playing as a forward when I was a little kid, and I enjoyed that. I still play from time to time, and I think I am a rather good player. But in the end I chose to play hockey, I don't even know why, but I'm glad I made that choice.
– You played once in Russia, right?
– When I was in Perm I was offered to play in an amateur tournament. The team was called "Viking", but I think that the team is not active anymore, for some reason it folded. There I met Evgeny Mityakin, who now plays in the KHL in Ekaterinburg.
Switzerland vs. Russia
– Do you feel more Russian or Swiss?
– Uff, hard to say, frankly. Within my family, we talk in Russian only. I know German language very well, and now I'm improving my English too. But I still think in Russian. Earlier on I had double citizenship, but now I don't hold a Russian passport anymore, I'm a Swiss citizen.
– Your father Albert Malgin once said that you had a chance to play for the Russian national team. Why did you refuse?
– Yes, I had a chance, and I was also willing to play for Russia. But there were some circumstances that I didn't know at first. A few years ago there were some talks: I have been approached by Team Russia, who asked me if I wanted to play for the national team and show what I'm worth. But then I got to know, if I understood correctly, that I had to play at least three years in Russia to have the right to play for the national team. I didn't have this chance, so there were no more talks about it. And then I started playing for the Swiss junior national team.
– No regrets about it?
– I have no regrets for not moving to Russia. Things went on pretty well in Switzerland. I had to make a decision and now I'm not going to think about it anymore. I'm planning to play for Team Switzerland in the future. Soon there will be the World Championship and I hope to get called. I'm ready for that, and I think that if it won't be this year, then it will be the next one. All is up to our coaches, up to what they think and the way they see my game.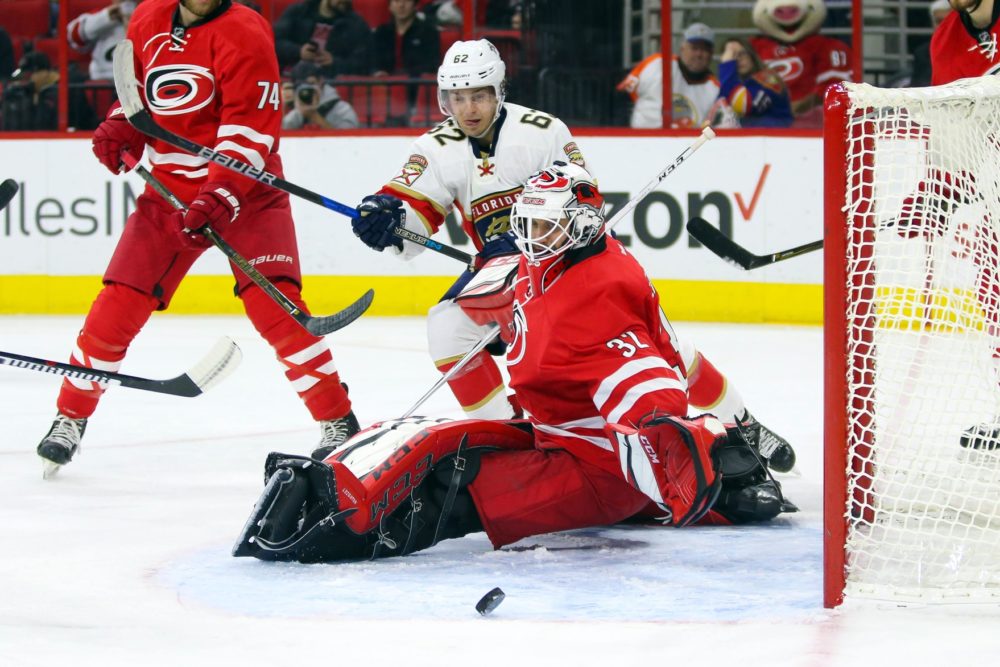 – Did a more European mentality help you adapt to America?
– Hard to say, it was hard at the start. New people, a new city. I didn't talk English that well at first. But in Switzerland, I lived alone for a lot of the time so I'm used to it. Moreover, playing in the NHL was my dream. I managed to have a good showing at the training camp and get a spot in the [Panthers] lineup. And now I'm playing for a good team in the world's top league. This repays me for everything.
– You talk three languages. Do you talk Russian in Florida sometimes?
– Yes, sometimes. [Jaromir] Jagr talks a good Russian. There is also [Aleksander] Barkov. [Barkov and I] became good friends, we talk a lot and he helps me a lot.
– Will Jagr play until he's 50?
– If you could only see the way he practices! Not even the younger players can keep up with him. This is why he is the best. Off the ice, he's a very good-hearted man, always ready to help. I'm always watching him to learn from the way he does things. He's a true leader, although he doesn't really speak a lot in the locker room.
– During the season your team changed head coach. What changed for you after the arrival of Tom Rowe?
– I started playing less, but this was a coach's decision. It depends on how he sees the situation and I can't discuss it. I played almost 40 games [in the NHL] and I think that I can play more. I think that it was a success to play such a number of games in my rookie season.
Between the NHL and the AHL
– As a birthday gift for your 20 years, the Panthers sent you to the AHL.
#FlaPanthers Denis Malgin gets his first career AHL goal for @thunderbirdsahl on a perfect cross-ice feed from Jayce Hawryluk: pic.twitter.com/VvuJdPKyvX

— Panthers Prospects (@fla_prospects) January 22, 2017
– Well, I doubt it was intentional. I could have been sent to the junior leagues if the coach decided. I played some games in the AHL, and I'm getting used to it. I'm trying to find my best way and consequentially get called back [to the NHL]. The game is different in the AHL, there is more physical play and for technique-sound players playing is a bit harder. I need to play as best as possible to get back [to the NHL].
– During a game against the New Jersey Devils in January you were hit very hard by Czech forward Pavel Zacha. It looked scary.
– All is good with me. I wasn't KO'ed. A normal episode, I watched it later. Zacha hit me very hard, he's a very big guy.
– You are now playing in Florida. Is it much different from Perm?
– In Perm I first noticed the bad roads and many stray dogs. It's not like that in Switzerland. Although I love visiting Russia. It's not exotic for me, I visit my relatives and enjoy some relaxing time. And yes, in Florida it's beautiful. And sunny. I'm glad to play here.
– What can we expect from the Panthers this season?
– Hard to say. We need to play hard if we still have playoff chances. I think we can do it because we have a good team. We don't have a huge gap from the playoffs zone and anything can happen.