It's funny what a difference a few months makes in the National Hockey League. After being bought out by the Boston Bruins — a team he once helped win a Stanley Cup — Dennis Seidenberg was playing for Team Europe in the World Cup of Hockey, without an NHL contract. Now, five months later, Seidenberg is playing some of the best hockey of his career. However, at 35 and unrestricted free agency looming, Seidenberg's future with the New York Islanders may be in jeopardy.
A Pleasant Surprise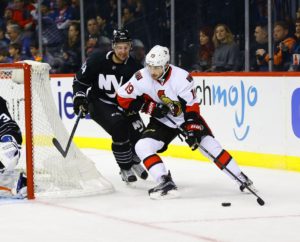 With the departure of former Islanders head coach Jack Capuano earlier this week and a plethora of youth on defense in Bridgeport, the Isles are bound to have more changes. A +19 this season with 13 points in 36 games, Seidenberg is on his way to his best offensive season since 2011, when he was one-half of the Bruins Stanley Cup-winning shutdown defensive pairing with Zeno Chara.
Being paired with Calvin de Haan most of this season hasn't netted the same results for the Islanders, but that doesn't mean it's Seidenberg's fault.  Six points out of a playoff spot and in last place in the Metropolitan Division, the crafty veteran has been one of the few bright spots on the team. At the same time, Seidenberg's calming influence has also worked wonders on the sometimes erratic youngster in de Haan.
That has everything to do with Seidenberg's understanding of his duties. Brought in to be a mentor to de Haan, as well as other young defensemen the likes of Travis Hamonic, Nick Leddy and Thomas Hickey, Seidenberg's is quietly having a marvelous season. Well before he joined the Islanders while fighting to stay in the NHL during the World Cup of Hockey, Seidenberg was never in denial of what his abilities on the ice were.
"I just have to focus on playing my game," Seidenberg told The Boston Globe in September. "There's no magic to it. It's playing a simple style of hockey. That's basically it. I don't have to try and do something I can't do. That's going to go the other way if you do that."
Is Seidenberg a Part of Islanders Future?
Signed soon after by the Islanders, many fans weren't happy at the thought of Ryan Pulock, who appeared NHL-ready last season, starting in Bridgeport over the aging Seidenberg. But after an injury to Pulock and Seidenberg's steady play, he quickly became a fan-favorite and a dependable cog on the Islanders' blue line.
Much like former Islanders captain Kenny Jonsson, Seidenberg's play is quiet but comfortable. He's someone you never have to worry about making a mistake and can play in any game situation. But does that mean he could finish his career in Brooklyn?
Trade Deadline and Beyond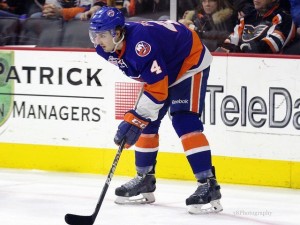 Seidenberg will be a valued commodity come trade deadline. For teams looking to make a push in the playoffs, the addition of Seidenberg could be huge. With players the likes of Pulock, Scott Mayfield, Adam Pelech and Devon Toews all in the wings,  the Isles will have to make accommodations eventually. With Johnny Boychuk and Nick Leddy all locked up in long-term contracts, Seidenberg could be the odd-man out.
Signed to a one-year deal worth $1 million this season, Seidenberg has proven he can still play. He will receive offers from other teams this offseason. Will the Islanders be one of them? With so much depth at the AHL-level, do the Islanders trade Seidenberg while his stock is at its highest? Do they risk getting nothing for him after the season when he's free to leave? Much like the Islanders coaching situation this offseason, where Seidenberg ends up could be equally as interesting.