One of the greatest things about junior hockey is the flashes of brilliance we see on a daily basis. The unrealistic expectations we usually put on the shoulders of junior hockey players is often what makes developmental leagues so great. They're unpredictable. Teenagers are relied on to play big minutes, score big goals and lead their teams to victory.
We aren't talking about the New Jersey Devils of the mid-1990s here — you just couldn't score on them. We aren't referring to the Edmonton Oilers in the early 80s — no one could stop them from scoring. In junior hockey, great offence doesn't guarantee a lot of goals, and stellar defence doesn't translate to giving up less of them. With players this young, mistakes are made, upsets are aplenty and anything can happen.
In that spirit, and with the OHL trade deadline behind us, I've compiled my post-deadline power rankings. The playoffs are only a few short months away, and it's sure to be another great post-season. So, where do the top ten teams rank?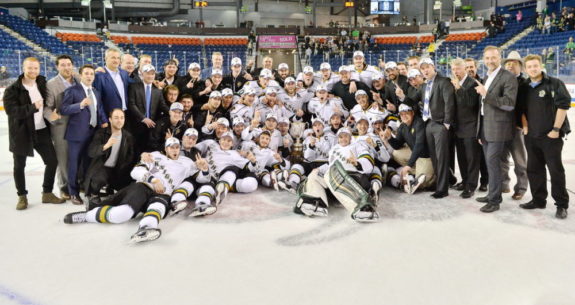 10. Hamilton Bulldogs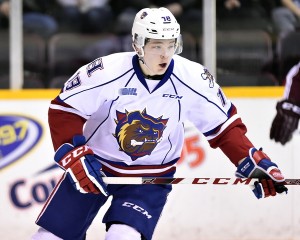 After a disappointing season in their move from Belleville in 2015-16, the Hamilton Bulldogs have turned it around this year. As finalists to host the Memorial Cup next May, the Bulldogs were sellers at the deadline; they dealt Adam Laishram, Trent Fox and Stephen Templeton.
The 'Dogs rely on first-rounder Matthew Strome, who leads the Bulldogs with 38 points in 42 games. He should be a first-round selection in the 2017 Draft. Right wingers Mackenzie Entwistle and Marian Studenic joined Strome on the NHL's North American mid-term draft rankings. Will Bitten, (MTL '16), Cole Candella (VAN '16) and Matt Luff (LA '15) are having solid years, while goaltender Kaden Fulcher is the third ranked OHL backstop on the mid-term draft list. They likely won't compete for the Memorial Cup this year but could cause trouble for Mississauga or Oshawa come playoff time.
9. Oshawa Generals
Memorial Cup winners in 2014-15, the jury is out on whether the Generals can compete this year. They're first place in a weak Eastern Conference and could win a few rounds based solely on the fact they won't see Erie, London, Sault Ste. Marie or Windsor for a while. Probably realising a Memorial Cup isn't realistic this time around, the Generals unloaded at the deadline, dealing Anthony Cirelli (ER), Mitch Vande Sompel (LDN) and Stephen Templeton (HAM).
They boast a strong defensive core led by Riley Stillman (FLA '14), but the issue will be putting pucks in the net moving forward. Their 130 GA is second best in the East, but they score less than teams much lower in the standings. I wouldn't be surprised to see Oshawa win a few rounds, but it's clear that, like the Hamilton Bulldogs, they'll feel a lot more confident next season.
8. Kitchener Rangers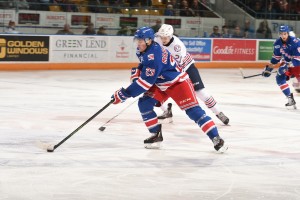 At one point one of the top teams in the West, the Kitchener Rangers have struggled mightily in the last few months. Falling to sixth place in the conference, they dealt arguably their best player in Jeremy Bracco to Windsor, while also trading away depth forwards Mason Kohn and Jacob Cascagnette. They boast the league's top scorer in Adam Mascherin (FLA '16), but that's only because of the absence of Taylor Raddysh at the World Juniors. Connor Bunnaman (PHI '16) is a big centre, and Connor Hall (PIT '16) is a great puck moving defenseman. Still, I can't see them beating any of the top four teams in the West in a seven-game series.
7. Sarnia Sting
If there's one thing Sarnia has going for them, it's speed. In a shootout win at London last week, the Sting were dominant offensively for large stretches of the game, causing huge problems for an excellent defensive core. Anthony Salinitri (PHI '16) and Jordan Kyrou (54 points in 42 games) can straight up fly, while mid-term draft rankings have Adam Ruzicka in the top 30 — he shows skill and poise well beyond his years. The size of their defensive core can cause huge problems for opposing teams, and they have solid goaltending in Aidan Hughes and Justin Fazio. Their main issue is the conference they play in, but I'd be much less surprised to see them than Kitchener upset a top team in the post-season.
6. Mississauga Steelheads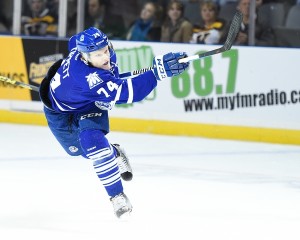 In 2015-16, the Niagara Ice Dogs were a criminally underrated hockey team. They upset the powerhouse Barrie Colts and Kingston Frontenacs before losing to eventual Memorial Cup Champions London in the finals. Mississauga is this year's Ice Dogs. Don't let their nearly .500 record fool you; this team is good. Owen Tippett is the fourth-ranked player on the North American mid-term draft rankings. His 58 points are good enough for fifth in league scoring.
New Jersey Devils draft picks Nathan Bastian and Michael McLeod are scoring at a point per game rate. Draft eligible offensive-defenseman Nicolas Hague anchors a back end that already boasts three NHL picks. Add overager Spencer Watson (LA '14), who has scored 13 goals in 16 games since coming back from injury, and this is a well-rounded squad. If they get good goaltending, this is my pick t0 come out of the East.
5. Windsor Spitfires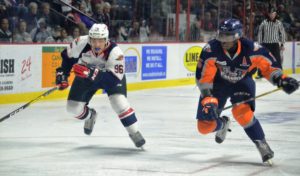 With home-field advantage locking them a berth in the 2017 Memorial Cup, the Windsor Spitfires are win or bust come playoff time — and they are elite at all ends of the rink. On the front end, the addition of gold medalist Jeremy Bracco (TOR '15) at the deadline will be a huge addition, while Gabriel Villardi is a predicted top ten pick in the 2017 Draft. They have a core of players who can both score and bring toughness to the team, headlined by Jeremiah Addison and Cristiano Digiacinto — this will be huge in the aggressive nature of the playoffs.
First-rounders Mikhail Sergachev (MTL '16) and Logan Brown (WPG '16) round out arguably the best defensive core in the league. Meanwhile, goaltender Michael DiPietro leads the OHL in save percentage. They're hard to score on, and with new additions Bracco and Julius Nattinen (ANA '15) up front, they should have no trouble scoring goals. They haven't been playing their best hockey lately, but if they can turn it around, this is a tough team to beat.
4. Owen Sound Attack
At the beginning of the season, I did not expect Owen Sound to be as dominant as they are today. The Attack has not lost a game since Dec. 5 — that's 13 wins in a row. During that streak, they've beaten both Sault. Ste. Marie and Windsor handily. They're physical, fast and young with 17 players born in 1998 or later. Their prospect pool is the deepest in the league and boasts three of the top 15 scorers in the OHL. That includes 17-year old Nick Suzuki (56 points), Petrus Palmu (51 points), and Kevin Hancock (50 points).
Michael McNiven (MTL '15) makes a strong case for the best goaltender in the Ontario Hockey League, and very likely could be playing for the Canadiens next year. Youth could be their downfall, but it could also take them deep into the playoffs. If they keep winning at the pace they're at, there's no reason this team couldn't upset any of the best in the West. Right now, they're one of them.
3. Sault. Ste Marie Greyhounds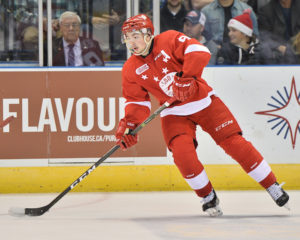 Sault. Ste Marie currently sits in first place in league standings, but don't quite have the depth of London or Erie. They were surprisingly quiet at the trade deadline, while the teams they'll be competing with in the post-season all got better. They still have a potent offensive group, capable of scoring goals at a rapid pace. Zach Senyshyn (BOS '15), who was a snub from Team Canada, has scored 27 goals in 35 games, while Bobby MacIntyre boasts 57 points in 39 games, good enough for sixth in the league. Throw Blake Speers in there, who spent time in New Jersey and on Team Canada this season, and you have one of the best top three in the OHL.
Their goaltending is sound, and defensemen Noah Carroll (CAR '16), Colton White (NJ '15) and Gustav Bouramman (MIN '15) round out an impressive defensive core. I would not at all be surprised if they were playing for a Memorial Cup in May, I just don't think they're quite as skilled as London or Erie.
2. London Knights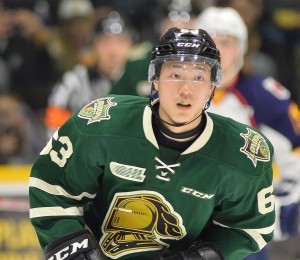 I've watched the London Knights play more than any other team in the Ontario Hockey League. They've gotten better and better as the season has gone on, and they made some huge deals at the deadline. Acquiring Dante Salituro (CBJ FA), Mitchell Vande Sompel (NYI '15) and Mitchell Stephens (TB '15) just added more skill to a powerhouse team.
Fourth place in league scoring, Cliff Pu (BUF '16) headlines a showstopping offence. The top-6 consists of Pu, Max Jones (ANA '16), Janne Kuokkanen (CAR '16), captain J.J. Piccinich (TOR '14), Stephens and Salituro. The Knights are so deep that draft prospects and future stars Robert Thomas and Alex Formenton are usually designated to the third or fourth line.
On the back end, Vande Sompel joins speedy Victor Mete (MTL '16), first-rounder Olli Juolevi (VAN '16) and Brandon Crawley. Tyler Parsons backstops the Knights and has been phenomenal since winning a gold medal with the United States at the World Junior Hockey Championship. In their last few games, the Knights have been struggling to find chemistry with their new additions. But when they do, this is the deepest team in the league, and a heavy favourite to come out of the West.
1. Erie Otters
The London Knights might be deeper than Erie up and down the lineup, but no one can compete with the top offensive talent of the Otters. This is a team that has continuously produced some of the league's top talent; just look at where Connor McDavid is now. What pushes Erie over the top this year is the return of Arizona first rounder Dylan Strome. He joins two and three league scorers Taylor Raddysh (TB '16) and Alex DeBrincat (CHI '16) to round out the best first line in the Canadian Hockey League.
At the deadline, the Otters acquired well-rounded forward Anthony Cirelli (TB '15), and big defenseman Cameron Lizotte to play with veteran Darren Raddysh. After falling short the last two years, it's make-or-break time for the Erie Otters this year. They've struggled as of late, but have both the talent and the experience to right the ship before the post-season. This could be their last chance to compete for a Memorial Cup for a long time. In a stacked Western Conference, they have the best chance to win it all.