With their new acquisitions in hand, the Erie Otters enjoyed a mostly successful weekend by securing two wins at home. On Friday, the Otters hammered the Ottawa 67's 8-0. Then Saturday, the Otters escaped with a 4-3 shootout win over the Flint Firebirds. Dylan Strome scored the only goal of the shootout to give Erie the extra point. Sunday in Kitchener, Luke Opilka backstopped the Rangers to a 2-1 win over the Otters.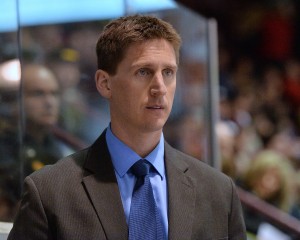 Erie Far From Perfect
Although the Otters got the win against Flint, it wasn't pretty. Quite frankly, the Otters didn't deserve the win. They were sloppy at different parts of the game, especially on both special teams.
Erie gave up two power-play goals, while not scoring themselves in seven tries. This included the entire last half of overtime, where Flint couldn't stay out of the box. There were two separate five-on-three chances that the Otters couldn't convert on. This shows that the Otters have lots of work to do before the playoffs begin.
Coach Kris Knoblauch summarized things perfectly regarding Saturday night's shootout win against Flint. "Our special teams really let us down."
Granted, the Otters played most of the game without Alex DeBrincat after he got a game misconduct for instigating a one-man fight. Still, a team laden with stars couldn't break through on their man advantage all night. It comes down to one thing. They are still trying to get used to each other. Players acknowledged this after Saturday's win.
Both Strome and Jordan Sambrook each admitted that with new acquisitions, there is a feeling-out process. They're figuring out their new teammates and their tendencies. This is especially true with Sambrook playing with a new defensive partner in Cameron Lizotte.
"I like him. He's really defensive", Sambrook said of Lizotte. "We really complement each other well. We'll have a good partnership together (on defense)."
They know they have a lot of work ahead of them to prepare for a deep playoff run. They like their new acquisitions and what they bring to the table. It's only January and they have 27 games, including Sunday, to get ready for the real season. Don't expect every game to be like Friday's 8-0 blowout. They're still a work in progress with the new faces on the roster.
League Needs Official Reviews
Although the Otters won Saturday in a shootout, the game looked like it ended in overtime. Strome sent a shot from the right circle that beat Flint goaltender Garrett Forrest, only to have it hit the crossbar. At least that's what many people think.
The puck went straight down after hitting the crossbar as though it may have hit some net, but the play kept going. After the game, I asked Knoblauch if they asked for that play to be reviewed. He said no, and cited the ongoing play after that as a lot of things happened.
This is a problem, especially when the game is in overtime and a potential goal was scored that wasn't even reviewed.
It's time that the OHL finds a way to add reviews at the end of games. What if that was a goal scored? That could happen to anyone and it would have an effect on the standings. When there is a lot going on in such a short period, teams need to have peace of mind knowing that someone is watching for potential situations when the off-ice officials miss something. This is way too important to ignore. Hopefully the league finds a way to check important plays late in games.
Time To Change Playoff Seeding
All of the attention in Saturday's Flint/Erie game went to the Otters. However, not enough credit was given to Flint for taking the game to a shootout. The Firebirds sit in eighth place in the OHL's Western Conference. If the playoffs were to open today, they'd play the Sault St. Marie Greyhounds in the first round.
Flint's 44 points is better than SIX of the 10 Eastern Conference teams. It's also better than then entire Central Division. Flint gets rewarded by playing the West's best team. How exactly is that fair?
There's an easy fix for this, although I don't expect anything to happen. It's time the league looks at the 1-16 playoff seeding regardless of conference.
I love Division and Conference Rivalries as much as anyone, but even I think the OHL for this reason needs a 1-16 Seeding Playoffs. https://t.co/QUB0jDpS2j

— Mark McKelvie (@Mark14McKelvie) January 9, 2017
First, it's a more fair approach. Top teams play lesser competition in round one as a reward for finishing with a great season. In the current format, Owen Sound and Windsor (two of the best in the West) have to play in round one with one of them being eliminated.
Second, imagine some of the matchups that become possible in a 1-16 format. An Erie/London OHL Final is possible, as well as other rivalry matchups within the same conference.
A move to this format is good for the game and for the fans. Here's to hoping the OHL at least takes some time to check this.