A few years ago, the future of hockey in the desert southwest was looking bleak. The Arizona Coyotes were in the middle of a lengthy ownership mess and relocation rumors swirled on a constant basis. Despite all this, the Coyotes remained in Arizona and the attention toward the team returned to what was happening on the ice instead of off. Now, desert hockey is not only surviving but thriving as well. In the last year, Arizona has become home to varsity college hockey, AHL hockey and a first overall draft pick in Auston Matthews. The arrival of an expansion team in Las Vegas will continue to boost hockey's presence in the desert.
Growing the Pack
Desert hockey has been constantly growing over the last few years. The Coyotes have enjoyed the benefits of a committed ownership under Anthony LeBlanc and the members of IceArizona. Instead of leaving the Phoenix market, the ownership has stayed in the desert and furthered Arizona's hockey profile. That growth took another step forward this offseason when the Coyotes moved their minor league affiliate to Tucson and renamed them the Roadrunners, a named previously used by a handful of Phoenix-based hockey teams as far back as 1967. In addition, the Coyotes enjoyed a successful development camp last week that wrapped with a free scrimmage game where 3,500 fans showed up to watch.
Rising Sun Devils
The Coyotes are not the only team in Arizona growing ice hockey in the desert. The Arizona State Sun Devils jumped to NCAA Division I status last season and are preparing to take on their first full NCAA schedule in the upcoming year. Arizona State's schedule includes three of the teams that made it in last year's Frozen Four (Denver, Boston College and Quinnipiac), along with Beanpot members Harvard and Northeastern. The Sun Devils are still three months away from starting their season, but they have already scored a win for their program when Patrick Kudla, a commit to Arizona State for the 2017-18 season, was drafted by the Coyotes in the sixth round of this year's draft.
Kudla becomes the highest drafted #ASU commit and the second drafted in the #SunDevilHockey D-I era behind incoming goalie @JDac35.

— Sun Devil Hockey (@SunDevilHockey) June 25, 2016
The Future: Las Vegas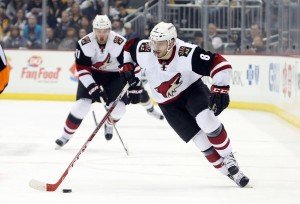 While the Coyotes have two decades of hockey history under their belt, Las Vegas is preparing to write their own chapter. Las Vegas has been home to hockey teams before NHL expansion, including a former ECHL team in the Wranglers. Now, the foundation is being set for Las Vegas to enter the professional sports world with ice hockey coming next year. Las Vegas took another step toward building their franchise as they named George McPhee as their first general manager on Wednesday. It will still be another 15 months before professional hockey comes to Nevada, but the pieces are starting to come together for the NHL's 31st team.