It might seem counter-intuitive to write about the Western Conference final loser Phoenix Coyotes when Game 1 of the Stanley Cup final is starting after a long layover. But for the obsessed, strategy never sleeps. In the sports team assembly business, thinking about the possibilities about what might have been is useless, but thinking about the possibilities for the future is irresistible. And a note of optimism has been struck in Phoenix, from official sources, anyway.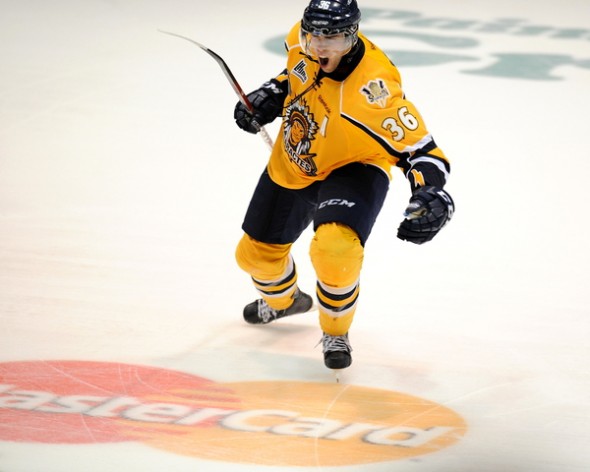 Lots goes on even during the fight for hockey's biggest prize. The junior talent showcase that is the Memorial Cup took place last weekend, and the Coyotes have Brandon Gormley, one of the top D-men on the 2012 Champion Shawinigan Cataractes, in their prospect stable. So there's that. And the 2012 draft is coming up in a couple of weeks in Pittsburgh. As always, plenty to think about there. The Coyotes will be drafting in the bottom 20 but really, when has that stopped them from picking quality players?
The playoffs put rearguards Oliver Ekman-Larsson and Keith Yandle on display as two glorious d-men with their best years in front of them. Yandle is signed for two more years; Ekman-Larsson is still on a rookie contract from 2010 whose terms were not disclosed. With Gormley now not far off, former top-5 pick Rotislav Klesla locked up through 2014, and highly touted Swede D-man David Rundblad coming up (Traded over from Ottawa for Kyle Turris, who was one of the 'Yotes top-flight forward prospects), the back end looks to only get stronger in the years ahead. The Defensive Battleship that went 16 games in this year's playoffs is only going to get better skating legs and playmaking skills. Veteran Derek Morris, who really came alive in the 2012 playoffs, is also locked up for two more years, which will provide continuity and stability on the blue line. UFAs Michal Roszival and Adrian Aucoin's futures with the club are both uncertain, but at least that's not a huge worry in either case given the rest of these developments.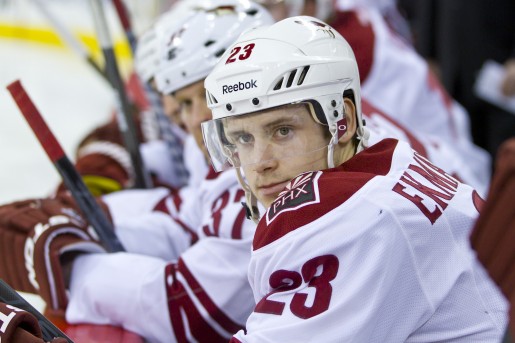 Goal competes with defence in the "least concern" department. Mike Smith will provide one more year of 2 million dollar bargain basement, quality starting goal-tending. Even though one lights out season does not mean he is guaranteed to perform as well, or even reliably, next year, the Coyotes have little to fear. They have the Niagara IceDogs' Mark Visentin, who is one of the most visible goaltenders in North American junior of recent years. Unfortunately many Canadian fans know his name from that awful 5 goal third period at the world juniors last year. But all of his other stats are excellent, and he is projected to be a top starter in pro.
At 19, he might still be a little young for the big time. But one can't help but think it would be great to start grooming him by giving him some backup time behind Smith. He would leapfrog over Jason LaBarbera on the goalie depth chart, but I'm thinking that he could be a good bargaining chip in a deal for a forward. Nobody said he's a bad goaltender although, not having achieved a starting role at 32, we shouldn't be naive either. Then again, if Mike Smith became a starter at 30, and LaBarbera has the same goaltending coach, who knows…
Whatever happens, the deal for a forward is not a joke, because this is where the Coyotes are the weakest. Only two key scorers – Radim Vrbata and Martin Hanzal – are signed past 2013. Other than these two creative Czech gentlemen, only Boyd, Torres, Gordon, Korpikoski, Bissonnette, Brule, and Boedker will be back next year, but their statuses are all uncertain beyond that. The two go-to offensive and leadership guys, Whitney and Doan, are a respective 39 and 35, and both UFAs. Mikkel Boedker has emerged as an offensive star and probably the best NHL player to come out of his native Denmark. Signing him should be a top priority. It could be difficult for a club whose ability to pay players is limited. Moving Phoenix's salary cap pieces around is akin to trying to solve a rubik's cube.
An overly bleak picture of the future forward corps shouldn't be painted. It sure doesn't hurt having 2012 CHL Forward of the Year Brendan Shinnimin in the pipeline. And Don Maloney just signed 2010 second-rounder Phil Lane to an entry level contract, which will see him departing from the Brampton Battalion, where he posted a respectable 41 points in 53 games this year. Still, these "green shoots" are highly unlikely to provide the immediate reliable and robust impact a Division Champion and Conference Finalist would normally be looking for to build on its success.
However, "Normally" is not a word that applies to this club, as we've seen. And you can expect more shrewd management from Maloney in the desert on a shoestring budget, which is the budget he'll have no matter who owns the team as long as it is in Phoenix. As for the relocation/uncertainty cloud hanging over the 'Yotes, you can be sure this team will contend the minute it's in the hands of someone in another city with deeper pockets. Which would make it furthest possible thing from an expansion team. But we've got the Cup, more legislative and legal hurdles in Glendale, and the new CBA to sort out before any of that can be talked about. What's undisputable for the Phoenix Coyotes is that there's a pretty solid foundation there today, and many of its important pieces aren't going anywhere for 2012/2013.