Alexander Ovechkin and Ilya Kovalchuk have something in common. They are both left wingers from Russia who were drafted first overall and signed to over decade-long contracts. Strangely enough they are even the exact same height (6'3'') and weight (230 lbs.).  These two also play a similar style by scoring barrels of goals every year, but now Kovalchuk has become everything Ovechkin was promised to be.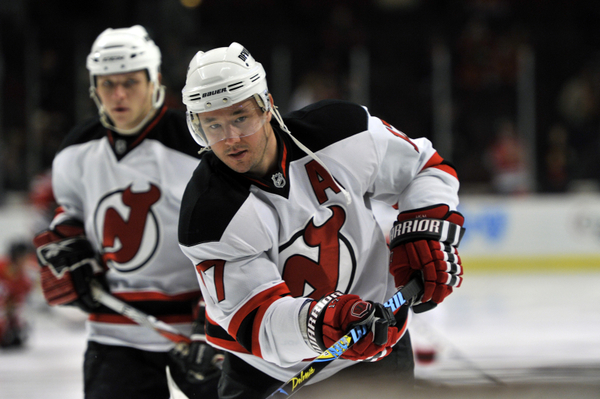 Before this season Kovalchuk had not got past the first round of the playoffs in his 10-year career. Now, he's on the Conn Smythe shortlist for playoff MVP and leads all players for points in the playoffs. Meanwhile Ovechkin is in the swing of the off-season spending time in Paris at the French Open with Russian tennis-star girlfriend Mari Kirilenko. Well it's not hard to feel bad for either of these young men; Ovechkin will surely be watching the finals with a lot on his mind after the season he had.
Ovechkin is coming off a season in which he produced a career low 65 points and was a minus eight, which is a far cry from the three-straight seasons of 100 plus points and back-to-back Rocket Richard and Hart Trophies. However since the 2008-2009 season Ovechkin has consistently shaved 20 points from the previous year's point total. Not great #8.
The questions are:
What's wrong with you?
How do we fix you?
You would think with a coaching change coming in the fall Ovechkin's future only looks brighter since he didn't exactly flourish under Dale Hunter's defense-first system. However in essence what Hunter was trying to get out of Ovechkin was what the Devils have received from Kovalchuk – a player who buys into a defensive/team game.
Now this is Kovalchuk 2.0 we're talking about. The first-generation Kovy 1.0 model played for the now defunct Atlanta Thrashers and tried to carry the whole thing on his back at the peril of those around him. Early on in Kovalchuk's career he was labelled as a one-way player who tried to do too much with the puck and wasn't exactly a "Team Guy". Sound familiar?  Kovalchuk was guilty of the exact same things that are plaguing Ovi's game today.
The Devils' GM Lou Lamoriello believes Kovalchuk's former identity was based around the Atlanta Thrashers' culture. "He came in at 18 years old, expected to carry a franchise. He had tremendous talent and he was just allowed to use his talent, and you get into habits over a period of time," said Lamoriello. "He wants to win. He cares. It just took some time to adjust, and right now he's just gotten better and better."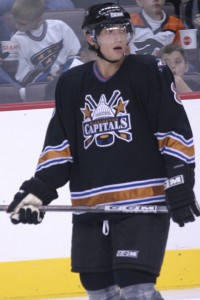 The notion is that Kovalchuk's always wanted to play the brand of hockey he is now, he was simply type cast into that role in Atlanta. This idea is something Kovalchuk's teammate Dainus Zubrus can get behind. "If he didn't score two goals, they (Thrashers) might not win. He had to basically carry the team and win games for them," said Zubrus. "Our team is different. Even without him scoring we can win games. I think he's become obviously more complete as a player because he's way better in his own zone, way more responsible both ways. I'm sure he'll tell you the same thing himself. He's doing way better than before."
There are some obvious parallels between Kovalchuk's time in Atlanta and Ovechkin's flop. After the lockout the Washington Capitals built an entire team identity around Ovechkin. They became known as an offensive deity that goalies feared, defensemen trembled and gave goal judges callouses,  but this identity is…well was, hinged almost entirely on Ovechkin.
Could it be that Ovechkin has formed those same bad habits that pestered Kovalchuk in Atlanta?
If so there's one quick tip Ovechkin can garner from Kovalchuk – play the PK.
"That's when you really learn how to play in your own zone and communicate with the guys," said Kovalchuk. "That was very helpful. In Atlanta there was always pressure to score and create, but here it is bigger pressure because the market is bigger and the price is higher."
Fact: Ovechkin doesn't know what the penalty kill is. He spent 1 second on the PK in the 2012 playoffs, no joke. 1 second. Over the course of the entire regular season Ovechkin played two minutes of shorthanded play. Average that throughout the 78 games he played and he played an average of 1 second per game on the PK.
Ovechkin is three years Kovalchuk's junior and you can't discount the fact that there will still be years of production out of Ovi, it's just a matter of when Ovechkin will blossom into the next stage of his career and learn to become a player that adds to the team, not one that the team is built around.
Matt Stephen is a writer, not a fighter. He is both a beer and fantasy league veteran and has written about hockey online and in print for The Hockey News. He now covers the spectrum from the White House to Mike Green. He carries a picture of Ovechkin in his wallet.