Capitalizing on opportunities ended up being crucial in Game One.  Especially when those opportunities come so few and far between.  With both clubs feeling each other out in the early going and shaking off the rust in an attempt to click, the Los Angeles Kings and New Jersey Devils fittingly concluded a tight, hard hitting contest in overtime.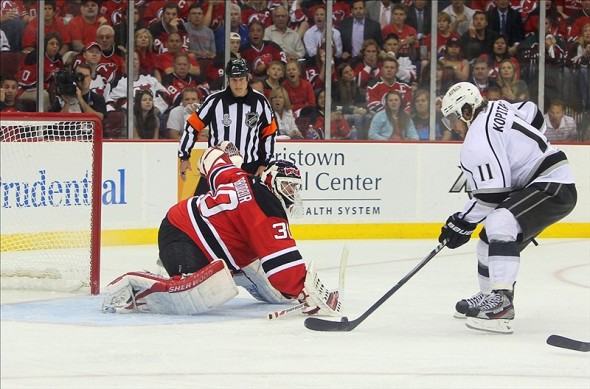 In a game that saw neither team crack 30 shots, there were only ten shots in total during the first period.
Los Angeles, much like New Jersey, which has consistently rolled out four solid fore-checking lines in these playoffs, gave the Devils a taste of their own medicine in the first frame.  Digging along the boards, Jordan Nolan was able to lodge the puck away from Andy Greene.  Nolan fed Colin Fraser in the slot and Fraser was able to best Martin Brodeur for a 1-0 Kings lead.  For Fraser, the marker was his first of this post-season and the road warrior Kings felt right at home.
Not that New Jersey didn't have some golden opportunities in the first.  David Clarkson had some golden chances in front, that sailed too high on Jonathan Quick.  Hence it was 1-0 L.A. after one.
During the second, L.A. held N.J. to just four shots, but couldn't get out of the way of one late in the period.  A drive by Anton Volchenkov, appeared to go off of Patrik Elias and Slava Voynov and in.  Yet it was ultimately Volchenkov, credited for his first goal of these playoffs and it was all squared at one.
As both squads got more in the groove, the hitting continued to escalate in the third.  Of course that didn't translate into any scoring, but it did serve each team in finding its bearings for Game Two and getting back to what worked in the first three rounds of the tournament.  Appropriately though, this one would escalate to an extra session.
There it was the ever sneaky and sage Anze Kopitar, capitalizing with the Devils defence caught back.  Justin Williams was able to chip the puck up into the open ice, to hit the streaking Kopitar.  Kopitar cruised in on Brodeur, faked and waited him out, sliding the puck under and in for the 2-1 winner and a 1-0 series lead for Los Angeles.  For Kopitar, who led all shooters with four on the night, it was his seventh tally of the playoffs and the ninth straight road victory for the Kings in the 2012 playoffs.
So hence it was another clutch win for L.A., which has still yet to trail in a series or lose on the road in this post-season.
To summarize, Game One had its share of hard hits and superb netminding and an overtime winner.  Hopefully a prelude for what is yet to come, especially if guys continue to shake the rust off and start finishing on the offensive side of the puck.
Michael Gwizdala covers the New York Islanders for The Hockey Writers. Michael is also an Associate Producer at WNYT NewsChannel 13. Additionally, Michael was once a Media Relations intern for the AHL Albany River Rats. Michael is a graduate of The College of Saint Rose in Albany, NY.