Hockey cards immortalize our heroes onto small pieces of cardboard that we can keep forever. But sometimes, a card can make our favorite player look really bad. Here are 5 hockey card photographs that should have their negatives burned.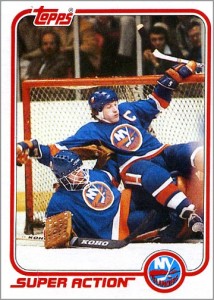 5. Denis Potvin / 1981-82 Topps #130E
The card says "Super Action" at the bottom, but the only action we see is Denis Potvin of the New York Islanders falling backwards and squashing his own goaltender. Sadly, this photo does not properly encapsulate his remarkable playoff run in 1981, when he scored 8 goals and 17 assists en route to the team's second Stanley Cup championship. Instead, Potvin looks like a clumsy oaf. Topps did a great job of making him appear incompetent on his own trading card.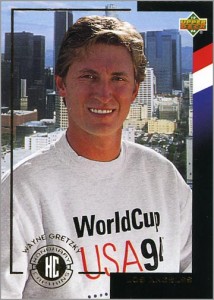 4. Wayne Gretzky / 1994 World Cup Soccer #C8
Gretzky was a spokesman for the Upper Deck trading card company. Sometimes, this entailed doing things he might not have wanted to do, like appear on a soccer card. Upper Deck included cards of popular athletes from other sports in their 1994 World Cup Soccer set, designating each one as an "Honorary Captain." Here, Gretzky is the Honorary Captain for the city of Los Angeles, but his forced half-smile lead us to believe that right now he'd rather be in Edmonton.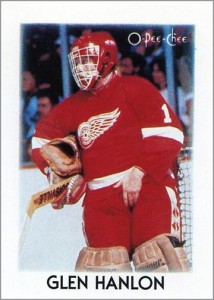 3. Glen Hanlon / 1987-88 O-Pee-Chee Leaders #14
Is Glen Hanlon making an, ahem, equipment adjustment? Or does he just have an itch?  You really can't fault the Detroit Red Wings goaltender here, so you have to wonder why (a) the photographer felt the need to sell this picture to the card company, and (b) why the card company thought this would be a great photo for their "League Leaders" set? Hanlon appeared in 36 games the previous season, so it's not like a better photo was lacking, which brings us to our next card…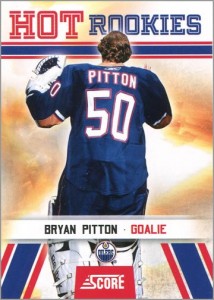 2. Bryan Pitton  / 2010-11 Score #545
If the absolute best photo a card company can muster up shows the back – not the front – of the player's head, then why bother making a card? Nonetheless, Panini America felt the need to include Edmonton Oilers prospect Bryan Pitton in their Score "Hot Rookies" subset. When your own rookie card shows you from the back, that can't be a good sign.  Coincidentally, Pitton's rookie card in that year's Donruss set – also made by Panini – shows him from the back too. (Click here for a 2-minute video further detailing why this card sucks.)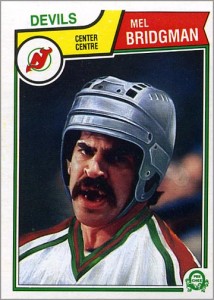 1. Mel Bridgeman / 1983-84 O-Pee-Chee #226
Absolutely nothing about this card makes Mel Bridgeman look good. When he was traded from the Calgary Flames to the New Jersey Devils in the off season, the O-Pee-Chee card did what they always did back then – have someone paint the player's new uniform colors on the photograph. The results were usually laughable, and this card is no exception. Bridgeman's gray lunchbox-of-a-helmet would be enough to merit inclusion on this list, but what really ices it is his angry, toothless scowl. Instead of painting over his jersey, O-Pee-Chee should have had the touch-up artist give Bridgman a few more teeth.