With an offseason from H, E, double hockey sticks, there has been nothing but negativity lately surrounding the San Jose Sharks. However, despite the drama, the future isn't all that grim for Team Teal. In actuality, a future which appeared extremely bleak just a couple years ago, is once again incredibly bright.
Window Was Closing
At the conclusion of their 2011-12 season, almost everyone in the hockey world would have agreed that the Sharks Stanley Cup window was rapidly closing. San Jose finished the regular season just seventh in the Western conference and were dispatched in their shortest playoff appearance ever (just five games) by the St. Louis Blues. That Sharks team looked old, slow, and top heavy. Two years later, youth, speed, and depth, paint a prettier picture.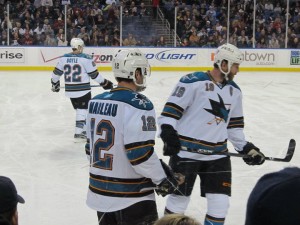 Lots of people will of course focus on Joe Thornton and Patrick Marleau turning 35 and assume the Sharks are old. But we all know what happens when we assume, right? Even if you include Joe Pavelski in this "old" group (he is on the wrong side of 30 for those of you who oddly include him in the "young" core), San Jose is still much younger than one would think.
Not That Old
According to http://stats.nhlnumbers.com/teams the Sharks are among the top third oldest teams, albeit barely. They come in as the ninth oldest club with an average age of 28.65. Furthermore, while they may not appear deep in amateur and minor league prospects, that is primarily because their top prospects like Tomas Hertl and Matt Nieto, are already in the NHL.
Even though Marleau, Thornton, and Pavelski are all over 30, and Brent Burns is closing in on his 30th birthday, that doesn't mean the Sharks' future isn't bright. Not only are these four players still dominant contributors (who don't seem to be slowing down at all), but the Sharks have done a good job drafting and developing.
Influx of Youth
Behind these four guys, the Sharks have a group of 10 skaters between the ages of 18 and 27 that have either already made a significant NHL impact or in the case of Mirco Mueller and Nikolay Goldobin, are highly regarded prospects.
Here is that group with their respective ages.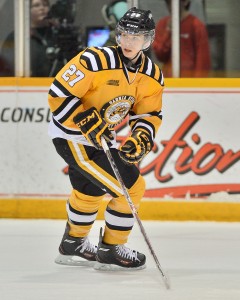 Tomas Hertl (20)
Logan Couture (25)
Matt Nieto (21)
Tommy Wingels (26)
Nikolay Goldobin (18)
Justin Braun (27)
Marc-Edouard Vlasic (27)
Jason Demers (26)
Matt Irwin (26)
Mirco Mueller (19)
This group, which has a perfectly even amount of forwards and defensemen, has an average age of 23.4. When you consider that NHL studies have found that prime years for players are between 23-28, the Sharks are in a really good position.
Now obviously, Hertl and Nieto were just rookies last year and Mueller and Goldobin have yet to play in the NHL. Nobody is arguing they are sure things to be the next Thornton, Marleau, Burns, and Vlasic. However, Hertl looks like a star in the making, and Nieto opened up eye balls in the playoffs last year against the Kings. These two certainly look like they will be in the NHL for a long, long time. Furthermore, 19-year-old defensemen don't often make the NHL, and Mueller has a very realistic chance to make the Sharks out of training camp. Clearly the team has high hopes for the young Swiss defender. Plus reports indicate Goldobin being one of the top steals in the 2014 NHL Draft, he was a dominant even strength scorer for one of the worst team's in the OHL last season. San Jose selected him in the first round, 27th overall.
2015-16 Outlook
Not to jump the gun, but it is possible for the Sharks opening night lineup in 2015-16 to look like the following.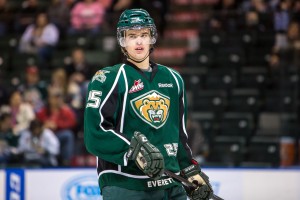 Tomas Hertl—Joe Thornton—Nikolay Goldobin
Patrick Marleau—Logan Couture—Matt Nieto
Raffi Torres—Joe Pavelski—Tommy Wingels
James Sheppard—Andrew Desjardins—Freddie Hamilton
Marc-Edouard Vlasic—Jason Demers
Brent Burns—Matt Irwin
Justin Braun—Mirco Mueller
This would be a young lineup featuring tons of firepower. One could also argue this would be an opening night lineup without a single below average player. Unfortunately, the Sharks will probably continue to roll out a number of over the hill veterans. Their penchant for doing so will likely cost them from making a deep run this year, but the future core of this team actually looks pretty darn good.