The New York Rangers lost 4-3 to the Tampa Bay Lightning on Thanksgiving Eve. The loss spoiled Martin St. Louis' return to Tampa, as he was held scoreless and didn't even register a shot. Ryan Callahan continued to own his old team as well, scoring two goals for the second straight time against the Blueshirts. There were still defensive miscues, including two by Tanner Glass that led directly to two Lightning goals. Evidently, though, these miscues were not enough to cost him his spot on the team, but he will be out of Friday's game due to flu-like symptoms.
team actually sent Glass home when he woke up with flu-like symptoms so that he wouldn't infect anyone else…

— Jim Cerny (@JimCerny) November 28, 2014
But despite the loss, there remains a lot to be thankful for on Broadway. Consider this:  The Lightning are without a doubt one of the best teams in the NHL right now. The Rangers committed several glaring defensive errors, hit multiple posts, did not control puck possession, but still only lost the game by one goal. Unlike earlier games, they responded to the miscues like a resilient team should. The errors never snowballed into an avalanche of goals against, but rather spurred the team into a flurry of activity that led to Rick Nash's goal.  While they came up short this time, their response alone is reason enough to be thankful.  Not enough for you? Okay, here are some other things the Blueshirt faithful can be thankful for.
Be Thankful for the Big Guy
Of course, Rick Nash needs to be first on this list. He has been the best Ranger on the ice for most of the season, and has silenced the doubters after two sub-par, injury-riddled seasons on Broadway. He is currently tied with Steven Stamkos for second in the NHL in goals with 15, but ranks first in the league in goals per minute of ice time. Nash has been the dominant player that the Rangers need him to be. If they could get some depth scoring like they had last season, this team could be truly explosive offensively.
Nash #1 in NHL in goals/minute ice time. Stamkos is seventh. Ryan Callahan is #8. MSL=51st… Brass=81st.

— The Hockey Rodent (@HockeyRodent) November 27, 2014
Be Thankful for Ryan McDonagh Returning
All signs indicate that Captain Ryan McDonagh will be returning on Black Friday against the Philadelphia Flyers. He has been practicing with the team wearing a full-contact jersey, and coach Alain Vigneault recently called him "the best player on the ice." A healthy McDonagh will be a huge asset against a Flyers team that is sure to be looking for revenge after a shutout loss to the Rangers on November 19. When he returns, it will mark the first time since opening night that both he and Dan Boyle will be in the lineup together. A completely healthy defensive corps is definitely something to be thankful for, given the injury troubles the Rangers have dealt with on that front.
Be Thankful for the Kids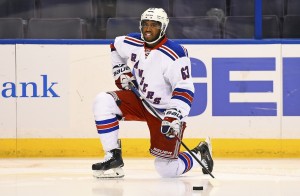 The Blueshirts' dynamic duo of rookies Anthony Duclair and Kevin Hayes have been a great asset to this team so far. They both play different styles: Hayes creates offense with strong puck possession, and Duclair uses his speed and skill to keep opponents on their heels. But both of these players have been consistently making smart hockey plays every time they are on the ice. They need more time to mature, but are definitely NHL-ready right now, and have been showing it all season. As long as the coaching staff continues to provide them with the ice time they deserve, these kids should have a bright future on Broadway.
Be Thankful for a Black Friday Afternoon Game
Finally, be thankful that we can all watch the Rangers/Flyers game on the couch surrounded by Thanksgiving leftovers while the rest of the country tramples each other to get the best deals. Game on!
Kevin has been covering the Florida Panthers and New York Rangers for The Hockey Writers since the 2013-14 season. Before that, he has written about, played, and coached hockey at all levels. He grew up a Rangers fan in the Southern Tier of New York State, but now lives in the Atlanta area with his wife and two sons. You can reach him on Twitter as @kmizTHW , or via email (kmizsbl@gmail.com).