The Most Underrated NHL Prospects
5. Connor Hellebuyck, G, St. John's IceCaps (NHL Rights: Winnipeg Jets)
Playing in the NAHL in 2011-12, his draft year, Hellebuyck did not have the greatest exposure to NHL scouts. However, his impressive size (6'4″, 200) and save percentage (.930) in Odessa was enough to be selected in the 5th round of the 2012 draft. He was also recruited to play for the UMass Lowell Riverhawks by coach Norm Bazin.
While he spent just two years in college, they were two remarkable years. He posted GAAs of 1.37 and 1.79, and save percentages of .952 and .941. He won 38 games, and lost just 12. Some were quick to discount him, saying he was a product of Norm Bazin's defensive system. A look at Lowell's goaltending stats since Hellebucyk left (GAA of 2.42 and save percentage of .916) says otherwise.
Hellebucyk has played equally well this season in the AHL, where his save percentage of .927 is third among all AHL goalies with at least 10 appearances. He is also tied for second in the league in wins.
NHL Comparison: Pekka Rinne
4. Mike Reilly, D, University of Minnesota (NHL Rights: Columbus Blue Jackets)
When Reilly was drafted in 2011, the Blue Jackets knew they were going to have to wait a bit before the pick could pay dividends. Reilly was just 150 pounds when drafted out of Shattuck St. Mary's, where he was a near point-per-game player. Fast forward a few years, and Reilly has added 30 pounds to his frame to now stand at 6'1″, 183. He's not huge, but for the way he plays, that size is fine.
Reilly's biggest strengths are his offensive instincts and decision making. He can effectively move the puck in transition, and work the puck in the offensive zone. His hockey smarts allow him to make good decisions with the puck and defend effectively despite his lack of physicality.
Last season, Reilly was the best defenseman on the Gophers squad that was one of the best in the nation. He finish with 33 points in 41 games, the third most on the team, and was named a First Team All American. He's off to a hot start this year as well, sitting 4th in the country among defensemen in points with 11 over 10 games.
NHL Comparison: Kevin Shattenkirk
3. Hudson Fasching, University of Minnesota (NHL Rights: Buffalo Sabres)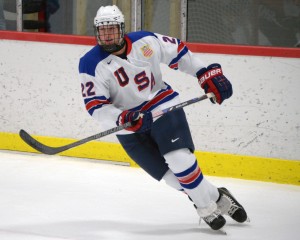 The second Golden Gopher on the list emerged as a top quality prospect at last year's U20 World Juniors. He was a great player for the U17 team, and was predicted to be a first round pick by many. But when he moved up to U18 in his draft year, he struggled to replicate the same success. The result was that he was a 4th round selection in 2013.
Fasching has everything it takes to be a premier power forward at the NHL level. His skating is great for a player his size (6'2″, 207), he uses his body effectively to shield the puck and battle in the corners, and his hands are high quality. At the World Juniors in 2014, he was a force to be reckoned with. It was impossible for defenders to knock him off the puck, and he was involved in the play whenever he was on the ice.
Fasching finished his freshman season with an impressive 30 points in 40 games. This season, he's picked up where he left off, scoring 7 points in his first 10 games. He figures to be a prominent member of the US WJC team this year.
NHL Comparison: Johan Franzen
2. Ivan Barbashev, C, Moncton Wildcats (NHL Rights: St. Louis Blues)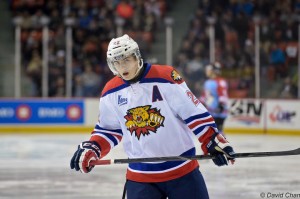 If Barbashev's name was Joe "Canadian Boy" Smith, there's a very good chance that he gets a lot more respect. But it's not, and as a result Barbashev has to deal with negative stereotypical assertions made about him because he's Russian (despite how wrong they may be).
He's shown he's committed to playing in North America by coming to the QMJHL as a 17 year old. He plays an up tempo game and isn't afraid to play the body. He willingly took on a more defensive role in Moncton in his early years there, and has shown an eagerness to improve his all-around game.
Watch Barbashev play, and you'll see that he has the trademark Russian skill. He has a great shot, impressive stickhandling abilities, and knows where to be on the ice. He finished with 68 points in just 48 games last year, and is on pace to better that mark this year where he's scoring at a 1.7 point-per-game clip. If he stays healthy, he should eclipse 100 points this year.
NHL Comparison: David Krejci
1. Madison Bowey, D, Kelowna Rockets (NHL Rights: Washington Capitals)
Bowey checks in a #1 on our list because he brings everything needed to be a top NHL defenseman. When he was drafted in the second round in 2013, the only knocks on him were that he needed to be a little more consistent, and he needed to get a bit bigger.
Bowey has made great strides in both areas, and is now the top defenseman on the best team in the CHL. The Rockets are an absurd 21-2-3 with Bowey being the backbone of the defense. He's racked up 30 points in 23 games after putting up 60 points the year before. He's a top end skater, plays a physical game, and is a true two-way defenseman.
The future for Bowey in Washington is very bright. He is the latest top defensive prospect to come out of Kelowna, following in the footsteps of Duncan Keith, Shea Weber, Alex Edler, and Tyler Myers. Bowey should be a huge player for Team Canada at the upcoming U20 World Juniors. Bowey truly belongs in the conversation of elite NHL prospects.
NHL Comparison: Justin Faulk
Bill Schoeninger is a Philadelphia Flyers writer and current Boston University student studying business. Coming to THW from Hometown Hockey, Bill follows and writes about the Flyers, Boston University Terriers, and NHL Draft prospects. Follow him on twitter @BSchoeninger17