Vlasic Rocks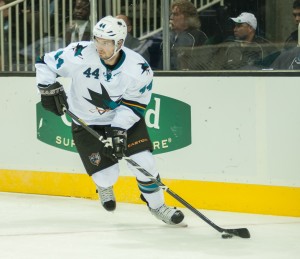 If the Norris Trophy were awarded to the most talented defensive defenseman, San Jose Sharks' Marc-Edouard Vlasic would be a finalist every year. Unfortunately it is an offensively driven award. Furthermore, I used the term most talented because best defensive defenseman would imply actually doing a better job than others. And doing a better job than other defenseman would mean playing heavier minutes than the others. For some bizarre reason, Vlasic doesn't even crack the top 30 defenseman in the league in even strength time on ice.
Vlasic showed the world last year how dominant he can be in the Olympics for Team Canada. He was Drew Doughty's rock, allowing him to destroy the competition with the confidence that Vlasic always had his back. Speaking of Doughty, he is third in the NHL in ES TOI at 21:49. Vlasic on the other hand is averaging just 18:26. Seriously? Seriously.
Brooks Orpik, yeah that Brooks Orpik who got made to look like a pylon by John Scott, yeah that John Scott, is averaging more ES minutes than Vlasic. To put it in some more perspective, Brenden Dillon, Vlasic's new teammate has averaged more time on ice than Vlasic, playing mostly with Dallas this season at 18:38. Shall I go on? Vlasic is one of the dominant defenseman in this league, yet he sees less five on five ice time than Christian Ehrhoff, Marek Zidlicky, Chris Phillips, Justin Faulk, and Dennis Wideman among others.
MEV is SJ's MVP
When you consider that outside of Vlasic and his usual partner Justin Braun, the Sharks blue-liners have been downright awful this season, it is absolutely shocking that the Sharks don't play Vlasic more often. No. 44 in teal leads the team in plus/minus with a plus-10 and in goals for percentage at even strength (66.7%). The Sharks kick butt with Vlasic on the ice. He is in the prime of his career, a few more minutes of him per game could mean the difference of a goal here or there and that could easily mean the Sharks are 12-8-4 instead of 10-10-4. Twenty-eight points doesn't look nearly as bad as their current 24.
As mentioned recently, Todd McLellan has had his chance to take this team to the promise land. He hasn't done it, and there have been a plethora of little coaching mistakes that have added up. Lots of outside media seem to be shocked at the McLellan criticism and instead blaming GM Doug Wilson for the lack of depth. Certainly Wilson has made some poor decisions regarding the depth of his roster but McLellan is just as culpable of some poor lineup construction, including top heavy forward lines and defense pairs that make little sense.
Vlasic's time on ice is just one of many poor coaching calls. Don't tell me Doughty is in better condition to handle three full more minutes of even strength ice time than Vlasic. If Doughty can do it, so can Vlasic. It is simply mind boggling, that given the team's performance with Vlasic on the ice versus with him off the ice, that he isn't in the top 10 in the league in even strength ice time.
Andrew has been credentialed to cover the Sharks since 2010 and the 49ers since 2012. He graduated with his BA in Broadcast Electronic Communication Arts in 2013 from San Francisco State University.