The Arizona Coyotes are almost ready to enter the final month of the 2014 portion of their season. With just one November game left, the Coyotes will look to end an up-and-down second month of the season on a positive note on Saturday against the Calgary Flames. December will be an important month for Arizona as they play eight of their 13 games within the Pacific Division. Here are some of the more intriguing matchups facing the Coyotes to close out 2014.
December 2 at Calgary
The Coyotes open up December with back-to-back road games against the Edmonton Oilers and the Flames. In recent years, it has been a tale of two streaks for Arizona in Alberta. The Coyotes have dominated the Oilers at Rexall Place, going 9-0-1 in their last 10 visits to Edmonton. However, Arizona has struggled at the Scotiabank Saddledome as they have gone winless in six straight games in Calgary, including a 5-3 defeat on November 13. The Coyotes will need to find a way to shut down the Flames' offense on the blueline. Defensemen Mark Giordano (24 points) and TJ Brodie (20 points) are two of the three top scorers for the Flames and they combined to score what ended up being the game-winning goal against the Coyotes in their last meeting in Calgary.
December 20 at Los Angeles
Arizona goes into the two-day Christmas break with a three-game divisional road trip that begins with a Saturday matinee in Los Angeles. This could be a difficult test for the Coyotes as they have not been a strong road team so far (5-7-1 record away from Gila River Arena), while the Kings have been one of the best teams at home this season (10-2-1 at Staples Center). Like Calgary, Los Angeles has not been a friendly host to Arizona in the past. The Coyotes have won only once in their last five visits to Staples Center, and they needed a dramatic third-period comeback to get that lone victory on March 17, capped by a video-reviewed goal by Jeff Halpern.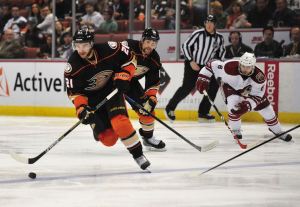 December 27 vs. Anaheim
After the Christmas break, the Coyotes hosts the Anaheim Ducks to start a stretch of eight of nine games in Glendale. After finishing that run of games, Arizona has 15 of their next 20 contests on the road, so it will be critical for the Coyotes to rack up wins at home while they can. The Ducks currently hold the best record in the Pacific Division, but the Coyotes have a 6-2-0 record against the division and split their first two meetings in Anaheim. Arizona will need to keep improving that record this month if they want to stay competitive as the 2014 part of their season comes to a end.
Charles Woodall-Pike is a journalist who writes about the Arizona Coyotes for The Hockey Writers.