Developing NHL prospects is as much of an art as it is a science. Outside of the first half of the first round, there are very few "sure things". In every draft, you can find a later round pick that ended up greatly outperforming a highly touted first round pick. Below are ten NHL prospects that you may have heard of, but don't view them as elite prospects. Their contributions have flown under the radar, and very few realize how good these players will be.
The Most Underrated NHL Prospects
10. Joe Hicketts, D, Victoria Royals (NHL Rights: Detroit Red Wings)
210 names were called at the 2014 Entry Draft, and Joe Hicketts' was not one of them. The diminutive defenseman (5'8″, 186 lbs) had his draft stock hampered by the fact that he was only able to play 36 games the year prior. He impressed Team Canada at the U18 WJC, where he was the second highest scoring Canadian defenseman. Still, it was not enough to get drafted.
Hicketts was able to get an invite to the Detroit Red Wings' prospect camp in the summer, where he took the bull by the horns and was one of the most impressive players in camp. He was so good, he was invited to the Red Wings' training camp as a free agent. After scoring the game winning goal in overtime in the Red Wings' prospect tournament, the Red Wings inked Hicketts to a three year contract.
He hasn't looked back, and has been dynamite in the WHL this year. He leads the Victoria Royals in points with 34 in 26 games, and is the 5th highest scoring player in the entire league as a defenseman. He is a constant threat in the offensive zone when he has the puck, and is a tremendous skater. He earned a spot on Team WHL in the Super Series, and do not be surprised if he is a member of the Canadian WJC team ahead of some more notable names.
NHL Comparison: Brian Rafalski
9. JT Compher, C, University of Michigan (NHL Rights: Buffalo Sabres)
Playing for the University of Michigan Wolverines, Compher has proven to be a Swiss Army Knife of a player. He is capable of playing all three forward positions, and does not have a weakness in his game. He has produced 40 points in 46 career collegiate games, is a strong two-way player, is a fixture on the power play and penalty kill, and plays the game with an edge.
He is a hard worker that is the type of player that teams win championships with. Were it not for a foot injury that came from blocking a shot, Compher would have been an important part of Team USA's WJC roster last year. This year, he figures to be the shutdown third line center for the Americans behind Jack Eichel and Auston Matthews.
NHL Comparison: Mike Richards
8. Shea Theodore, D, Seattle Thunderbirds (NHL Rights: Anaheim Ducks)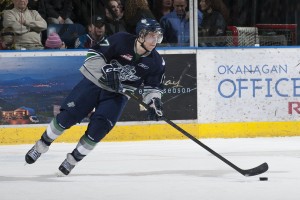 A dynamic offensive defenseman, Theodore has proven to be a gamebreaking talent whenever he is on the ice. He led the WHL in points among defensemen  last year with 79, and out scored the next best Seattle Thunderbird by 16 points. He logs huge minutes, and is an impact player whenever he is out on the ice.
The biggest knock on Theodore is his lack of a physical game. Standing at 6'2″ and only 174 lbs, Theodore will need to fill out and add muscle to be effective in the NHL. But when he does, look out. He was able to get into 5 AHL games this year while rehabbing and injury, and he put up five points.
NHL Comparison: Mike Green
7. Brayden Point, C, Moose Jaw Warriors (NHL Rights: Tampa Bay Lightning)
In all of the CHL in 2013-14, only three draft eligible players had more points than Brayden Point (91). Yet, Point had his name called 79th in the draft. It wasn't for a lack of effort on his part. He outscored his next closes teammate by 36 points, is responsible defensively, and plays with a non-stop, in your face style.
If you haven't figured it out yet, it is Point's size (5'10", 163) that NHL scouts believe is holding him back.  He, however, disagrees:
"I've heard people doubt me because of my size my whole life. I remember they used to say I wouldn't be able to keep on scoring like I was once I hit the hitting level. Then I didn't slow down so people would say bantam, then midget and now my next step is the NHL. I don't let it bother me – it's more just motivation."
Point is a strong playmaker whose skill and hard ethic is undeniable. Despite his size, a player like that will find success in the NHL. He is off to another torrid start this year with 33 points in 23 games.
NHL Comparison: Tyler Ennis
6. Adam Clendening, D, Rockford Icehogs (NHL Rights: Chicago Blackhawks)
On almost any other NHL team, Clendening would surely be an NHL regular at this point. However, the great defensive depth in Chicago has kept him hidden in the AHL for the past few years. In the past two years, Clendening has lit up the AHL to the tune of 105 points in 147 games, second among all defenseman in that span.
His best asset is by far his skating ability, which he uses very effectively in transition. He makes a solid first pass, and is capable of quarterbacking a power play. This season, he has finally gotten his first taste of NHL action, and he hasn't disappointed. He scored his first NHL goal in his first game on his first shot, and has two points in three games so far.
Adam Clendening led the Blackhawks in 5v5 Corsi in his first NHL game. +16/-8 for a +8 on the night. via hockeystats.ca

— Jen LC (@RegressedPDO) November 21, 2014
NHL Comparison: Tyson Barrie
Stay tuned for Part II of the most underrated NHL prospects, coming on Friday.
Bill Schoeninger is a Philadelphia Flyers writer and current Boston University student studying business. Coming to THW from Hometown Hockey, Bill follows and writes about the Flyers, Boston University Terriers, and NHL Draft prospects. Follow him on twitter @BSchoeninger17