Now 20 games in, and with a disappointing 8-9-3 record, the Flyers have not performed very well. Here are 5 observations as we reach the quarter mark of the season.
1. Oh Captain, My Captain!
While a lot of the Flyers team has disappointed, there have been three bright spots that have become hard to miss. Claude Giroux is now tied for 5th in the league in points. He has mightily flown under the radar since Jakub Voracek has been tearing it up in the points column, but Giroux has quietly been climbing the ladder along with being a crucial piece of Voracek's success. You also may not have realized that Claude Giroux has been absolutely outstanding in the faceoff circle.
Claude Giroux ends the night 23-of-28 in the faceoff circle, 10-of-11 on defensive zone draws. Unreal.

— Bob Herpen (@pelle31lives) November 23, 2014
Giroux is now 9th in the league in faceoff percentage at 56.3% and is 1st in the league in faceoffs won with 299. Aside from Patrice Bergeron in 2nd (295 FO won),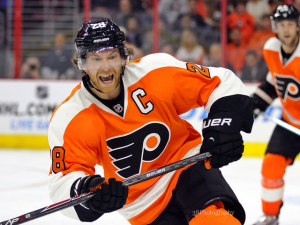 Giroux is 21 wins ahead of the next closest player. This is a huge reason why Giroux is a +8 on the season and has 6 powerplay goals and 11 powerplay points. He wins faceoffs to get out of the defensive zone, and wins powerplay faceoffs to sustain offensive pressure. It is a huge piece of the Flyers powerplay success and should not fly under the radar. Claude Giroux is filling his captains role perfectly, and that is one of the few bright spots this season.
2. Steve Mason is Back.
Steve Mason had a very rough month of October. He struggled to find wins and did not look confident in net whatsoever. Mason has been historically bad in October, but this month looked really bad. Ray Emery was starting games while Mason was riding the pine, and it looked like there could be another goalie controversy. Mason was 0-3-1 with a 3.83 GAA and an .878 S% in October. Those days are long gone. In the month of November, Mason is 4-3-1 with a 1.89 GAA and a .946 S%. If this Mason is the goalie that is here to stay for the rest of the season, then the Flyers could have a shot at making the post-season, and that's a lot to say with how the team is playing.
With his recent hot streak, Steve Mason has vaulted to 8th in NHL with .923 SP…ahead of Lundqvist, Price, Bishop, Halak, Bernier, and more

— Sam Carchidi (@BroadStBull) November 26, 2014
3. Something Needs to be Done About RJ Umberger.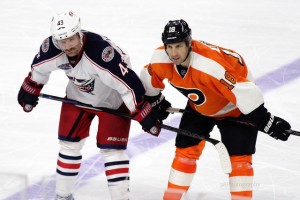 Preferably scratch him. This will go down as one of the worst trades the Flyers have made in a very long time. When Umberger was acquired for Hartnell, I originally thought that the Flyers were degrading in talent by just a little bit, while shaving a year off the contract that Hartnell had. Well, 20 games into the season and I would reverse that trade in a heartbeat. Umberger looks completely lost on the ice and even worse, he has been invisible. Umberger's 23 shots on the season are the least out of forwards who have played all 20 games this sseason, and he is averaging just 1.2 shots per game. He has 1 goal and 2 assists on the season, which is not good enough. At this point I would rather see the Flyers scratch him and give someone like Taylor Leier a shot, or allow Jason Akeson to get some more NHL playing time, because RJ Umberger is a serious problem on the ice right now.
4. Craig Berube Will Not Finish the Season as Head Coach.
This is more of a prediction, but I don't see Berube being behind the Flyers bench at the end of the season. Earlier in the season, I detailed the Flyers inability to play a good position game, and that still has not changed, infact it has gotten worse. How many times in the game on Monday against the Islanders did you see the Flyers running around in their own zone, unable to get the puck out? Alot. During this game, Andrew MacDonald had a shift that lasted almost 3 minutes, yes you read that right 3 minutes. It goes past that. Teams have figured out how to exploit the Flyers penalty kill, and it is a very fixable problem that Craig Berube has not addressed.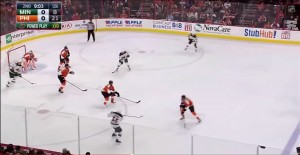 The two pictures above sum it all up. In the one on the top, the eventual goal scorer, Rick Nash, isn't even in the picture, he's off to the bottom left wide open. Martin St. Louis threw a quick pass cross ice and it was a tic-tac-toe goal that was completed with ease. Move to the picture on the bottom. RJ Umberger, who is the Flyer forward closest to the blue line, completely left his side of the ice leaving Nino Niederreiter wide open for a one timer. Pass comes cross ice, Niederreiter buried it. No chance for Emery or Mason on either of these. Notice in both how the Flyers are only concerned about the puck carrier, they are all looking at the puck with no awareness of who else is around them along with being out of position. That is all on the coach, and it is very fixable. The Rangers first exploited and thrived off of it in the playoffs last year, and ever since then, the problem has only gotten worse.
If Berube is going to finish the season behind the Flyers bench, he needs to get a hold of his players and change up his systems, because this is a huge problem for the Flyers that is very fixable.
5. Jakub Voracek Isn't Just on a Hot Streak.
Kladno, Czech Republic. It's a suburb of about 70,000 to the North of Prague that you've probably never heard of. Jakub Voracek hails from this town, and ironically NHL legend Jaromir Jagr calls this his hometown as well. The reason I bring this up is because Voracek is really starting to resemble a young Jaromir Jagr. The way he protects the puck, the strength he shows on the puck, the playmaking ability, it all echoes the way Jaromir Jagr plays the game. Of course, Voracek is still early in his career, but watch him play and it's very hard to deny the shades of Jagr that can be seen in number 93. Voracek proved to everyone that October was no fluke, this is the player he can be. Through 20 games, Voracek is tied for first in the NHL in points (29), and leads the NHL in assists (22), and he has only been getting better. If there's one bright spot for Flyers fans, it has been the promising play of Jakub Voracek, who is only poised to get better.
Matt is a contributor for the Philadelphia Flyers at The Hockey Writers. He has previously covered the Flyers for GrandstandU. He enjoys playing hockey and making music in his spare time.