The old adage goes that Rome wasn't built in a day, but the same can be said about successful NHL teams.
The 2011-2012 Dallas Stars finished 10th in the West and missed the playoffs for the fourth consecutive year, extending the longest postseason drought that the team has seen since relocating to Dallas from Minnesota in 1993. The recent past has been upsetting and frustrating, but by looking at things on a much larger scale, it's hard to not consider the season a success on multiple levels.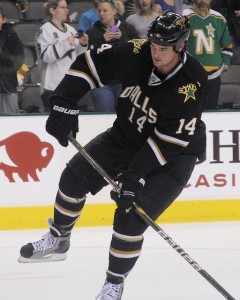 Going into the start of this season, nobody expected much out of the Stars. After all the team lost Brad Richards in free agency, was trying out a rookie coach in Glen Gulutzan, and had one of the NHL's lowest payrolls due to a failure to find a new owner in time for training camp. NHL pundits were predicting the Stars to miss the playoffs across the board, some of them even penciling Dallas in at 15th in the West.
But despite all the adversity, Dallas put forth a remarkable effort. GM Joe Nieuwendyk's sly free agent signings provided valuable depth, the team's youngsters jumped forward in their development, and at multiple points in the season the Stars were sitting in 1st in the Pacific Division, before the team ultimately faltered right before playoffs.
Going forward the team might not have the prestigious prospects of a team like the Edmonton Oilers or a balanced young core like the St. Louis Blues, but there are still many reasons to be optimistic.
They say that teams often build from the goaltender out, and that fits Dallas to a tee. Kari Lehtonen emerged this season as one of the NHL's elite netminders, posting a career-best 2.33 G.A.A. and .921 save percentage. And at only 27 years old, Lehtonen is just beginning to come into his prime. Rookie Richard Bachman battled Dallas' backup role away from Andrew Raycroft, and posted a respectable 8-5-1 record. At 24, Bachman still has lots of room to grow. And grow he'll have to, with 2010 1st rounder Jack Campbell finishing the season strong in the AHL with a .912 save percentage. Campbell is the franchise's goalie of the future, and will push Bachman for playing time in the NHL in the upcoming future.
The season also saw the continued stratospheric growth of superstar-in-the-making Jame Benn, who set a career high in points with 63, despite this being the first season of his career playing at center instead of left wing. Big, skilled and driven to win, Benn has shown all the signs that he can become of the league's premier power forwards in the years to come. He'll be able to do it alongside Loui Eriksson,  who led the team in points with 71, his 3rd consecutive season topping the 70-point plateau. More than just a scorer, Eriksson is showing signs of Datsyukian 200-foot play, and is a valuable player for the Stars in all situations.
Former Stars center Brad Richards signed a gigantic nine-year, $60 million contract with the New York Rangers in the offseason, and followed that up with 66 points in 82 games. Nobody expected the Stars to replace the offense lost, but did so with the signing of right wing Michael Ryder, who had 62 points in 82 games, and did so on a two-year, $7 million contract. Now, nobody will ever say that Ryder is the elite offensive force that Richards is, but the numbers don't lie: GM Joe made one of the best free agent signings of the summer with Ryder. Ryder, along with other veteran forwards Mike Ribeiro and Brenden Morrow, all have one year remaining on their contracts with the Stars, and will provide veteran experience to help the team's youth develop.
Speaking of youth, the Stars have made a concentrated effort over the last few seasons to amass a deep stable of young prospects to help secure the team's future, and those seeds are beginning to bear fruit. Tomas Vincour and Philip Larsen both became important regulars for Dallas this season, with Vincour, 20,  scoring 10 points in 47 games while seeing some time on the second line, while Larsen, 21, finished with a +11 while averaging  17:57 of ice time per game.
Beyond that, most of Dallas' future is just beginning to surface. Forwards Reilly Smith, Alex Chiasson and Austin Smith all wrapped up their collegiate careers, while other Stars draft picks Scott Glennie and Colton Sceviour had strong AHL seasons. Undrafted free agent signings Matt Fraser and Brenden Dillon made impacts as well, with Fraser finishing second in AHL goal scoring with 37 and Dillon emerging as the Texas Stars' best defenceman. And with 2011 first rounder Jamie Oleksiak and 2010 2nd rounder Patrick Nemeth both heading to Texas next season, along with all of the players mentioned above, there will be fierce competition among youth to try and crack the NHL roster. Expect Nieuwendyk to act in accordance and leave a couple roster spots to be seized by whoever has the strongest training camps.
While Stars fans quickly grew accustomed to winning following the successful teams of the late 90s and early 2000s, the years that followed became trying as the likes of Modano, Hull, Hatcher and Zubov all departed and the team's success waned. But with new owner Tom Gagliardi willing to open his pockets, a clever GM that has shown he is capable of making the right move, a young coach with a stacked resume of minor league successes, a balanced core of youngsters and vets, and a deep group of highly-touted prospects all fighting for their spot in The Bigs, the Dallas Stars can look beyond another season of missed playoffs to a future that's brighter than it's been in years.