Make no mistake, when Steve Yzerman steps to the podium announces via Zoom the Detroit Red Wings' first-round pick at the 2020 NHL Draft, he needs to select a forward. 
Defenseman Jamie Drysdale has been associated with Detroit at No. 4 throughout this year's mock draft season. However, the Red Wings should avoid choosing Drysdale—or Jake Sanderson—with their first-round pick. This isn't a knock against the blueliner, but rather a recommendation based on last year's draft plus what's to come in 2021.
Let's dive into why this needs to be the case for Yzerman and the Red Wings.
Related: Red Wings 2020 Draft Preview: Targets & Predictions
Red Wings' Prospect Pipeline
Last year, the Red Wings shocked the hockey world by selecting blueliner Moritz Seider with the sixth-overall pick. The right-handed blueliner was spectacular in the AHL this past season and could earn a spot on the 2020-21 roster.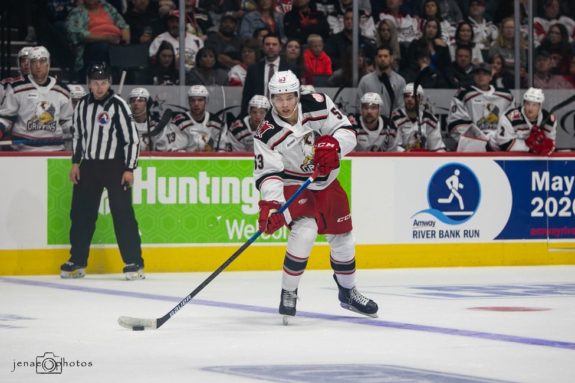 In addition to Seider, the Red Wings drafted defensemen Antti Tuomisto, Albert Johansson, Cooper Moore, and Gustav Berglund. In particular, Tuomisto and Johansson took tremendous strides in their development last year and could turn into second-pairing blueliners down the road. Berglund was also a nice surprise and has a chance to become a solid depth piece for Detroit.
For those keeping score at home, the Red Wings drafted five defensemen in 2019 – the most the franchise has taken in a single draft since 1993. Plus, Detroit already has Jared McIsaac, Gustav Lindstrom, and Dennis Cholowski in the pipeline and 22-year-old Filip Hronek playing top-pair minutes in the NHL.
Given their depth on defense, prioritizing a defenseman in the first round doesn't make a whole lot of sense. This is especially the case when you consider what's coming in 2021.
Related: Red Wings Prospect Rankings & Outlook
Stacked 2021 Draft Class
Looking forward to next year, the 2021 NHL Draft will feature several elite defensemen in the top 10. To illustrate, let's take a look at a consensus ranking involving early reviews from The Hockey Writers' Josh Bell, DobberProspects, and The Athletic's Scott Wheeler (from 'Wheeler: Preseason ranking for the 2021 NHL Draft's top 32 prospects' – The Athletic NHL – 9/14/20).
| | | | | |
| --- | --- | --- | --- | --- |
| Prospect | Bell | Dobber Prospects | Wheeler | Average |
| RD Brandt Clarke | 2 | 2 | 1 | 1.67 |
| C Aatu Räty | 1 | 1 | 5 | 2.33 |
| LD Owen Power | 3 | 4 | 3 | 3.33 |
| LD Carson Lambos | 4 | 3 | 6 | 4.33 |
| RW Dylan Guenther | 5 | 6 | 8 | 6.33 |
| C Chaz Lucius | 7 | 5 | 7 | 6.33 |
| LD Simon Edvinsson | 10 | 9 | 2 | 7.00 |
| C Kent Johnson | 6 | 12 | 4 | 7.33 |
| LD Luke Hughes | 9 | 7 | 10 | 8.67 |
| LW Fabian Lysell | 8 | 8 | 11 | 9.00 |
With the Red Wings likely to repeat as lottery pick contenders, a top-five selection is all but certain. And if that is indeed the case, defensemen Brandt Clarke, Owen Power, and Carson Lambos would be excellent additions to Detroit's prospect pipeline. In addition, Simon Edvinsson and Luke Hughes are fantastic consolation prizes if the Red Wings manage to avoid rock bottom next season.
So if Detroit already has a right-handed, top-pairing rearguard in Seider and the 2021 draft class is loaded with top-notch defensive talent, then why would they spend their 2020 first-round pick on a defenseman? They shouldn't – choosing Cole Perfetti, Lucas Raymond, or Marco Rossi at No. 4 makes the most sense from an organizational depth standpoint.
Related: Red Wings: 4 Burning Offseason Questions
Final Word
NHL teams often scout players for two-plus years before they're drafted. It shows how they've progressed and gives scouts plenty of information on how players respond to certain situations.
Additionally, this multi-year approach to prospect scouting allows teams to plan out how they want to approach each year's draft. Detroit could have purposely loaded up on defensemen at the 2019 draft knowing that 2020 would have a relatively weak blue line class and 2021 will likely feature several defensemen at the top.
You've heard the phrase, "it's a business," a million times. The draft is no different. Teams that conduct strategic planning over a three- or four-year span are going to gain an advantage. And it's possible that Yzerman's Red Wings are in the midst of their own long-term plan.
---
---