We have made it to Part 10 of our Columbus Blue Jackets series on potential trading partners. In case you missed our ninth installment, we discussed the one player on the Arizona Coyotes that the Blue Jackets should try and pursue.
Let's check in with the Chicago Blackhawks. What are they up to these days since being eliminated from the bubble by the Vegas Golden Knights? Like most teams, they have some high-priority items they need to address.
Blackhawks' Priorities
At the top of the list for them is goaltender Corey Crawford. Once that's settled, then other things will come to the forefront.
The Blackhawks big negotiation after Crawford will be Dominik Kubalik. But then they also have center Dylan Strome to worry about.
Here's a situation where the Blue Jackets should watch from a distance. Why? That's because the Blackhawks are one of the teams dealing with a major cap crunch.
According to Cap Friendly, the Blackhawks have just $7.83 million in available cap space with Crawford, Kubalik and Strome all needing new contracts. Unless other things happen, I don't see how all three are staying under these circumstances.
Crawford could elect to go to market if he and the Blackhawks can't find common ground on a new deal. Should this happen then the team will have to look on the market for a potential starter. Unless they go the young route and allow Collin Delia or Malcolm Subban to start, they're going to need a netminder.
If Crawford and the Blackhawks do agree to a new deal, that's going to put even more strain on an already tight cap situation. Kubalik could easily get $4 million or more on market after the season he had in 2019-20. Strome won't take as much to sign since he has no arbitration rights yet but it still could be too expensive for the Blackhawks.
Offer Sheet?
Ah yes, it's time to bring up that voodoo word that makes some fans shutter. Repeat after me. Offer sheet. Yes that's it. Offer sheet. Especially in this kind of environment, GM's could elect to present offer sheets to players on teams in cap hell. There's at least a chance it could happen here.
Given Kubalik's projected contract numbers, it would most likely take just a second rounder in order to be eligible for this level of offer sheet. Teams will seriously have discussions about this. That's not a lot for a player like Kubalik.
But we are talking about the Blue Jackets. They don't have a second rounder this year or next year as of this writing, so that takes them out of some offer sheet levels. I don't think they'd pursue Kubalik given the eventual price. But I do think they should look at Strome.
The range of AAV where no compensation is required is $0-$1,439,820. That doesn't seem like a lot and it feels like an easy match in most situations. But I don't think it's that easy here, not with the Blackhawks cap crunch.
The Blue Jackets in theory could offer sheet Strome with an AAV of the upper end of that range for 3-4 years and the Blackhawks would have to think about it. No compensation would be required by the Blue Jackets and the Blackhawks might not be able to match especially if they want to get other things done. It's one possibility.
Trade Partners Again?
Another thing to watch is a trade. The Blue Jackets and Blackhawks do have plenty of trade history (see Panarin, Artemi and Saad, Brandon.) It's clear Jarmo Kekalainen and Stan Bowman are comfortable with each other. Perhaps they can find a reasonable trade where Strome comes to the Blue Jackets.
But why would the Blue Jackets consider Strome? He could be a potential center that comes at a reduced cost, that's why.
Although Strome's career got off to a rough start in Arizona, he's been good in his time with the Blackhawks. In 116 games, Strome has 89 points. He's taken advantage of the opportunity given to him. Being reunited with his former Erie Otters' teammate Alex DeBrincat certainty didn't hurt.
Strome has plenty to work on in his game including faceoffs. But let's remember he's just 23 and was the third overall pick in the 2015 NHL Draft. There is plenty of talent here. But the Blackhawks might not be able to afford him.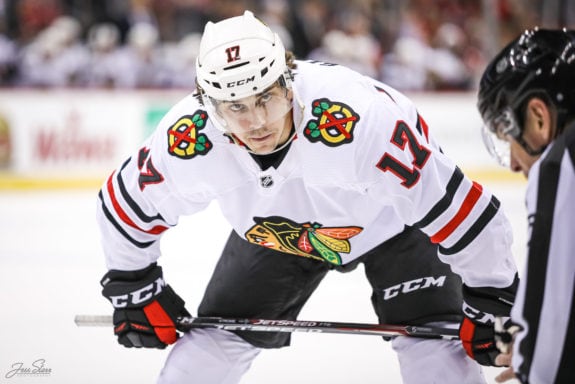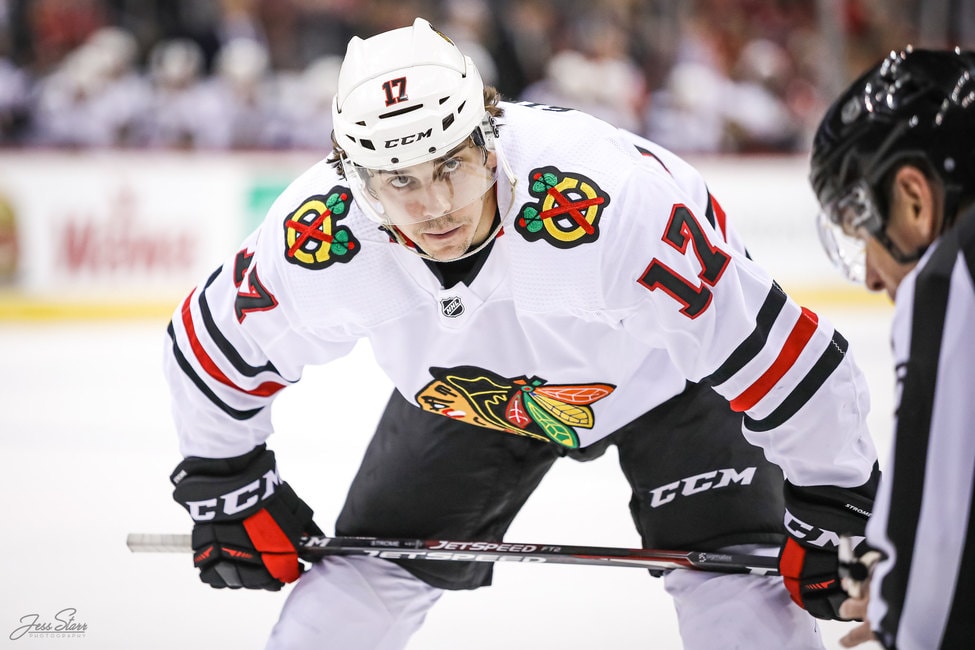 The Blue Jackets have a need for a top-six center. Strome in a limited amount of time showed he could play that role. If the Blue Jackets can't find another deal elsewhere and they want a more economical option, they should look at Strome and see if there's a match. I think he would do well learning from a coach like John Tortorella.
Potential Framework
From a Blackhawks perspective, the vibe I'm seeing is that they want to give their youngsters as much opportunity as possible. They are loaded on defense similar to the Blue Jackets. What could a potential trade look like?
This is assuming Crawford does go to market. I could see something like Strome and the 46th pick to the Blue Jackets for goaltender Joonas Korpisalo and the Blue Jackets fourth rounder.
The Blue Jackets get their center and replenish a second rounder. The Blackhawks get a young, controllable starting goalie who was an All-Star last season. Korpisalo is signed for two seasons at just $2.8 million on the cap. A deal like this could allow the Blackhawks to handle their other business. If Crawford comes back, please ignore this hypothetical trade idea.
Anyways, the takeaway is that the Blackhawks are cap strapped and Strome could be had at a potential discount. The Blue Jackets should be all over this situation. Stay tuned for Part 11 as we travel to New England and check in on the always interesting Boston Bruins.
---
---