What's The Grind Line? Apart from the once-famous line of Kris Draper, Kirk Maltby, and either Joe Kocur or Darren McCarty, The Grind Line is also The Hockey Writers' weekly column about the Detroit Red Wings. Rachel Anderson (unavailable this week) and Tony Wolak are the muckers who makeup THW's forechecking unit and sound off on Red Wings topics. This week, we've also added guest contributor, Brandon Share-Cohen.
---
Over the next two weeks, much of the conversation around the Detroit Red Wings and their 2019 NHL Trade Deadline plans will center on whether they trade or re-sign key pending free agents. General manager Ken Holland likes his team and prefers to evaluate their overall performance and growth, rather than what the standings say.
In this week's edition of The Grind Line, The Hockey Writers' Red Wings coverage team explores the future of Detroit's three main trade chips—Jimmy Howard, Nick Jensen and Gustav Nyquist—and identifies where they will be playing after the trade deadline passes.
THW's Brandon Share-Cohen joins this week to discuss his take on Detroit's outlook.
Nick Jensen
Tony Wolak: Arizona Coyotes
Let's start off with a dark-horse choice – I believe Jensen fits what the Arizona Coyotes are looking for. Yes, Jensen is a pending unrestricted free agent, but I think the Coyotes would acquire him with the intent on signing the analytics darling long-term.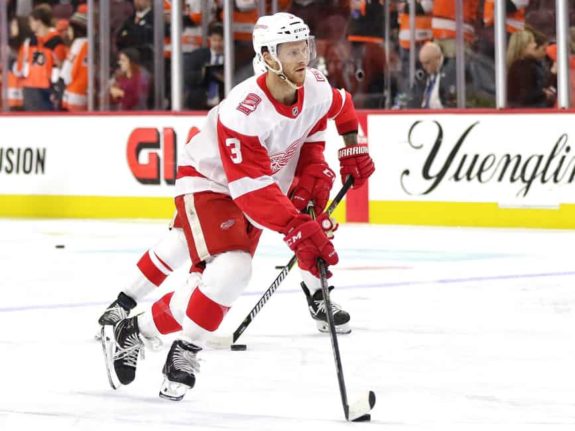 Arizona is one of the most analytically-inclined organizations in the NHL with John Chayka at the helm. On a struggling team, Jensen has the best relative Corsi-for among Red Wings defensemen (3.66). His expected goals-for percentage is also tops among Detroit's blueliners (51.37 percent) and he has the only rating above 50 percent.
Holland and Chayka came together on the Dennis Cholowski/Jakob Chychrun/Pavel Datsyuk trade previously and could find common ground again with Jensen. Arizona has a deep prospect pool and could opt to part with a promising goalie, which would give the Red Wings some much-needed organizational depth. They also have an extra third-round pick, which was acquired earlier this season from the Chicago Blackhawks.
Brandon Share-Cohen: Toronto Maple Leafs
Jensen could be a solid depth add for a contender looking to shore up the right side of their blue line. Jensen isn't going to break the bank as far as assets are concerned and can easily fill a bottom-pairing role on a good defensive unit. On a team like the Toronto Maple Leafs, Jensen even has the potential to take some shifts in their top-four.
In acquiring Jensen, the Maple Leafs would also likely keep valuable assets to deal for another player if need be. It could also mitigate the damages they do to their future as they already traded a plethora of assets to acquire Jake Muzzin.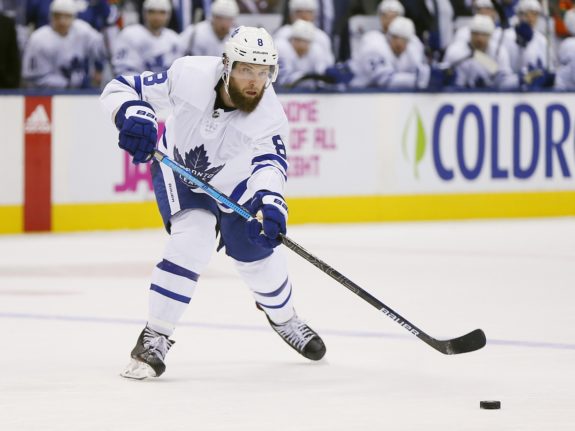 Jensen could cost anywhere from a fifth-round draft pick up to a second-round draft pick, depending on how the market shakes out. Detroit would be wise to recoup some assets for him.
Jimmy Howard
Tony Wolak: Detroit Red Wings
At the moment, no contenders absolutely need a starting goalie. That may change for the Columbus Blue Jackets, but otherwise, no one is going to pony up and offer the Red Wings a package that would pry away their All-Star netminder.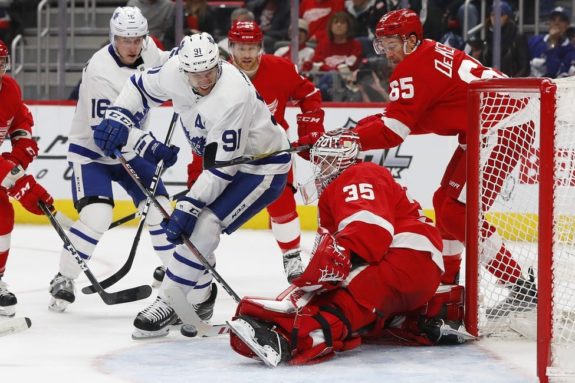 The Red Wings want to re-sign Howard – likely another two-year deal in the neighborhood of $5 million per season. They also want a first-round pick in exchange for the netminder if they're going to uproot Howard. Which is more likely to happen? Given the realistic state of the goalie market and this summer's free agency class, the smart move is to re-up Howard – especially if Holland wants to contend next season.
Related: Can the Red Wings Contend in 2019-20?
Brandon Share-Cohen: Detroit Red Wings
While there would almost certainly be a trade market for Howard at the deadline, his desire to stay with the team and the Red Wings' need at goaltender make it more likely that he stays than goes.
The Red Wings still need to play hockey once the deadline passes and trading away their best and realistically only option at starting goalie outside of Jonathan Bernier just doesn't seem like a smart decision. It also doesn't make sense to get minimal return for a goalie who has publicly stated he'd rather remain a Red Wing than play with a contender. It comes down to his love for the team and especially the city, a place he's started a family, that makes me believe he goes nowhere.
For the sake of it, though, the Philadelphia Flyers and Florida Panthers both make sense as possible landing spots.
Gustav Nyquist
Tony Wolak: Washington Capitals
All defending Stanley Cup champions reload so they have a better chance of repeating. The Washington Capitals will be no different. They could use more depth scoring and adding Nyquist—who's on-pace for career numbers—would solve that issue. He'd fit in well playing on the second line alongside Evgeny Kuznetsov and either Tom Wilson or T.J. Oshie, depending on how Todd Reirden fills out the lineup card that night.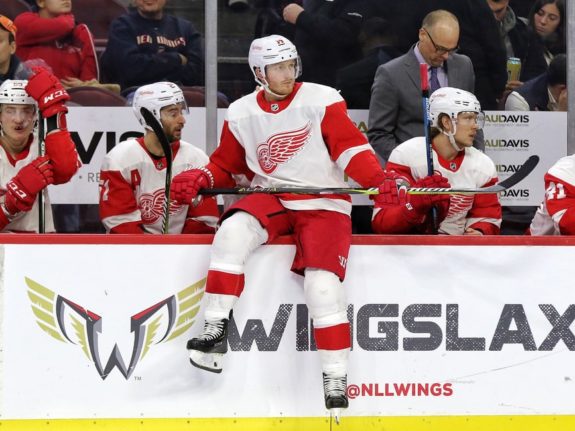 In exchange, the Red Wings would need to retain salary and/or take a roster player back. Andre Burakovsky's name has been mentioned as a potential trade candidate and he'd fit in well with Detroit's rebuilding plans. The former first-round pick just turned 24 and has top-six potential. He can also help the Red Wings immediately – something Holland stated as a must if he's going to part with key players.
Related: The Red Wings' 2019 Deadline Trade Chips
Brandon Share-Cohen: Calgary Flames
Seemingly out of nowhere, the Calgary Flames have become one of the best teams in the NHL. With the team making the jump from possible playoff contender to legitimate Stanley Cup contender overnight, the expectations have changed heading into the trade deadline.
Nyquist is having a very good season and should be able to garner a significant return on the trade market for the Red Wings. It probably won't be as big as the return the team got for Tomas Tatar (though truth be told, the Vegas Golden Knights were the second team on my list for Nyquist), but the Red Wings should definitely explore their options with Nyquist and sell him to the highest bidder.
The Flames could slide Nyquist onto their second line with Michael Frolik sliding down to their third line in turn. That would give them a top-six consisting of:
| | | |
| --- | --- | --- |
| LW | C | RW |
| Johnny Gaudreau | Sean Monahan | Elias Lindholm |
| Matthew Tkachuk | Mikael Backlund | Gustav Nyquist |
Will the Detroit Red Wings trade these three players? Share your thoughts below and cast your vote on Twitter.