The Detroit Red Wings have traded winger Tomas Tatar to the Vegas Golden Knights in exchange for a 2018 first, 2019 second and 2021 third-round picks, Gord Miller announced Monday. Tatar is 27 years old and has another three years on his current contract beyond the 2017-18 season with an annual cap hit of $5.3 million.
Detroit trades Tomas Tatar to Vegas for 1st, 2nd and 3rd round picks.

— Gord Miller (@GMillerTSN) February 26, 2018
Tatar has been a consistent scorer for the Red Wings throughout his career, scoring at least 20 goals in each of the last three seasons and looking primed to do so again this year. His best season came in 2014-15 when he scored 29 goals and 56 points in 82.
With 16 goals and 28 points in 62 games this season, it's clear that Tatar isn't quite producing at the same level he has in the last three seasons. Still, as a skilled winger who has proven he can contribute, Tatar is a solid addition to the Golden Knights. Originally drafted with the 60th overall selection in the 2009 NHL Entry Draft, Tatar's ability to find space and create offense has been notable throughout his career.
Related: 2018 NHL Deal Tracker
Golden Knights Making a Move
In 407 games, Tatar has scored 115 goals and 222 points at the NHL level. He's been one of the most integral pieces of the Red Wings offense for years and will now test his hand with the _, a team looking for a postseason push. The remaining three years on Tatar's contract appeared to be a sticking point for some teams acquiring Tatar, but with Tatar set to be 30 years old at the end of the deal, the risk factor isn't as bad as it would be had the term extended into his mid-to-late 30s.
At the same time, the Golden Knights have a significant amount of cap space and can easily fit Tatar's contract into the mix. While they were working hard with the Ottawa Senators down to the wire to acquire Erik Karlsson, they were able to acquire Tatar to make some sort of addition to their roster for a postseason push.
The Golden Knights weren't expected to be anywhere near as good as they have been this season. Though their roster was built to be dismantled at the deadline, their success forced their hand and changed their plans. The Golden Knights are already the most successful team in the history of NHL Expansion teams, and now they'll get a chance to cap that success of with a long postseason run.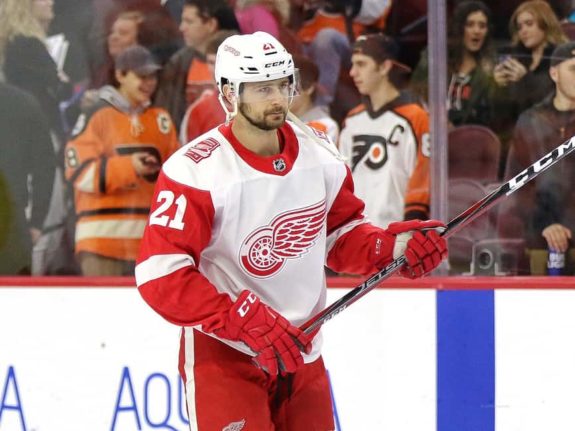 Tatar will fit in well with the Golden Knights' top-six and could add some additional scoring to a team that has already displayed a ton of skill and excitement. With a plethora of draft picks and assets at their disposal, it isn't surprising that the Golden Knights were able to overpay a little for a player like Tatar, especially if they want to keep pace with the Winnipeg Jets, Pittsburgh Penguins, Tampa Bay Lightning and Boston Bruins who all made moves at the 2018 NHL trade deadline.
Brandon Share-Cohen has covered the NHL and various professional sports for seven years. Working with The Hockey Writers, Brandon works extensively on covering the Boston Bruins in addition to his role as the News Team Lead.