It doesn't get much better than this! Well it does, but that was back in 2010, 2013, and 2015. Since winning three Stanley Cups in six years, the Chicago Blackhawks have struggled, especially in this 2018-19 season. So when a blockbuster coaching change, two eight-game losing streaks, and difficult personnel changes finally culminate in a season-high seven-game winning streak, it's something to get excited about.
The Hawks won two important matchups before their extended break in late January, and have since added five more, including three wins this past week. They earned six more points in a very tight Western Conference wild-card race. There are no guarantees, but each win is keeping the Blackhawks' playoff hopes alive. Here's a more detailed look at these three recent triumphs.
Blackhawks' Week 19 Matchups
@ Edmonton Oilers, Tues. 2/5, Win 6-2
Vs. Vancouver Canucks, Thurs. 2/7, Win 4-3 OT
Vs. Detroit Red Wings, Sun. 2/10, Win 5-2
Overall Record: 23-24-9, 55 points
Blackhawks Stars Keep Shining
In last week's column, we discussed how the Blackhawks can't be satisfied right now, especially if they want to make a push for the playoffs. As captain Jonathan Toews said, "We got to ride it out (that momentum) & keep getting better throughout the whole thing." Well, it appears they're doing just that. Let's look at the heavy hitters and what they've accomplished since then.
Last week, Patrick Kane earned his 900th career point and ended the week on an 11-game point streak. His 76 points were only four points behind Tampa Bay's Nikita Kucherov for the league lead. In the last three games, Kane's notched two more goals and three more assists and is now on a 14-game point streak. With 81 points, he's only three points behind Kucherov for the league lead.
Last week, Toews recorded his 23rd goal and his 51st point of the season. In the last three games, he's also tallied two more goals and three more assists. His helper on Erik Gustafsson's goal against the Oilers matched his point total from last season (52 points) in 20 fewer games. His overtime winner against the Canucks was a reminder of the Toews of old. He now boasts 25 goals and 31 assists for 56 points and is currently on a seven-game point streak of his own.
Last week, Alex DeBrincat was on a five-game point streak. In the last three games, he's notched two goals and four assists and extended his point streak to eight games (a career high). His goal against the Oilers on Tuesday put him at 100 career points.
Just how quickly did @Brinksy97 reach the 100-point milestone?

Put it this way: He did it faster than two #Blackhawks who have their numbers hanging in the @UnitedCenter rafters. pic.twitter.com/LQAV73AF46

— Chicago Blackhawks (@NHLBlackhawks) February 6, 2019
Last week, Brandon Saad suited up for his 500th career game and had six goals in the last nine games. He's still earning his keep, with a goal and two assists in the last three games. His tally against the Canucks Thursday night was his 18th, equaling his goal total from last season. With 27 games to go.
Last week, Dylan Strome had recorded two or more points in four of the last six games. This week, he secured two three-point games, making it six multi-point tilts in the last nine. He's also on a four-game point streak.
Kahun Earns Star Status
We have a new star to add to the show! Dominik Kahun had himself a week. He's been playing on the second line with Strome and DeBrincat of late. While he's definitely been an integral part of this line's success, the other two have mostly been running away with the point production.
That all changed this past week as Kahun recorded a goal and an assist against the Oilers Tuesday, and two goals and an assist Sunday versus the Red Wings. Add two assists from last Saturday against the Wild, and Kahun's had two or more points in three of the last four games. Check out his second goal from Sunday night!
Kahun earned the No. 1 Star of the game Sunday, and his 11 goals make him the seventh Blackhawk this season to reach double-digit goals. Oh, and he happens to have played in all 56 games without committing a penalty. Lady Byng candidate, anyone?
 Goalie Tandem Working Well
Ever since the All-Star break and bye week, the Blackhawks have been alternating goaltenders Cam Ward and Collin Delia every other game in net. Ward has suited up for three tilts, averaging 2.3 goals against and a .937 save percentage in that span. Delia has played in two matchups, averaging 3.00 goals against and a .916 save percentage. Both netminders have made some tough saves to keep the Hawks in games. While there have been a few soft goals, they've been at a minimum. And let's not forget, all of the above tilts have been wins.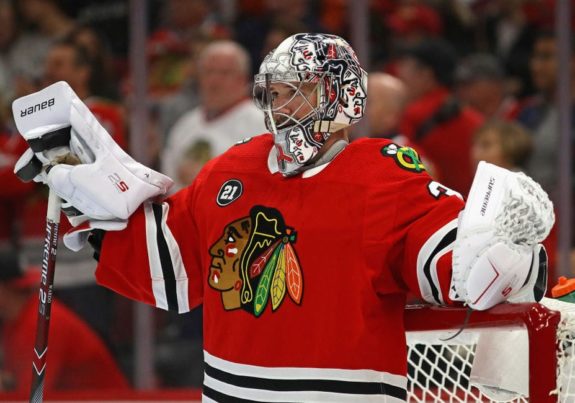 So far, this rotation appears to be working. It's probably a good way to keep both goaltenders fresh and on their game. In the past, Ward's had some consistency issues, looking solid at times and then terrible other times. Keeping a regular schedule could be helpful in that regard. And Delia is still getting his reps in and progressing at the NHL level without being overwhelmed with a heavy workload.
As Ward started on Sunday, look for Delia to get the nod this coming Tuesday against the Boston Bruins.
Related – Ranking the NHL's 31 Starting Goalies: Midseason Update
Other Blackhawks' News and Notes
The Hawks announced last Tuesday, Feb. 7 that center David Kampf will be out 3-4 weeks with a foot injury.
In Kampf's absence, the Blackhawks do not plan on bringing up another player from the Rockford IceHogs, leaving them with 12 active forwards and no reserves. This means John Hayden, Chris Kunitz, and Brendan Perlini will suit up for every game.
Chris Kunitz will play in his 1000th NHL game against the Boston Bruins this Tuesday.
Corey Crawford participated with the team during practice this past Saturday for the first time since suffering a concussion on Dec. 16. There are no further updates on his progress.
While defensemen Gustav Forsling and Carl Dahlstrom have been rotating in and out of the lineup of late, Slater Koekkoek has dressed for the last three games. Meanwhile, Henri Jokiharju has been with the IceHogs since Jan. 31. It will be interesting to see what transpires with this logjam on the blue line as the Feb. 25 trade deadline approaches.
---
The Blackhawks face all Eastern Conference foes this coming week. They travel to Boston to take on the Bruins Tuesday night. Then they head back home to host the New Jersey Devils Thursday and the Columbus Blue Jackets on Saturday.
The Hawks are currently four points behind the Minnesota Wild for the final wild-card spot in the Western Conference. But it's hard to put too much stock in this, as the race is so close and the standings change every day. All they can do is keep winning, and hope for the best.