What's The Grind Line? Apart from the once-famous line of Kris Draper, Kirk Maltby, and either Joe Kocur or Darren McCarty, The Grind Line is also The Hockey Writers' weekly column about the Detroit Red Wings. Rachel Anderson, Jacob Messing, and Tony Wolak are the muckers who makeup THW's forechecking unit and sound off on Red Wings topics.
---
There has been a lot to talk about during Filip Zadina's short professional career, and his recent release to the 2019 World Junior Championships (WJC) will only add to it.
The Detroit Red Wings selected Zadina sixth overall this past June and argued that his single season spent in the Quebec Major Junior Hockey League (QMJHL) was on loan from his European career.
The Red Wings' argument was successful, which granted the then-18-year-old immediate eligibility to play for the American Hockey League's (AHL) Grand Rapids Griffins. It was a heavily debated decision, on par with the team's choice to release the now-professional player to the Czech Republic junior national team, allowing him to compete with junior-status opponents.
This week, your trusty Grind Line contributors dive into whether or not Zadina's release to the WJC was the correct choice for his career path.
Messing: Absolutely
The move wouldn't even be a question had Zadina been returned to juniors for the 2018-19 season, but Red Wings management wanted to jumpstart his development. A logjam of forwards, coupled with a visible need for some more learning, saw Zadina begin his career in the AHL.
Related – The Grind Line: Is Zadina Better off in Grand Rapids?
Zadina has scored seven goals and eight assists for 15 points in 23 games with the Griffins. He has missed the last two outings with an undisclosed upper-body injury. Should he return for their next game on Dec. 11, he'll get another five games with the Griffins before his actual release for the Dec. 26-Jan. 5 tournament. Zadina will miss five to seven AHL games, depending on Team Czech's success.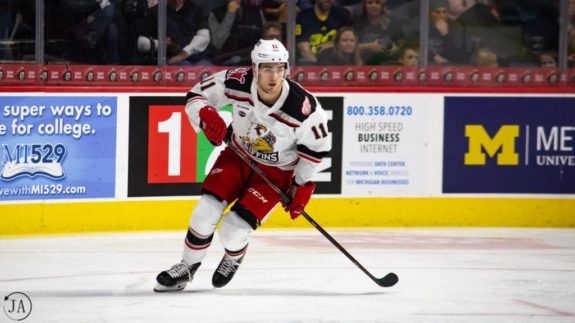 While it's an admittedly strange situation—arguing his loan from Europe to turn him pro, only to send him back to compete with junior-level players—he's still just 19 years old and he'll get the chance to regain some confidence in a tournament he's dominated before; more on that from Tony shortly.
Wolak: Good Choice
Since he joined the Griffins, Zadina hasn't exactly lit up the AHL, but that's just fine. He's only 19 and has time to adjust to the professional game.
Playing in this year's WJC will allow Zadina to take a quick breather from the rigors of the AHL and compete with some of the guys he grew up with in the Czech Republic.
Related: Filip Zadina Is Debunking AHL Misconceptions
It'll also provide him with a stage to dominate on and gain some confidence back. Last year, he scored seven goals in seven tournament games for his home country. This year, he'll be joined once again by Martin Necas and Martin Kaut up front for the Czechs. It would not be surprising to see Zadina among the tournament scoring leaders before he heads back to Grand Rapids for the rest of the AHL season.
When David Pastrnak followed this path during the 2014-15 season, his World Junior Championships performance spring-boarded him into the Bruins lineup before long. After starting the year in the AHL and starring for the Czech Republic in the tournament, Pastrnak recorded 27 points for the Bruins and has been a regular in their lineup ever since. Hopefully, Zadina can follow a similar route.
Anderson: Right Choice, But Won't Make or Break His Career
Though there is a lot of attention on Filip Zadina currently, it's nothing new for the forward. The invitation to the WJC is the second of his career so far. Though it's not old news for him, I don't believe it to be wholly unexpected either.
Being with Grand Rapids to start his career will likely remain the wisest choice made for his development this season.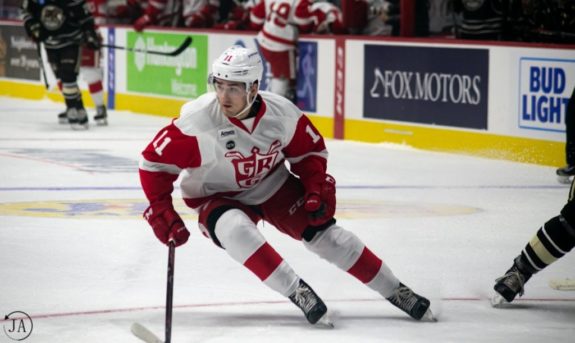 He'll benefit from the exposure the WJC will present, where he'll join fellow 2019 Red Wings draft picks, and an ability to play with more of a variety of skaters, but I don't see it as a make or break decision.
Zadina has gained quite a bit of confidence while with the Griffins, and it's becoming less of an issue as it was at the start of the season. As for the invite, it's an opportunity for him to play on a world stage, so-to-speak, but I don't think it's something that will alter his development or have a major impact on his game.
What do you think about management's decision with the young prospect? Comment below.
I offer opinions and insight on the Detroit Red Wings organization and its prospects.