The New Jersey Devils entered the all-star break at 32-13-4, placing them just four points behind the Carolina Hurricanes for first place in the Metropolitan Division. As such, they've been connected to a few big names a month ahead of the trade deadline; Timo Meier and Bo Horvat, to name a couple. Sportsnet's Elliotte Friedman said late last week that the Devils are the team to watch for Meier, so where there's smoke, there's fire.  
But what if the Devils miss out on Meier? They need to have plan B options, and one name who could be of interest is Vancouver Canucks winger Brock Boeser. Frank Seravalli reported last year that the Devils and Canucks had gotten close to a deal for Boeser a couple of times but that they couldn't come to an agreement. Things have changed in the last year, but could Boeser still be a fit in New Jersey?
What Boeser Could Offer the Devils
It has been a wild few months for the Canucks, and changes appear to be on the way. After signing Andrei Kuzmenko to a contract extension, Horvat is as good as a lock to get traded by the deadline. And it's possible Boeser could be, too, if the Canucks find a taker for the 25-year-old winger. 
Though Boeser has 30 points in 41 games at the all-star break, he has struggled in 2022-23. He's never been a great two-way winger, but his defensive game has taken quite the tumble this season. His even-strength defense has been worth an expected goals above replacement (xGAR) of minus-3.5, the worst among all Canucks skaters. 
Offensively, Boeser is producing, averaging 2.55 points per 60 minutes at five-on-five, ranked fourth on the team. That's a bit higher than his career average of 1.98 points per 60, but that's still a solid career rate. Yet, what he's known for — shooting and goal-scoring — has dropped off considerably. He's only on pace for 18 goals, which would be his lowest total since potting 16 during 2019-20 when he played in 57 games; that would be a 23-goal pace in 82 games.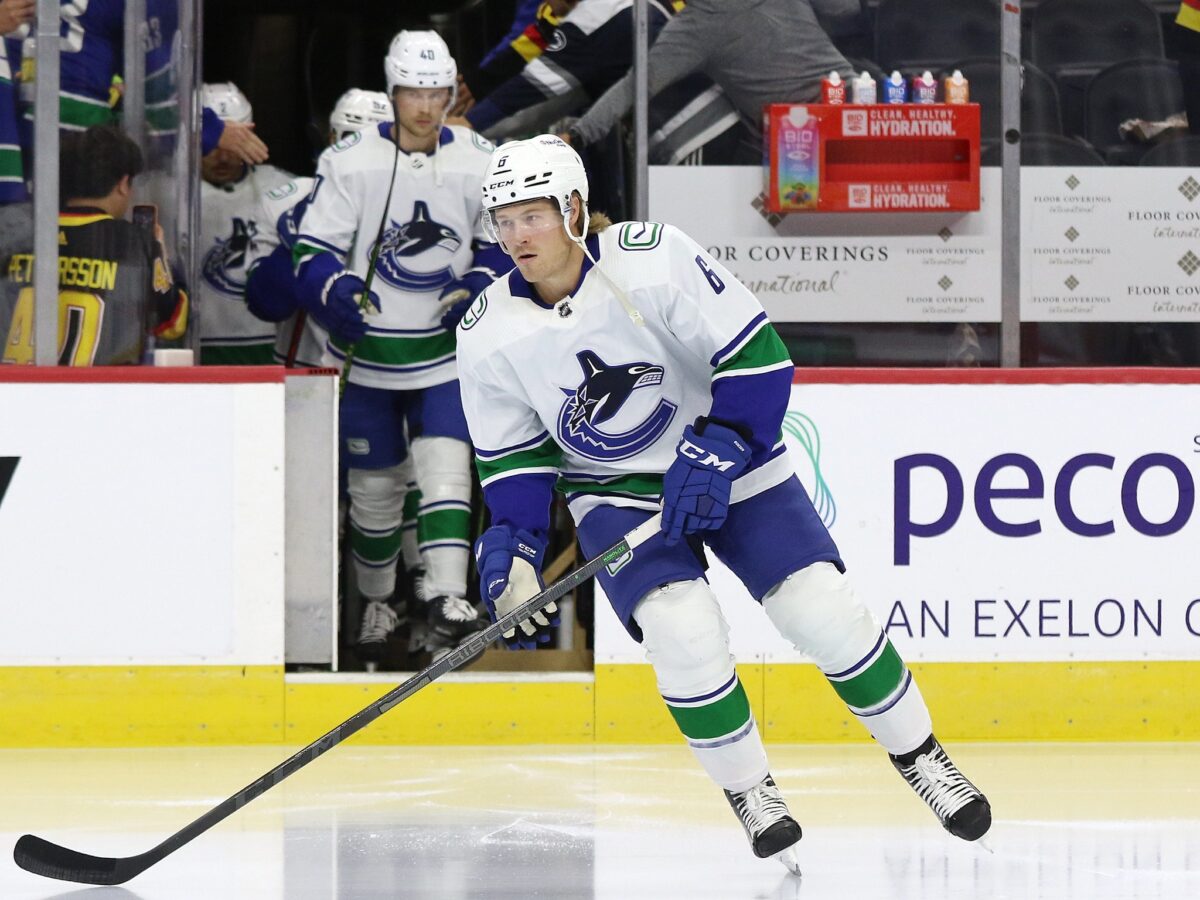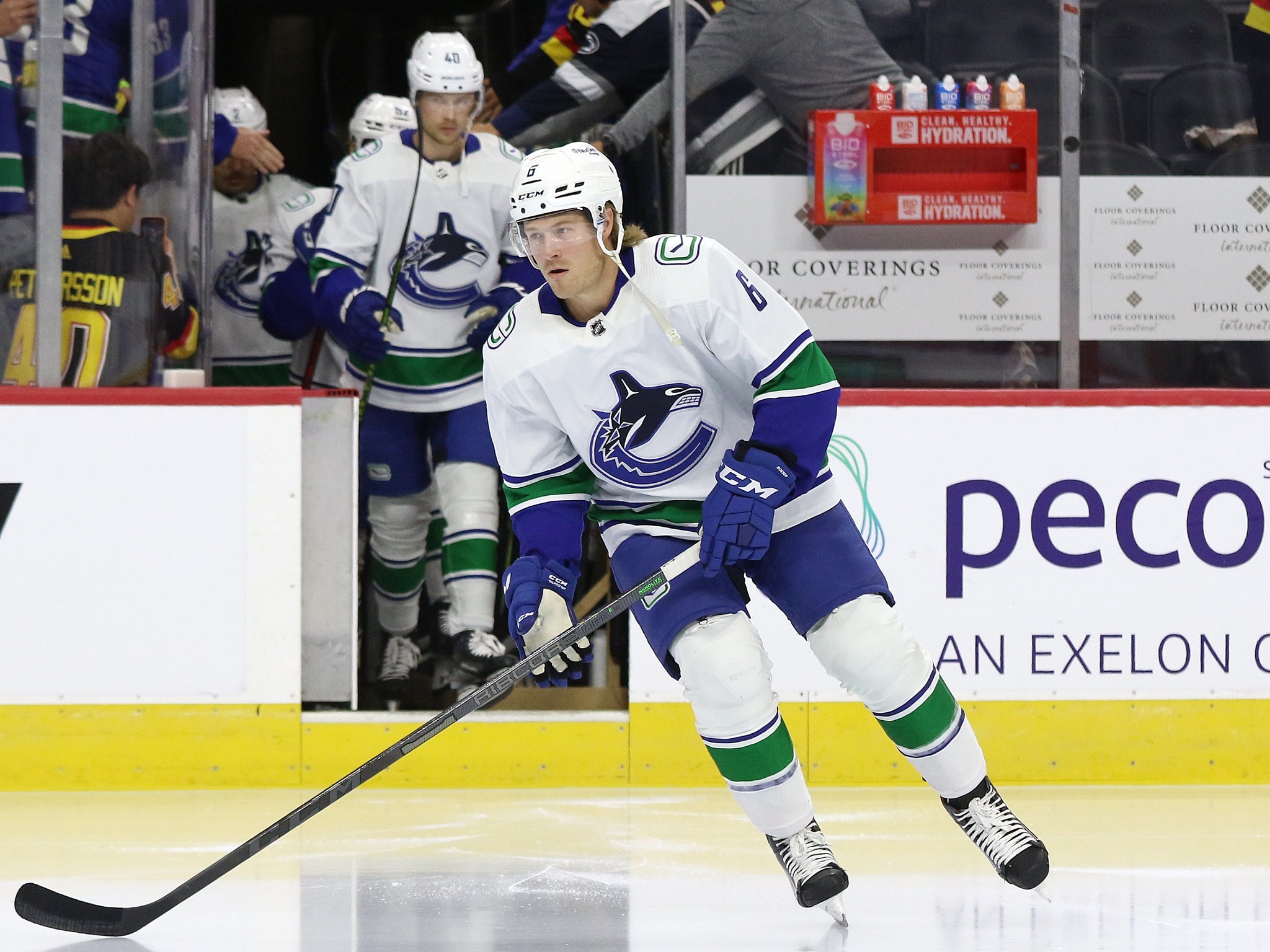 Why has Boeser's goal-scoring dropped off? His shot generation has decreased, as he's only averaging 2.14 shots on goal compared to 2.74 a year ago. Nearly across the board, his five-on-five shot rates have decreased too:
| | | |
| --- | --- | --- |
| Stat | 2021-22 | 2022-23 |
| Shot attempts per 60 | 15.86 | 11.07 |
| Shots on goal per 60 | 7.61 | 7.09 |
| Scoring chances per 60 | 8.43 | 6.64 |
| High-danger chances per 60 | 2.46 | 2.77 |
Not only has his shot generation dipped at five-on-five, but it also has on the power play. For someone billed as a shooter, that is a bit of a concern. At the same time, it should be fair to expect a rebound, given he averaged 2.74 shots on goal across his three previous seasons. He's only a few weeks away from turning 26 years old, and scoring wingers don't usually fall off a cliff at that age. 
With that said, Boeser is not a player without limitations. He's not a play driver, though most wingers aren't. With a top-six that carries Nico Hischier, Jesper Bratt and Jack Hughes, playing with some combination of those three should alleviate the play-driving concerns. He's also not the fleetest of foot, and with a Devils team that likes to play with pace, that's something general manager Tom Fitzgerald has to consider as to whether Boeser would fit with the team. 
Related: Devils' 2022-23 Trade Targets: Timo Meier
---
Latest News & Highlights
---
But there's no doubt about the offensive upside with Boeser. He's averaged 29 goals and 64 points per 82 games for his career and will score at five-on-five and on the power play. Even with his struggles over the last year and a half, he's averaged 27 goals and 61 points per 82 games since the start of the 2020-21 campaign. If the Devils miss out on Meier and have Boeser as one of their fallback options, what would it cost to acquire him? Based on reporting from Thomas Drance of The Athletic, it could be the ultimate buy-low trade. 
Boeser's Value at Its Lowest
On the Dec. 5 episode of Canucks Talk, Drance and his co-host Jamie Dodd spoke at length about Boeser's situation just hours after he was almost a healthy scratch on Hockey Fights Cancer Night. For those unaware, Boeser's dad, Duke Boeser, passed away on May 27, 2022, after dealing with several ailments, cancer included. Not a great look for the Canucks, who had already been dealing with plenty of turmoil.
In their discussion, Drance and Dodd talked about Boeser's situation and what a trade for the winger could entail. Using the Oliver Bjorkstrand deal from over the summer, which only fetched the Columbus Blue Jackets third- and fourth-round picks in the 2023 draft, Drance said trading Boeser could net the Canucks less than what the Blue Jackets received for Bjorkstrand.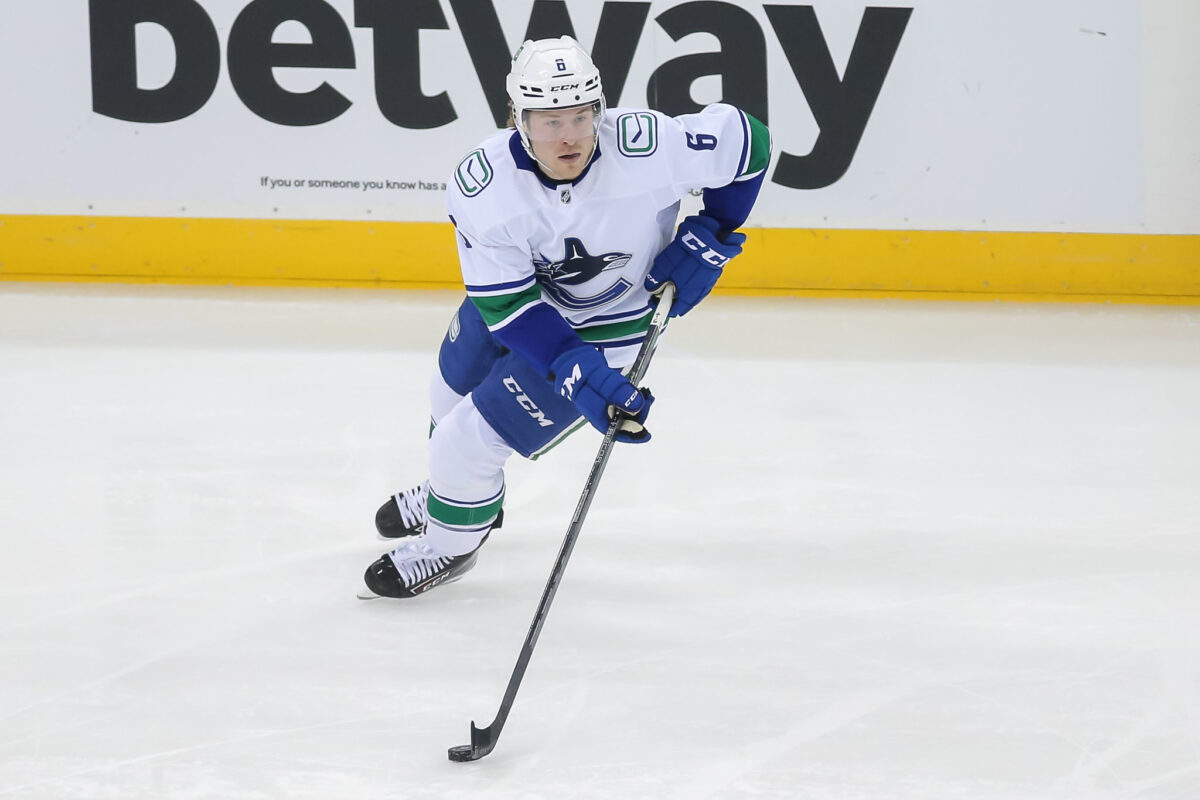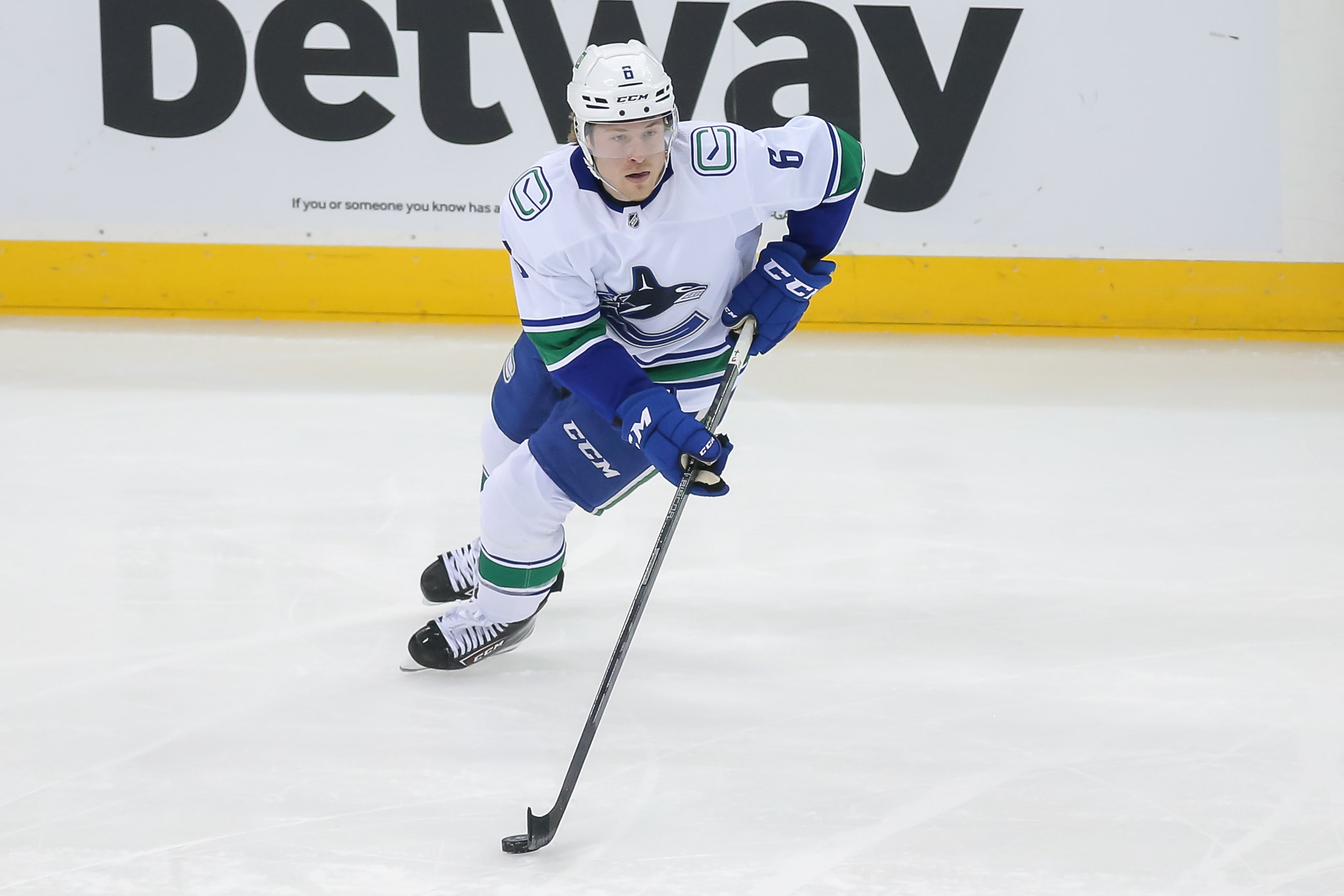 You read that correctly. Less than Bjorkstrand. If that's the case, that makes trading for Boeser much more appealing than it would in normal circumstances. Signing Kuzmenko to a two-year extension with a cap hit of $5.5 million starting next season makes it all the more likely that Boeser gets dealt at some point before next season, perhaps as soon as the trade deadline on March 3. 
If Fitzgerald and the Devils only have to give up less than what the Seattle Kraken did to acquire Bjorkstrand, Boeser is someone they should consider as a plan B if they lose out on the Meier sweepstakes. Sure, Bjorkstrand is a better player, but Boeser is having a down season and still pacing for 18 goals and 54 points. Assuming he's a good change of scenery candidate, giving up assets lower in value than the Bjorkstrand trade means the Devils wouldn't have to hand over anywhere close to their best trade chips. 
Still, Boeser's cap hit of $6.65 million for the next two years is a bit problematic. The Canucks want to give themselves cap flexibility, so it's unlikely they'll be willing to retain a significant portion of his salary. But the Devils will need them to retain a part of that to make a deal work since they have to re-sign Bratt and fill out the rest of the roster for 2023-24. 
What to Make of Boeser's Struggles
Another thing the Devils have to determine is how much of Boeser's struggles are related to his situation. He's dealt with a lot over the last year-plus with his dad's passing (let alone the turmoil with the Canucks organization), and I don't think that's something you can ignore. He's only 25 years old. The passing of a parent is difficult to grasp at any age, especially when you're only in your mid-20s. 
Goals above replacement (GAR) isn't the be-all, end-all for player evaluation, but based on what Boeser's GAR trends look like over time, it's possible what he's dealt with off-ice over the last season and a half has affected his play. There's no way to know for sure, but Boeser's GAR before 2021-22 was close to ten and even topped it in some seasons: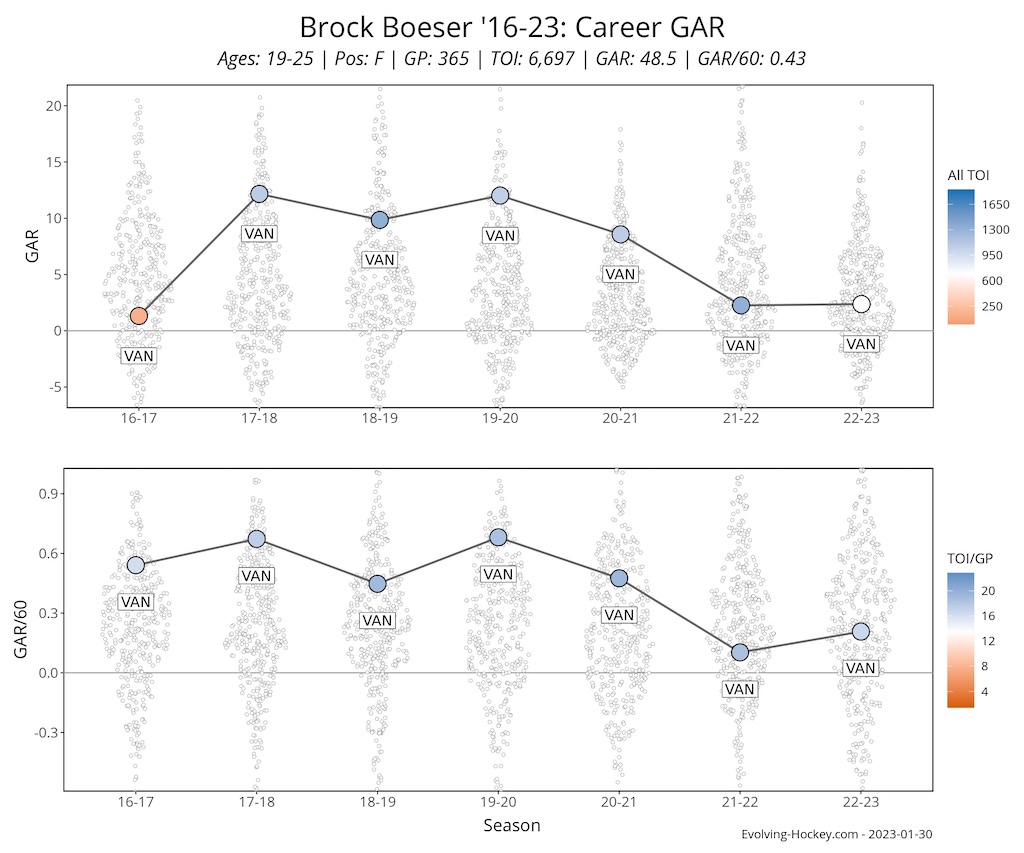 If the Devils think there's still a player there, which there's evidence to suggest, the buy-low gamble is worth a look as one plan-B option in the event they don't land Meier. It doesn't seem like Boeser is in decline and is a change-of-scenery candidate instead. The price should be quite low for him in a trade, and he would give the Devils' top-six an upgrade in addition to helping the power play. He's not the top trade target. He might not even be the Devils' second or third option if they don't land Meier, but he's at least someone worth keeping an eye on. 
* * *
Advanced stats from Natural Stat Trick and Evolving-Hockey