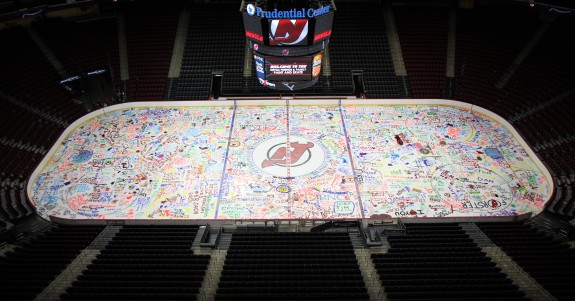 Your eyes do not deceive you. This picture was actually taken yesterday at the Prudential Center. The New Jersey Devils owners had a free day for fans to come and paint the ice….literally. There were all sorts of personal messages painted as you can see. Also, it was a day full of activities and festivities that included face painting, balloon art, inflatables, a skate around the adjoining AmeriHealth Pavilion and more.
What you see above is the finished product. The event was attended by over 600 fans. It is truly a work of art and a first class job by New Jersey Devils ownership to arrange a day like this.
Finally, a special thanks goes out to Kerry Graue, the entire Devils and Prudential Center staff, and the fans as well. They say the first time something is done is truly special but I have a feeling this event sticks around. It was quite the experience for all involved.