Sidney Crosby, Alex Ovechkin, Connor McDavid, and Auston Matthews are in a league of their own when it comes to being generational talents. But there's plenty of superstar skill in the next tier below them. Some names that come to mind are likely Nathan MacKinnon, David Pastrnak and Nikita Kucherov. The list goes on, but there's plenty of high-end scoring talent in the NHL nowadays. 
---
---
There are always newcomers to that group, and one player who has reached superstar status is New Jersey Devils center Jack Hughes. After a two-goal performance in a 4-3 overtime win against the New York Rangers on Jan. 7, he has 26 goals in 40 games — a 53-goal pace over 82 games — and is also pacing for 101 points. 
If Hughes cracks 50 goals and 100 points, he'd become the first Devils skater in franchise history to eclipse those totals. Not only are his counting stats impressive, but his underlying metrics paint a picture of one of the best players in the NHL at about halfway through the 2022-23 season. 
Hughes Among NHL's Most Valuable Players
Hughes got off to a slow start to the 2022-23 campaign, at least by his standards. He had only three points through six games, but it didn't take long for him to pick things up. By the time the Devils had reached their 12th game of the season, he was already at a point-per-game pace. Since then, he's been on an absolute tear. 
Over his last 28 games, Hughes has 22 goals and 37 points while firing an absurd 131 shots on net. That averages out to 4.6 shots on goal per game, so even without the improvements he's made in his shooting ability, he'd be scoring just based on sheer volume. When you narrow it down to his last 20 games, Hughes has 19 tallies and is averaging five shots on goal per contest. 
As a draft-eligible prospect, Hughes was never considered a high-end goal scorer, but he's changed that narrative. His 1.78 goals per 60 minutes at five-on-five ranks fourth in the league behind Jared McCann, Daniel Sprong and Tage Thompson this season. That puts him ahead of Ovechkin, Jason Robertson and Pastrnak, three of the best scorers in the league.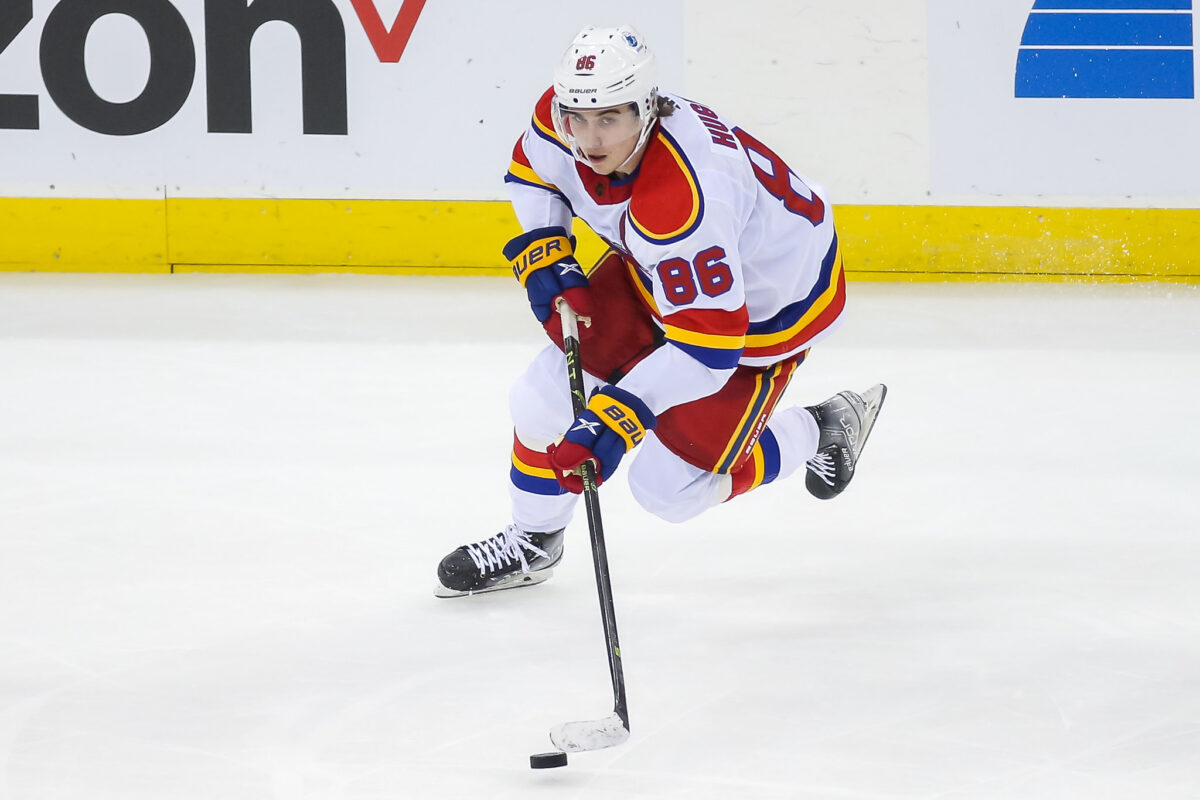 Hughes' underlying metrics have been nothing short of fantastic this season too. Not only has he been the Devils' most valuable player, but he's been one of the most valuable in the league. In terms of wins above replacement (WAR), which shows how many wins an individual adds to his team relative to a replacement-level player, Hughes leads the league at a 2.9 WAR. That means Hughes has been worth an additional three wins for the Devils, which makes a significant difference in a division as good as the Metropolitan. 
In terms of goals above replacement (GAR) — the same concept as WAR — Hughes also leads the league at a 17.3 GAR, meaning he's been worth an additional 17 goals for the Devils. For context's sake, Mark Stone sits second in this statistic at 14.8; he's also second in WAR. Hughes' expected GAR of 19.6 nearly matches his GAR and sits second to only McDavid. 
Related: Devils' Severson & Hughes Shine in Thrilling OT Win Over Rangers
---
Latest News & Highlights
---
The last stat for this section will be game score — an all-encompassing metric that uses traditional and advanced stats to measure a player's value for a single game. As you may have guessed, Hughes also leads the league in this metric, as his game score average of 1.87 is the best in the NHL among all skaters, defensemen included. 
There aren't enough words and stats to describe how good Hughes has been to start this season. Nor is it just his offensive game, either. And as we'll see in a second, what he's doing does appear sustainable, even if his goal-scoring inevitably cools off a bit. 
Hughes' All-Around Game Shouldn't Go Unnoticed
When talking about candidates for the Selke Trophy, the award given to the best defensive forward in the NHL, Hughes is probably not the first player that comes to mind. He's unlikely to end up as a Selke finalist this season or any time soon, but that's more perception than anything else. Make no mistake; he can play defense too. In fact, his defensive impacts have been stronger than his teammate Nico Hischier, who may get Selke consideration at season's end. 
Hughes' defensive numbers are better than what you'd probably expect. His even-strength defense has been worth a GAR of 2.5, which tracks with his xGAR of 2.5. Compared to Hischier, whose even-strength defense has been worth a GAR of 0.5 and xGAR of 0.4. For Hughes, those numbers rank in the top 30 of the NHL for forwards. 
Hughes' defensive numbers aren't a mirage, either. When watching him play, he backs up the defensive metrics. The effort is there when he backchecks, and he's an incredibly sly defensive player. By that, I mean he'll sneak up and pickpocket the puck off an opponent's stick when he isn't aware. He also has great hockey sense and the ability to read a play to make something happen defensively, whether that's intercepting a pass or forcing a takeaway. A look at his player card from Evolving-Hockey will show how great he's been two ways this season: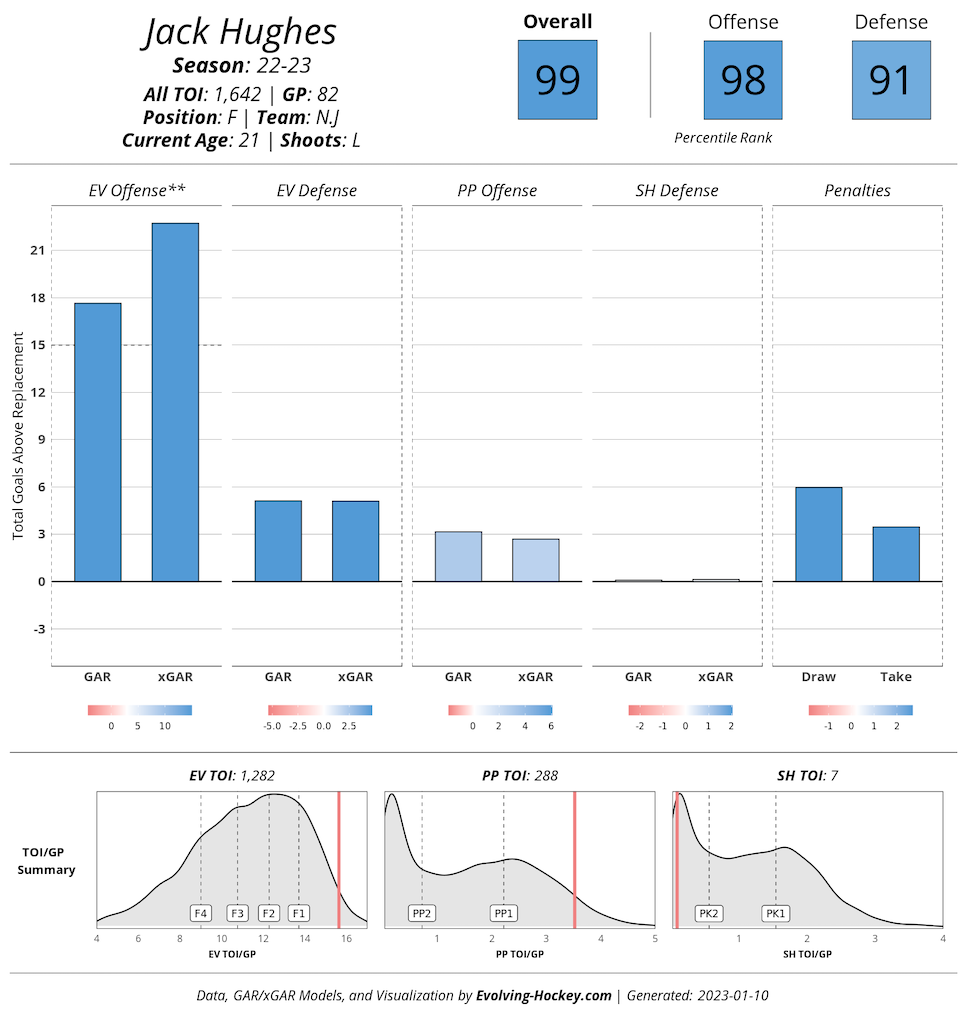 I think most everyone wants to know if Hughes can keep up this level of play. Nineteen goals in his last 20 games probably isn't sustainable, so I'd expect that part of his game to cool off at some point. With that said, he produced at a 43-goal pace a season ago, so it wouldn't shock me at all if he kept trending toward becoming the Devils' first 50-goal scorer in franchise history. He's a top-flight shooter now. 
As for the two-way play, he showed significant defensive improvement in his second NHL season (2020-21). He might not win any defensive awards, but you can't discount his two-way play anymore. It's part of why the Devils have controlled 64 percent of the expected goals with him on the ice at five-on-five and why opponents are getting caved in when they have to face Hughes at that game state. 
McDavid may be the heavy, heavy favorite for the Hart Trophy as the league's most valuable player. But if Hughes keeps up his torrid pace, he'll be in the conversation as a finalist alongside Pastrnak, Jason Robertson, Leon Draisaitl and others. And even if this isn't the season where he enters the Hart conversation, he's joined the NHL's superstar club after having a true breakout in 2021-22.  
* * *
Advanced stats from Evolving-Hockey, Hockey Stat Cards and Natural Stat Trick