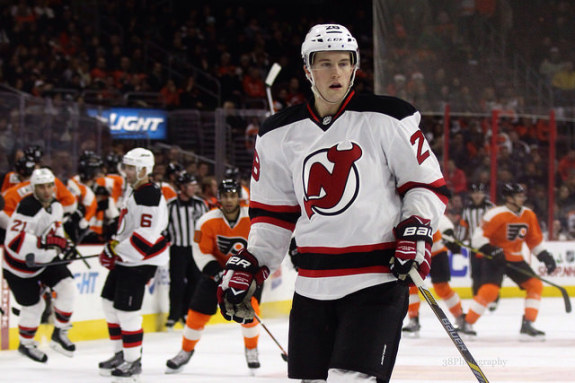 Robbing Peter to pay Paul. One has to trade someone with value to obtain in order to a valuable player. By now, you undoubtedly know the equation. The New Jersey Devils are strong and deep with a crop of young defenceman but not so much when it comes to elite scoring forwards. In a recent interview, longtime Devils defenceman and current broadcaster Ken Daneyko, mentioned Damon Severson as perhaps the only "untouchable" blue liner at this point.
Following Severson in the youth quartet, Adam Larsson, Eric Gelinas and Jon Merrill. Larsson seemed to pick his confidence up and his game flourished with Scott Stevens on the coaching staff but who knows if Stevens will be back in the fold next season. Gelinas had drawn comparisons to Chris Pronger, as one article quoted Larry Robinson, yet Gelinas seemed to fall out of favor with the new regime, still working on his defensive positioning and taking full advantage of a blistering shot. Merrill is still finding his footing too but also found himself caught a stride off or out of position on a few too many occasions last season.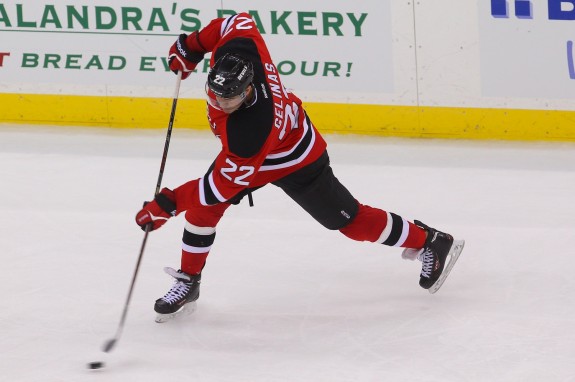 At AHL Albany, there's Seth Helgeson and Raman Hrabarenka, who could slot in for Merrill and or Gelinas. Then there's the likes of Reece Scarlett, Steven Santini, Joshua Jacobs and Ryan Rehill in the pipeline.
There's one catch to this though and it's trading the right guy or guys. It's even more imperative, considering the Devils don't have a group of blue liners in their prime on the back-end. New Jersey got away with this to an extent in the 1990's because they a vet like Daneyko and two Hall of Fame cornerstones in Stevens and Scott Niedermayer.
Which also makes one wonder, how much better the Devils would've been defensively and how much longer the would've sustained success when those aforementioned players left or retired.
Cale Hulse – Hulse was traded for Phil Housley in 1996. Having lost Bruce Driver to free agency, New Jersey attempted to recapture his puck rushing ability but acquiring Housley. However, his tenure was pretty much forgettable in 22 games and the Devils missed the postseason. Hulse on the other hand, was a durable, rugged, physical defenceman, who carved out a solid ten-year NHL career.
Sheldon Souray – In 2000, for some inconspicuous reason, with Niedermayer and Brian Rafalski in the fold, the club felt it needed one more puck rushing defenceman in Vladimir Malakhov. Did Malakhov do some nice things for New Jersey down the stretch? Yes. Could they have captured a second Stanley Cup without him? Probably. Plus in a twist, they gave up an explosive force in Souray, who packed a howitzer on the blue line, was a big, physical force. In a 13-year career, Souray was a three-time All-Star, totaled 300 points and 1,145 penalty minutes. Souray sure would've been helpful from the stretch of 2003 through 2009.
Willie Mitchell – If it all worked out, perhaps the present Captain of the Florida Panthers might be donning the "C" for the Devils. Mitchell is a stout penalty killer, rugged competitor, beloved teammate and a shutdown defenceman. In 2001, New Jersey shipped Mitchell to the Minnesota Wild for fellow blue liner Sean O'Donnell. O'Donnell was part of a squad which reached the Final but this one falls into the same category as the Souray for Malakhov deal. Mitchell has two Stanley Cup titles to his credit, winning both with the Los Angeles Kings.
Jason Smith – Much in the same vein as Hulse, yet another solid force on the blue line. Smith played in 1,008 NHL contests, raking up 1,099 penalty minutes. Smith helped lead the Edmonton Oliers to the Final in 2006. During the 1996-97 campaign, New Jersey dealt Smith, along with Steve Sullivan, to the Toronto Maple Leafs, receiving Doug Gilmour and Dave Ellett in return. Gilmour had his moments. Ellett provided about as much as Housley. Worth trading Smith and Sullivan? Probably not.
Jaroslav Modry -He's a Czech defenceman and he's only 44 so perhaps the Devils could still get him back. Modry was more or less a victim of a numbers game, after helping Albany win a Calder Cup, was traded to the Ottawa Senators in July of 1995. A trade which netted them a fourth round pick, used to choose Alyn McCauley, who was also part of the above mentioned trade for Gilmour and Ellett. Modry had a solid NHL career, playing in 725 games as a consistent, smooth skating defenceman.
Michael Gwizdala covers the New York Islanders for The Hockey Writers. Michael is also an Associate Producer at WNYT NewsChannel 13. Additionally, Michael was once a Media Relations intern for the AHL Albany River Rats. Michael is a graduate of The College of Saint Rose in Albany, NY.