Something I emphasized in many of my game takeaways before the all-star break was how much the New Jersey Devils struggled at five-on-five in January. They got through the month with a 9-2-2 record thanks to timely finishing and outstanding goaltending from Vitek Vanecek, as well as some solid performances by Mackenzie Blackwood. 
But if the Devils want to continue their winning ways from before the all-star break, they will need to improve their five-on-five play. They can't rely on high-end finishing and for Vanecek to maintain the .930 save percentage he had in January because that's not a sustainable way to win games. And with the Metropolitan Division being the most competitive in the NHL, they will need to get back to controlling the run of play. 
Devils Have Missed Marino
The Devils are still one of the best five-on-five teams in the league, but much of that has to do with how they played through Dec. 31. Through that stretch, they had a Corsi for percentage (CF%) of 56.71 percent, ranked second to the Carolina Hurricanes. Their expected goals percentage (xG%) of 58.72 also ranked second to the Hurricanes.
Related: Devils' 2023 All-Star Break: Emptying the Notebook
---
Latest News & Highlights
---
But things changed in January, even though their schedule softened compared to December. The Devils finished the month with a 46.96 CF%, ranked 26th in the NHL. Their 45.84 xG% wasn't any better, as it also ranked 26th. Most teams wouldn't go 9-2-2 in a month with those five-on-five numbers, but as mentioned, they can thank Vanecek for that. 
So what was the difference in January compared to the first two and a half months of the season? One significant factor was John Marino's injury, which he suffered in a game against the Carolina Hurricanes just before Christmas. That placed him on injured reserve and kept him out on a week-to-week basis. 
Because of the injury, head coach Lindy Ruff had to shuffle around his defensive deployment in January. Previously, Marino was logging the toughest minutes among Devils' defensemen. But with his absence, Ruff shifted Damon Severson to the Marino role alongside Ryan Graves.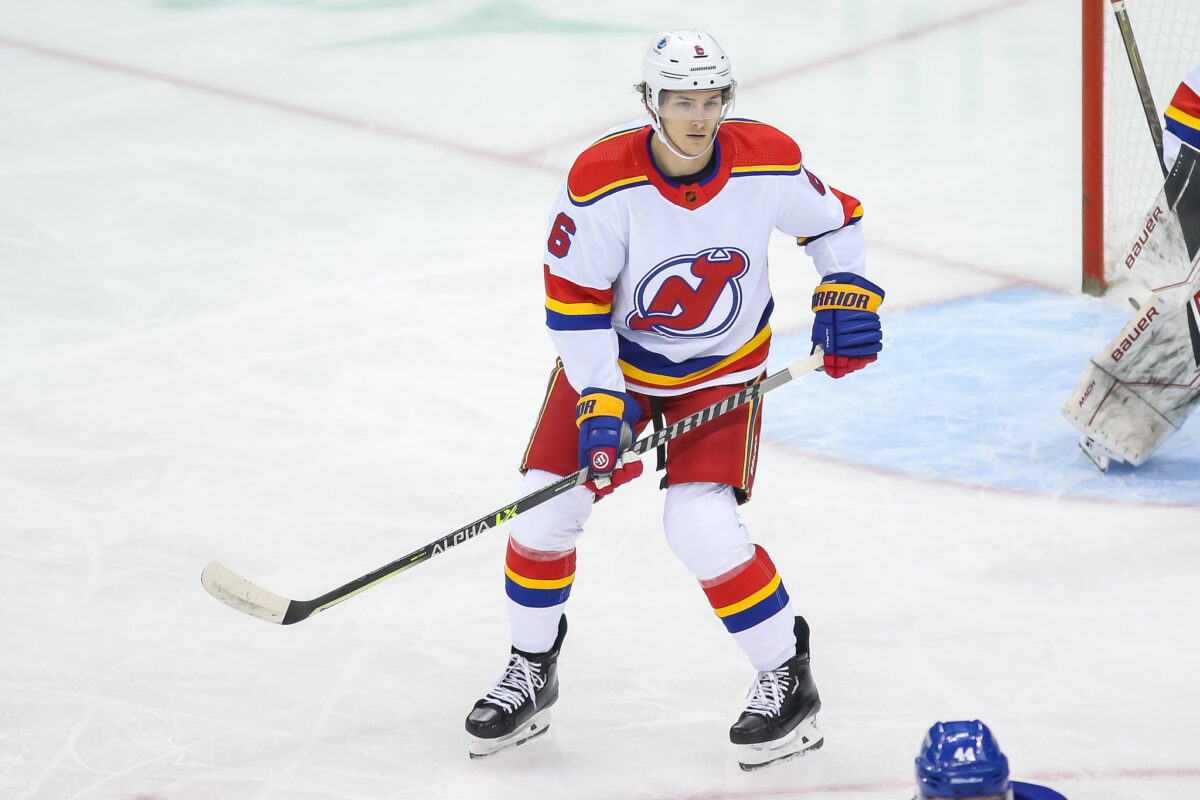 Severson fared well offensively, but the Devils were giving up a fair bit of quality with him in his new role. They allowed 2.89 expected goals per 60 with him on the ice at five-on-five in January. That's quite a bit more than Marino, who gave up 2.31 expected goals per 60 when on the ice before his injury. 
You might not think that'd make such a significant difference in a team's five-on-five numbers, but it can, considering Severson averaged just over 24 minutes of ice time in January, which means his five-on-five minutes increased too. Before Marino's injury, Severson was averaging 18:39 in TOI and was playing in a third-pair role with Brendan Smith that dominated teams at five-on-five; they had a 59.09 xG% as a pair before Marino's injury. 
Fortunately, it looks like Marino will return to the lineup tonight, Feb. 6, against the Vancouver Canucks. Once he gets back up to speed, he'll likely end up back with Graves and the role he had before the injury. He and Graves have a 51.7 xG% as a pair this season, and considering the difficult minutes they've logged, that's pretty impressive. He will make a difference for the Devils.
Ruff Finding the Right Forward Combos Will Help Too
To Ruff's credit, he mixed up his forward lines quite a bit in January to help the team find a spark at five-on-five. It didn't always work out of the gate, but his in-game changes usually helped the Devils find goals, even if they weren't always controlling play. Coming out of the break, it looks like he'll at least start with the lines he used in the team's final two contests before the ten-day layoff:
I'm still unsure about Fabian Zetterlund as a fit with Jack Hughes long-term. But with Marino returning to the lineup, it's worth sticking with these forward combos for a bit longer to see if they can control more play than they did before the break. That's certainly possible since Marino's return should free up Dougie Hamilton for more offensive minutes, which should benefit the team at five-on-five. 
However, if Ruff has to make some changes, one unit I'd like to see him reunite is Tomáš Tatar, Nico Hischier and Zetterlund, which would slot Ondrej Palát alongside Jack Hughes and Jesper Bratt. That would give the Devils a formidable top-nine (assume Miles Wood, Michael McLeod and Nathan Bastian aren't going anywhere):
Tatar – Hischier – Zetterlund
Palát – Hughes – Bratt
Yegor Sharangovich – Erik Haula – Dawson Mercer
Wood – McLeod – Bastian
Ruff hasn't used that top unit in quite some time, but they've still been one of the Devils' best this season; they have a 64.09 xG% and a goal differential of plus-6 in 167 minutes together. Palát and Hughes haven't played much together due to Palát missing a good chunk of the season after undergoing groin surgery in late October, but their results are positive. Though it's only a sample of 41 minutes, the Devils have controlled 63.34 percent of the expected goals and 77.27 percent of the high-danger chances with Palát and Hughes on the ice together. Ruff should consider giving them more ice time together, especially since Palát has played well since returning. 
Related: Devils' 2022-23 Trade Targets: Vladimir Tarasenko
Meanwhile, Mercer and Sharangovich have good results together, while Mercer has played well with Haula. That should give the Devils a dependable third line with some scoring upside, strengthening a bottom-six that was a big part of the team's five-on-five struggles in January. And if the fourth line can get it going, all the better. 
The bottom line is the Devils can't afford to bank on Vanecek maintaining a .930 SV% the rest of the way. They have to start performing better at five-on-five and outplaying their opponents the way they were before January rolled around. It's one of the only mild concerns around this team coming out of the all-star break. If they can get off to a hot start and win the five-on-five battle in their three games this week, it'll erase any significant concerns there may be for the stretch run. 
* * *
Advanced stats from Natural Stat Trick