After a five-year absence, the New Jersey Devils are returning to the playoffs for the first time since 2018. With the Florida Panthers' 4-3 regulation loss to the New York Rangers, plus the Devils' 5-3 win over the Ottawa Senators, they clinched their berth on Saturday evening. 
With a record of 46-19-8 and 100 points with nine games to go in the regular season, the Devils' 2022-23 campaign has gone better than most anyone could have anticipated. Considering they finished last season with a 27-46-9 record and 63 points, it's been quite the jump. Just how did they turn it around so quickly? Let's look at how they got here. 
Devils Finally Got the Goaltending They've Been Seeking
The most significant reason the Devils have seen such a jump in the NHL standings is their goaltending. General manager Tom Fitzgerald has tried addressing it for quite some time, signing Corey Crawford in 2020 and Jonathan Bernier in 2021. But neither free-agent pickup worked out; Crawford retired before ever playing a game for the Devils, and Bernier hasn't played since having hip surgery in Dec. 2021. 
Because neither of those signings panned out, the Devils' goaltending bottomed out, specifically during the 2021-22 season. Not only did Bernier miss most of the year because of hip surgery, but Mackenzie Blackwood also missed significant time with his own injury issues. The result was the Devils using seven different goalies and finishing with a team save percentage (SV%) of .881 while giving up minus-65.65 goals above expected. You could give the Tampa Bay Lightning that kind of netminding, and they'd bottom out too. 
That meant Fitzgerald had to address goaltending again this offseason, which he did when he acquired Vitek Vanecek from the Washington Capitals at the draft in July. At the time, Vanecek had a .908 SV% across 79 career games, above the league average of .903, a place the Devils weren't even close to touching a season ago.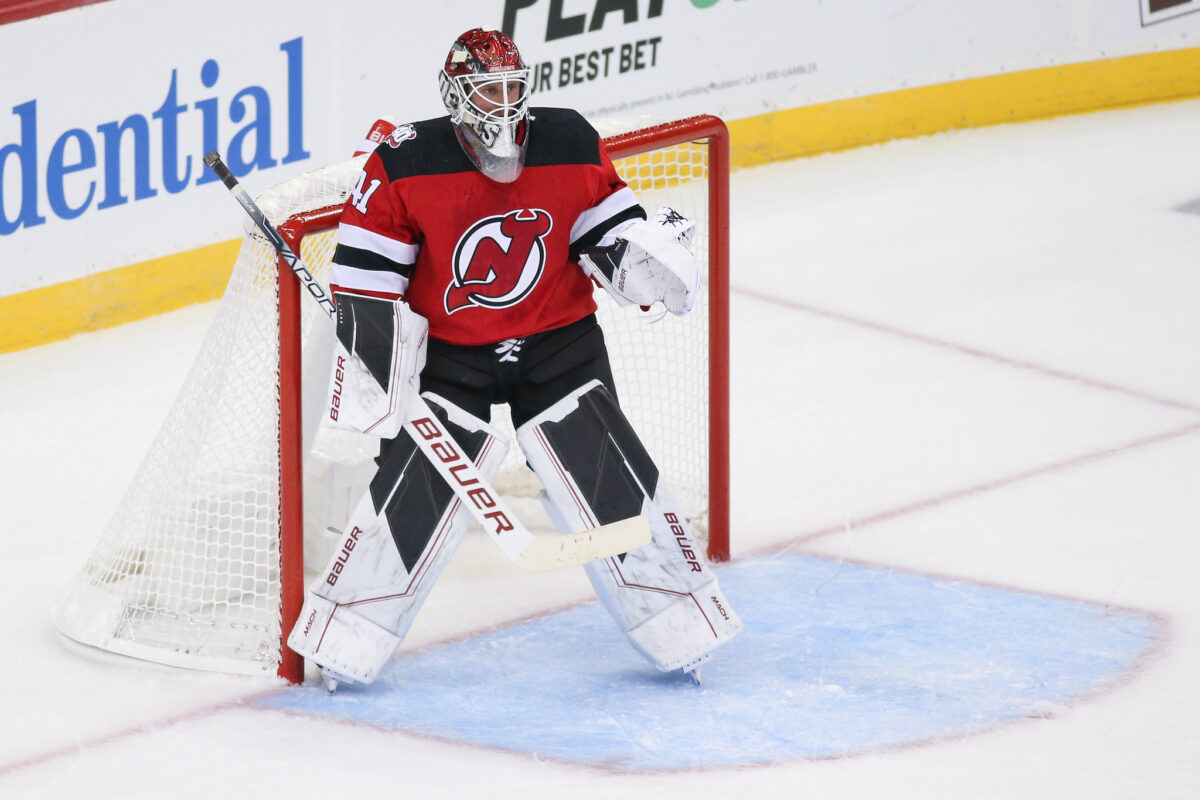 Though he has slumped a bit over the last few weeks, Vanecek has been as advertised for the Devils. He's won 29 of his 42 starts, has a .909 SV%, and has stopped 8.89 goals above expected (GSAx). Without him, the Devils wouldn't be in the position they're in now, especially before March rolled around. However, Vanecek isn't the only Devils goaltender that's performed admirably: 
Blackwood: 18 games played, .900 SV%, 4.81 GSAx
Akira Schmid: 17 games played, .918 SV%, 6.14 GSAx 
Since Blackwood has struggled with injuries again, Schmid has stepped up and been a more than competent 1B to Vanecek. The 22-year-old has made significant strides from where he was a year ago and appears to have a bright future ahead of him. And even though Blackwood has struggled with his health, he's been a league-average netminder when healthy. It's a far cry from where the Devils' goaltending situation was a year ago, and it's been the biggest factor in their rise toward the top of the Metropolitan Division. 
Devils Defense Among League's Best
One reason the Devils' goaltending has gotten better is that their team defense has improved. It's not that they were a bad defensive club in 2021-22; their defensive numbers were middle-of-the-pack, but there was definitely room for improvement. Some of that meant getting players healthy, but Fitzgerald did make a couple of additions to the blue line too. 
Related: Devils News & Rumors: Devils Clinch, 1-on-1 with Meier & More
---
Latest News & Highlights
---
The most important reason the Devils' defense has bounced back is Dougie Hamilton is healthy after dealing with injuries in 2021-22. Not only is he healthy, but he's also having the best season of his career, as he has 19 goals and 68 points in 73 games. He may not be known for his defensive game, but it's been solid. Couple that with his career offensive production, and he's been a true No. 1 blueliner. 
Hamilton has had help, however. With the Pittsburgh Penguins needing to clear cap space this past offseason, the Devils acquired John Marino in exchange for Ty Smith and a third-round pick. While Marino's offensive game has been non-existent this season, he has been the team's best defensive defenseman. He plays difficult minutes, and head coach Lindy Ruff has embraced using Marino against teams' top lines night in and night out. That's freed up Hamilton to let loose offensively.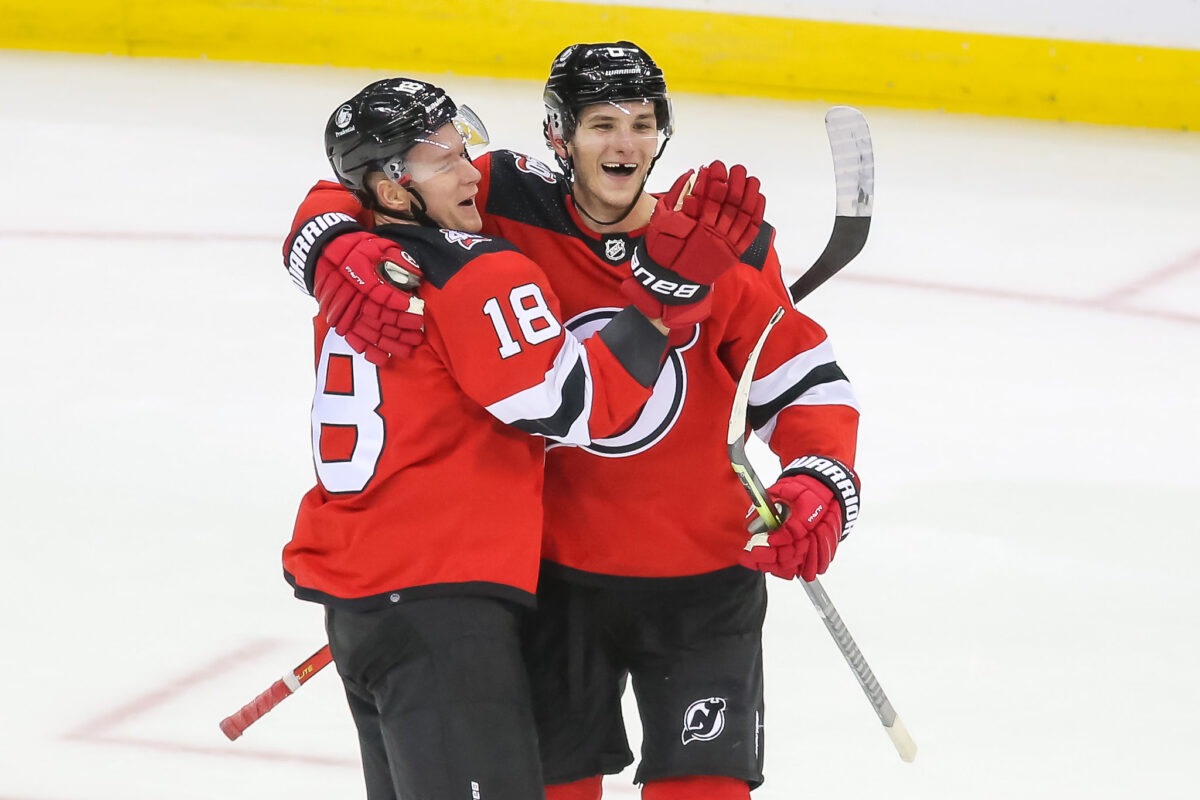 Another benefit of adding Marino to the lineup is it's allowed Damon Severson to feast on teams' depth players in a third-pair role. Offense may be non-existent with Marino, but it's been the opposite with Severson, who leads the team in expected goals generated per 60 minutes when on the ice. His puck-moving ability shines against lesser competition, and he's gelled with Brendan Smith and Kevin Bahl as his defense partners. 
On the whole, the Devils' defensive numbers have gone from middle-of-the-pack to top five or ten in the league: 
7th in shot attempts against per 60
4th in scoring chances against per 60
1st in high-danger chances against per 60
5th in xG against per 60
7th in goals against per 60
Couple that with above-average goaltending, and that's a recipe for success. But don't think these are your father's Devils that were known for playing defensive hockey. Under Ruff, these Devils play with pace, and their offensive firepower has also played a significant role in getting them to where they are. 
Devils Offense Matches up With League's Best
The Devils were not a bad offensive team in 2021-22. They couldn't score a power-play goal if their lives depended on it, but they did finish 11th in the league in five-on-five goals. That's because the core of Jack Hughes, Jesper Bratt and Nico Hischier all had breakout years. As it turns out, those breakout years were a sign of things to come. 
Hughes has been lights out this season, totaling 40 goals and 86 points in 69 games. He's been one of the best five-on-five scorers in the league, placing fourth in five-on-five goals behind Connor McDavid, Mikko Rantanen, and David Pastrnak. If McDavid weren't having one of the best seasons in decades, Hughes would probably get more serious consideration to win the Hart Trophy as the league's MVP. 
While Hughes has been the Devils' best player this season, Hischier and Bratt aren't far behind him. Bratt has 31 goals, the first time he's eclipsed the 30-goal mark in his career, and is on pace to finish with 35 goals and 74 points. With him being a restricted free agent this summer again, a payday is in store for him. 
Like Bratt, Hischier has also eclipsed the 30-goal mark for the first time in his career. The team's captain is on pace to finish with a career-high 34 goals and 80 points. Both he and Bratt have been the team's most efficient five-on-five scorers behind Hughes, proving that their breakout years in 2021-22 were no fluke.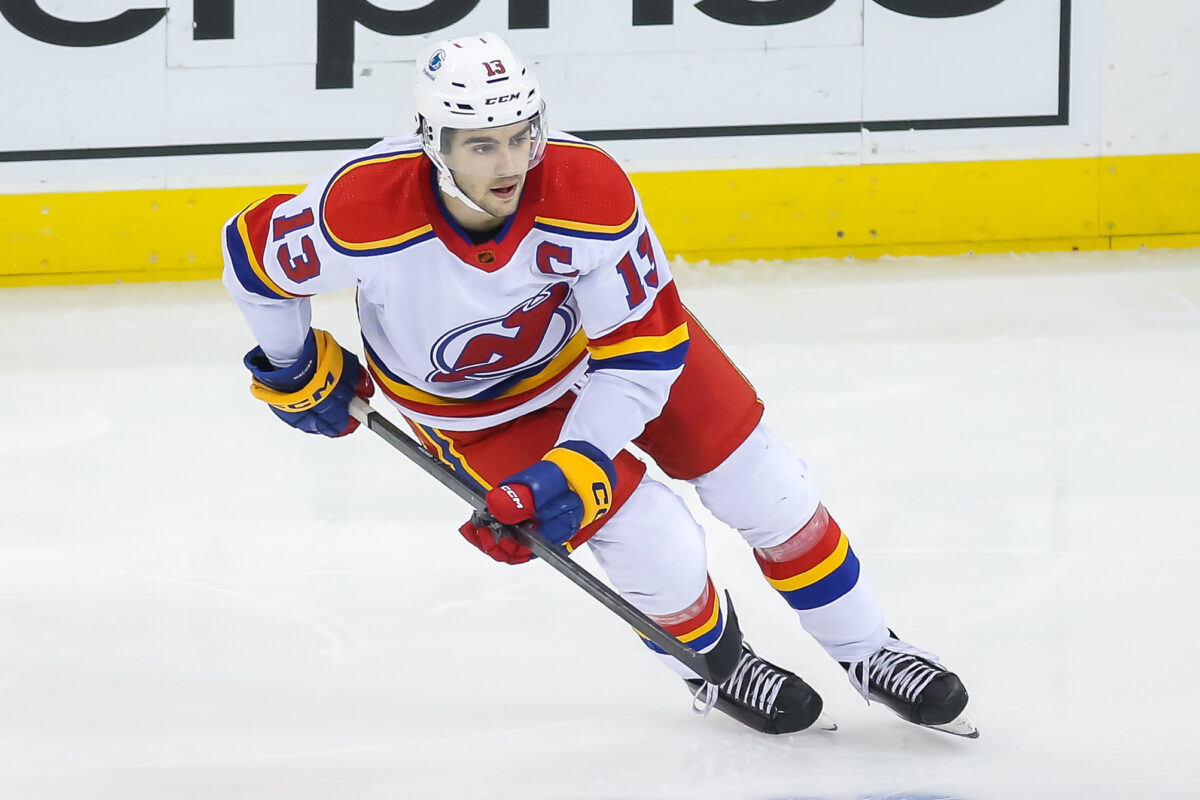 It hasn't just been Bratt, Hischier and Hughes leading the way for the Devils' offense, either. We already mentioned Hamilton's career year, but they've gotten depth scoring from Dawson Mercer, who's been on fire in the second half of 2022-23 He has 23 goals and 51 points in 73 games and has an outside chance of getting to the 60-point threshold before the regular season ends. He has been the team's fourth-most efficient five-on-five scorer, and it's only his second year in the NHL. He's built off a solid rookie campaign, and the best is yet to come for him. 
After having a down season in his first year with the Devils, Tomáš Tatar has enjoyed quite the bounce-back campaign. With 17 goals and 41 points in 73 games, he has a decent chance at becoming the sixth or seventh Devils skater to crack 20 goals; Hamilton should reach that mark too. And while Timo Meier has only played in 12 games with the team since getting acquired at the trade deadline, he also has 35 goals and will add to his totals as he gets more comfortable with the team's system.
Overall, the Devils' offensive numbers have been among the league's best all season long: 
4th in shot attempts per 60
1st in scoring chances per 60
3rd in high-danger chances per 60
3rd in xG per 60
4th in goals per 60
Even though it does feel like the Devils get goalie'd more often than other teams, their goals per 60 nearly matches their xG per 60. Their offense is good as any in the league and should pose problems to whoever their opponent is in the first round of the playoffs. 
It's Just the Start for the Devils
The Devils couldn't have asked for much more to this point of the season. They've improved in every facet of the game, including their power play, which has gone from converting only 15.56 percent of the time a year ago to 21.29 percent this season. The only question is if their goaltending can hold up enough for them to make a run in the playoffs. Otherwise, the pieces are in place, and their first playoff berth in five years should only be the start of their postseason window opening up. 
* * *
Advanced stats from Natural Stat Trick, Evolving-Hockey