It's rare to see a player be put on waivers, get claimed and then get reclaimed after being put on waivers a second time, and then be waived again just 24 hours later. But that's what happened to Reid Boucher at the start of 2017. The New Jersey Devils brought him back after losing him in November only to waive him again and lose him to Vancouver. And, just like the last time Boucher was waived, the Devils' management is at fault.
After a slow start to 2016-17 with two points in nine appearances, Boucher was demoted to the Devils' affiliate in Albany but had to clear waivers first. While heading into a Saturday matinee road game against the Nashville Predators, the Predators intercepted his bus ride and claimed him. A brief conditioning stint in Milwaukee, Nashville's AHL affiliate, saw Boucher net four goals and five points in five games.
Nashville called him up and gave him a brief tryout. The diminutive winger scored in his second appearance with the team and dressed for just one more game before being placed on waivers for a second time. This time, New Jersey was given top priority in the claiming process. GM Ray Shero decided to take a flier on a player he likely never wanted to lose in the first place and Boucher went back to Newark.
Not so fast. Shero won the rights to Boucher, because of the waiver rules that gave him a first shot at claiming his former player. However, another team behind the Devils in waiver priority tried to claim him. Thus, Boucher could not go straight to Albany; he would have to clear waivers in order to make it to the AHL. In a very questionable turn of events, just 24 hours after the news of an unidentified team putting in a claim for Boucher, the Devils tried their luck and put the former Sarnia winger on waivers, where he was claimed by Vancouver.
It's a shame for Boucher, who has now been on waivers three times since November and is with his third team of the season. It's also a shame for the Devils who could use scoring help, and Boucher would go a long way in boosting the team's foundering offense. Finally, and worst of all, it's a shame for Devils' management, who lost out on a solid talent without receiving anything in return. And this time, it is Shero who deserves the brunt of the blame for taking such a needless risk.
Boucher Is Talented
Boucher will hopefully get the chance to prove himself after an unfortunate start to the season, where he was often a healthy scratch or fourth line fodder. He deserves it. 
https://twitter.com/CanucksNow/status/816698417233563648
First, because Boucher entered the season on the heels of a solid 2015-16 performance — 19 points in 39 games. His linemates from last year, Travis Zajac and Kyle Palmieri, are still with the Devils and were in need of a left winger at the season's onset. Second, Boucher has shown an impressive scoring ability at the junior, minor and major league levels. Nine games is not a great sample size to invalidate Boucher's previous successes as a record-breaking scorer in the OHL.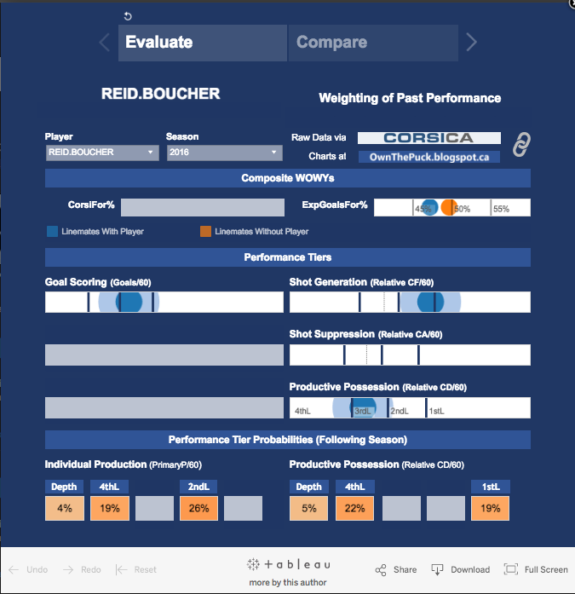 Boucher had plenty to offer the Devils. His HERO chart is indicative of a middle-six winger who generates offense like a top-six player but has only been a bottom-six forward in his possession play. It's mind-boggling that Shero was able to reclaim Boucher and then knowing that sending him down would risk losing him again did not deter his decision. As a result, Boucher is gone and the Devils' offense continues to struggle.
Devils' Roster In Disarray
Just like 2016, 2017 continues to prove that the Devils' roster is off-kilter and a major issue in their losses to date. Whereas goaltending seemed to be the problem early on, the issue is now out of their control. Even Cory Schneider at his best can't steal wins for an offense that can't put the puck in the net or a defense that surrenders northwards of 40 shots a game.
Sure, as mentioned previously, the Devils are in desperate need of a solid center more than scoring wingers. However, the offense is in no position to pass on scoring talent with the rut their in. If the Devils were to send down any one of their forwards corps – save for Pavel Zacha, Nick Lappin and Miles Wood – they would need to clear waivers, but that does not mean that Boucher should have drawn the short stick when he has proven he is worthy of a roster spot.
If a Devils player was going to be thrown to the wolves, it should have been one that struggled from the get-go like Sergey Kalinin or Jacob Josefson. 
Newly acquired Reid Boucher is excited to be in Vancouver and can't wait to help the #Canucks. pic.twitter.com/DqSsSftVHJ

— Vancouver #Canucks (@Canucks) January 5, 2017
Instead, the team is still losing games, not lighting the lamp, with a potent top-six but unimposing scoring depth. Boucher could've at least balanced the lines a bit if he were slotted into a second line spot with Palmieri and Zajac, as he was, successfully, last season. At just 23-years-old and after having only played 85 games, Boucher is worthy of another shot in the NHL. For his sake, hopefully, he can firmly grasp a spot in Vancouver.