The Boston Bruins had quite a few issues worth worrying about heading into the 2016-17 season. The Bruins' defense, Tuukka Rask and Boston's depth up front were all pivotal questions that the Bruins needed answers to. Patrice Bergeron was not one of them.
Throughout his career, Bergeron has been a pretty consistent producer for the black and gold. Yet, the start of the season showed Bruins fans a Bergeron that they weren't used to seeing. The veteran center was struggling offensively, almost as if he were plagued by whatever was holding the Bruins back.
Many people have pointed towards Boston's lack of star power this season (with the exception of Tuukka Rask) as a cause of their struggles, and Bergeron's start to the season certainly backed that up. Looking down the Bergy stat line through the first few months of the season, there were far too many zeros.
Bergeron's Re-Emergence
The last few games, however, have hinted at a return of the Bergeron that the Bruins can rely upon. He's tallied seven points in the last seven games, coinciding nicely with the re-emergence of Brad Marchand on Bergeron's left side.
Following Boston's 3-1 win on New Year's Eve, Bergeron spoke about finding his game:
'Yeah, I think it's nice to get the results. I think you don't second guess yourself as much and it makes you relax a little bit more. But, you try to do the right things all over the ice,' Bergeron said, per Joe Haggerty of CSNNE. 'Obviously, I know that offense is a part of my game, and it has to be a part of my game. I have to bring that to the team.'
Bruins head coach Claude Julien hasn't lost faith in Bergeron, who has been one of Julien's most effective players for years. He noted that quite a few stars across the league are below their standard marks and that his trusty center has been just as reliable defensively despite his lack of production. The offense, Julien believes, will come:
'I think we shouldn't look for reasons more than it was just a situation. And I think right now, his game is really picking up and through seasons, I mean, again, I can't stress enough the fact that I look around the league, there's a lot of other good players right now that are a little under their numbers and stuff like that,' said Julien. 'It just happens. But what you want is, you want to see those players work through it and find their game again, and find ways to help the team.'

'That's what Bergy was doing all along. Great penalty kill and he's still a great faceoff guy and the only thing that had dipped a bit was his production. Right now, he's finding that again, so we get to see the player we're used to seeing again.'
[irp]
Bruins Need Consistency Out of Bergeron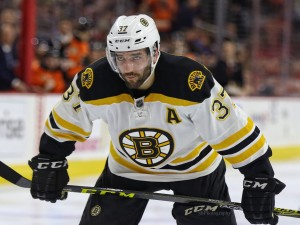 Quite frankly, the Bruins really need Bergeron to play to his potential if they'd like to see playoff hockey in Beantown. The B's have struggled to consistently score — their top scorers, Marchand and David Pastrnak, have been streaky.
There's been some speculation about a minor injury that has plagued Bergeron throughout the year. Perhaps he's gotten past that injury, or perhaps he's just working through it more effectively. Either way, Bergeron looks to be on the way upward.
Bergeron has been one of the most effective producers for the Bruins in years past. If he starts heating up again for Boston, it could take care of two birds with one stone by opening up more space for Marchand or Pastrnak on his flanks. The Bruins needed to do some fine tuning heading into the new year, as did Bergeron. So far, he's been up to the task and the B's are hoping that Bergeron's consistency to kick off the new year is here to stay.