Staples Center will host two teams looking to rebound from losses on home ice on Thursday night. The Los Angeles Kings, who lost to the Dallas Stars in Los Angeles on Monday, will host the St. Louis Blues, who lost to the Boston Bruins in St. Louis on Tuesday.
In the Blues' last game, Brad Marchand and David Pastrnak each had a three-point night for the visiting Bruins in a 5-3 losing effort for the Blues. It was the final game of a season-high six-game homestand for St. Louis, where they went 3-3-0. Goalie Jake Allen was pulled after allowing three first-period goals. This was the third time in his last five games that he had been pulled.
The Blues have had trouble stringing together wins of late and have not won back-to-back games since wins against Minnesota and Dallas to end November. Since the win against Dallas on Nov. 28, St. Louis has gone 7-9-2 and is 4-5-1 in their last ten games.
The Blues' stop in Los Angeles will be the first on their tour of California, as they will visit San Jose and Anaheim before they return home next week.
In their game against Dallas, Los Angeles scored two power-play goals, a shorthanded goal and three third-period goals but still came out on the losing side of a 6-4 score. A stat line like that usually won't lead to a loss, but the Kings managed to do it.
Head Coach Darryl Sutter commented on that, via LA Kings Insider, "We scored four goals our last two games. You should win both games. That's all I'll say about it, if you were at the games. You score four goals, you should win. We gave up the fewest shots in the league again. You shouldn't have to score five."
The two teams have met once this season. It was the eighth game of the season for Los Angeles when they visited St. Louis and Jake Allen pitched a 27-save shutout for the Blues in their 1-0 victory.
---
St. Louis Blues at Los Angeles Kings
Staples Center – 7:30 p.m. PST
Broadcast channels – FS-W, FS-MW
2016-17 Season Series:
Oct. 29 – Blues 1 – Kings 0
Los Angeles Kings – 20-17-4 – 44 Points
Home Record: 12-6-1
Hot Players: Jeff Carter and Tanner Pearson
Key Injuries: Tyler Toffoli and Jonathan Quick
Projected Lines:
Forwards
Gaborik – Kopitar – Lewis
Pearson – Carter – Brown
Clifford – Dowd – Setoguchi
King – Shore – Nolan
Defense
Forbort – Doughty
Muzzin – Martinez
McNabb – Greene
Starting Goaltender
Budaj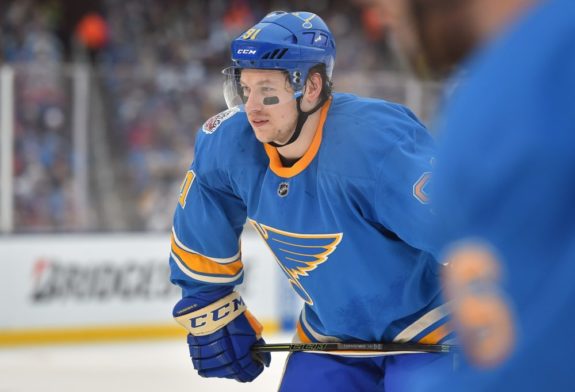 St. Louis Blues – 21-15-5 – 47 Points
Away Record: 5-10-1
Hot Players: Patrik Berglund
Key Injuries: Carl Gunnarsson
Projected Lines:
Forwards
Steen – Stastny – Yakupov
Fabbri – Lehtera – Tarasenko
Schwartz – Berglund – Perron
Upshall – Brodziak – Reaves
Defense
Pietrangelo – Parayko
Bouwmeester – Shattenkirk
Edmundson – Bortuzzo
Starting Goaltender
Allen
[irp]
Game Notes
[miptheme_dropcap style="normal" color="#222222″ background=""]1)[/miptheme_dropcap] Anze Kopitar found the back of the net in Los Angeles' loss to Dallas, and found is probably the best term for the situation. The goal ended a 12-game goalless streak and was just his second goal in his last 29 games. If Kopitar scores in Los Angeles' game against St. Louis, it will be the first time he has goals in back-to-back games this season.
[miptheme_dropcap style="normal" color="#222222″ background=""]2)[/miptheme_dropcap] St. Louis is coming into the game sporting a .893 team save percentage which is good enough for dead last when stacked up against the rest of the NHL. Individually, Jake Allen has a 2.70 goal against average, a .902 save percentage and a 17-10-3 record, while Carter Hutton has a 2.85 goals against average, .896 save percentage and a 4-5-2 record.
[miptheme_dropcap style="normal" color="#222222″ background=""]3)[/miptheme_dropcap] Tanner Pearson has found a bit of a scoring touch of late. The winger has three goals, two of them game-winners, and five points in his last five games.
[miptheme_dropcap style="normal" color="#222222″ background=""]4)[/miptheme_dropcap] Going into the game against Los Angeles, Vladamir Tarasenko sits in sixth place in the NHL in both goals and points with 20 and 43 respectively. The next player on St. Louis' roster ranked via points is Kevin Shattenkirk in 79th place with 26 points of his own.
[miptheme_dropcap style="normal" color="#222222″ background=""]5)[/miptheme_dropcap] Colton Parayko scored his first goal of the season against the Bruins. It was goal number one on shot number 101 for Parayko, which was more than any other player in the league had taken before getting their first tally of the season.