Patrick Kane made history during the 2016 NHL Awards when he became the first American-born NHL player to win the Hart Trophy in the modern NHL era. Kane made a splash in the NHL when he was the first overall pick in the 2007 draft and one the Calder Trophy a year later. Less than a decade into his NHL career, Kane has no doubt earned himself a special spot in NHL history with a lengthy list of accomplishments including three Stanley Cups. Kane has made as many positive headlines throughout his career as negative, and there is so much more to him than meets the surface.
Here are five things to know about the NHL's most dominant American-born player.
1. He Was Already the One to Beat at a Young Age
In his Sports Illustrated cover story published in March 2016, famed sports writer S.L. Price highlighted that Kane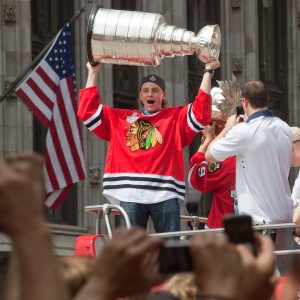 was a force to be reckoned with long before he made his NHL debut in 2007. Kane's parents wanted to find a creative way for their seven-year-old son to stand out despite his small stature. The Kane's dressed little Patrick in black from head to toe and he looked like a "pint-sized Darth Vader" and quickly made an impression. Price notes: "Word got around: You want to win? Stop the kid in black."
2. He's Family Oriented
Kane has always credited his family to being a huge part of his success, his parents and three younger sisters regularly make the trip from Buffalo to Chicago to watch him play. The last words in his Hart Memorial Trophy acceptance speech at the 2016 NHL Awards were, "Dad, this one is for you.  I love you." The story of Kane's father, Patrick Kane Sr, who sacrificed so much see his son succeed in his dream is a touching one, yet the relationship that sticks out the most was the one Kane had with his grandfather, who he considered to be his biggest supporter. Shortly before a game against Los Angeles on February 3, 2014, Kane received a call that his grandfather had passed. Kane was able to hold it together throughout the game where he scored two goals (the first he dedicated to his grandfather by blowing a kiss upwards) and Chicago won 5-3. During his post-game interview, he struggled to hold back the tears.
3. His Name Can Be Seen in a Beam at the KeyBank Center
The main focus of Kane's Sports Illustrated cover story was his experience returning to his hometown of Buffalo, New York, for the first time after he was cleared of rape charges from an incident that occurred in August 2015. Although some Buffalo fans have lost their admiration for their former hometown hero, Kane will always have a spot at the KeyBank Center, the home arena of the Buffalo Sabres. Kane was a Sabres fan grew it up, and when the arena was under construction in 1995 when Kane was six years old, he signed his name on a beam that still stands in the arena.
4. He is Admired by Detroit's Dylan Larkin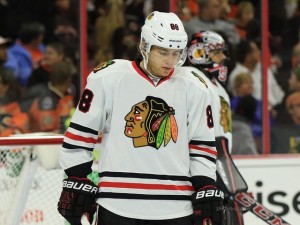 The rivalry between Chicago and the Detroit Red Wings is a long and bitter one, dating back to the Original Six era and prevalent today with the ever popular "Detroit Sucks!" chant that envelops the United Center every time the Red Wings pay a visit. Ironically, Michigan native and Detroit Red Wings star Dylan Larkin cites Kane as one of his favorite NHL players. Larkin told MLive:
'I was a big Patrick Kane fan, actually, Larkin said. 'I liked how he came through the NDP (National Development Program) and went to the OHL. He was a great player and obviously has been a great player for Chicago and Team USA as well.

'So I was a Patrick Kane fan and anytime Chicago was in the Stanley Cup (playoffs) I was pulling for them, but never against Detroit.'
Kane responded favorably and with humor, "It's obviously pretty exciting to hear, I guess that means I'm getting a little bit older now."
5. He Could Not Be More Proud to Represent USA Hockey
It is no secret that Kane is the top American-born player in the NHL and cemented that status when he became the Art Ross, Ted Lindsay, and Hart Trophy winner for the 2015-16 season. Kane has represented his country in the 2010 and 2014 Olympics, as well as in the World Cup of Hockey. His praise for his country can be seen on his twitter account where he has praised the USA Men's Soccer team as well as the 2016 USA Women's Gymnastics Team in the Olympics, and even posted a picture of himself with Simone Biles when she visited the United Center in the 2016-17 season opener. He also praised USA Hockey in their recent World Junior Championship.