The New Jersey Devils are back from the dead after winning Games 3 and 4 at Madison Square Garden to even up their first-round series against the New York Rangers at 2-2. Now, they'll have to do something neither they nor the Rangers have done to this point: win a game on home ice. The Devils lost both tilts at the Prudential Center by identical 5-1 scores. Can they reverse their fortunes in a pivotal Game 5? Let's preview tonight's matchup.
Whose Scorers Break Out First?
Even though the Rangers totaled ten goals between Games 1 and 2, it's still been a low-scoring series, especially at five-on-five. Aside from Jack Hughes, who has three tallies, and Chris Kreider, who has five, each team's top scorers are in scoring droughts. 
Patrick Kane has one goal, while Artemi Panarin, Mika Zibanejad and Adam Fox have yet to find the back of the net. On the other side, Nico Hischier, Timo Meier, Jesper Bratt and Dawson Mercer have yet to hit the twine. Eventually, someone has to break through, and there are cases for either side of the coin: 
Kane, Panarin, and Zibanejad are all hovering around 1.5 expected goals, as are Meier, Hischier and Bratt. The law of averages says that someone from that group should break their scoring droughts. Since this is a Devils preview, let's focus on their side first. 
Meier, Hischier and Bratt have been linemates for the last two games of the series and have totaled a 76.08 expected goals percentage (xG%) in a small sample of 20 minutes as a unit. They've also created a ton of shots and chances but have not been on the ice for a goal for: 
17 shots on goal
16 scoring chances
10 high-danger chances
On-ice shooting percentage of zero
If this trio generates chances as they did in Games 3 and 4, they should find the back of the net, even against a goalie like Igor Shesterkin. The thing is, the Devils can't wait for them to do so in a series that has three games left maximum. The team only has three five-on-five goals across the first four games, so they need to break through in Game 5. 
Related: 4 Takeaways From Devils' Game 4 Win vs. Rangers
---
Latest News & Highlight
---
On the Rangers' end, while Kane and Panarin are hovering around 1.5 expected goals for the series, most of that came in Games 1 and 2; Kane generated 0.3 xGs over the previous two games, while Panarin created 0.65. The player that's due is Zibanejad, but with how the Devils have defended the last two games, he could still find it difficult to break out. That leads me to my next point. 
Devils Shouldn't Change a Thing Defensively
One reason the Devils have made it a series again is their team defense, which was excellent in their two wins at MSG. They'll need to continue that tonight to become the first team to win a game on home ice in this series. Based on their last two outings, they seem to be trending in that direction. 
As Elliotte Friedman noted on yesterday's episode of 32 Thoughts, a couple of people mentioned to him that the Devils have really done a decent job of slowing down the Rangers' transition game, especially when Fox isn't on the ice. 
The Devils' defense was good in Game 3 and outstanding in Game 4. They only allowed 1.19 expected goals at five-on-five in Game 4, giving the Rangers absolutely no room in the neutral zone. Their rush defense was excellent, and they had active sticks to break up the Rangers' pass attempts, forcing them to play east and west instead of north and south.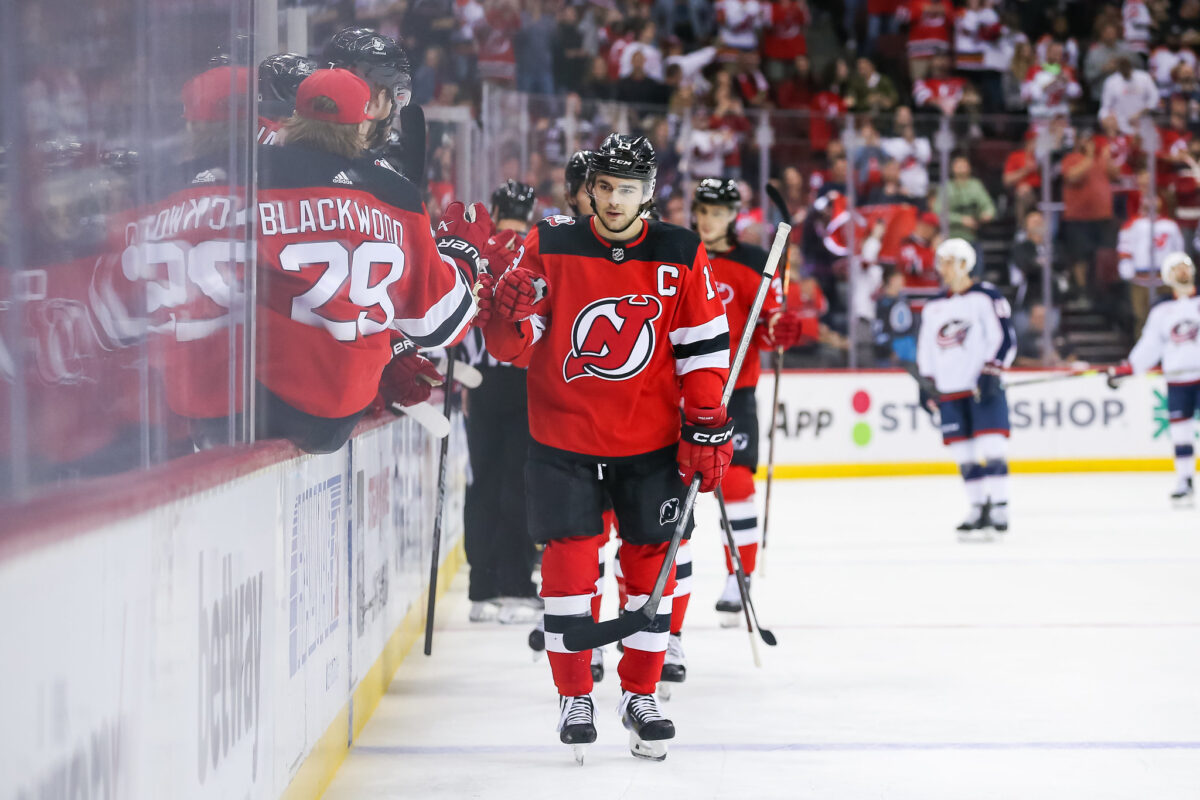 The odds say the team that wins Game 5 tends to go on to win the series more often than not, so the Devils will get the Rangers' best game tonight. They will have to continue to force the Rangers to play an east-west game by limiting their transition game. But another key will be keeping Zibanejad off the scoresheet. 
One way to do so is by getting the Hischier line out against Zibanejad as often as possible. There's a reason Hischier could be a Selke finalist this season, and his play against Zibanejad in this series exemplifies why. He's spent 19 minutes against Zibanejad at five-on-five, holding him to a 22.03 xG%. The Devils are only giving up 1.05 expected goals per 60 when Hischier is on the ice against Zibanejad, so look for head coach Lindy Ruff to continue that matchup when he can. 
Likewise, John Marino has spent most of his minutes against Zibanejad, allowing 1.71 xGs per 60. He's done a great job shutting down the Rangers' biggest shooting threat, so look for him to get a healthy dose of Zibanejad in Game 5 too. If he and Hischier can keep him off the scoresheet (as well as Panarin), I like their chances of taking the lead in the series. 
Devils Need to Keep the Game at 5-on-5
This doesn't need much explanation, but the Devils have to keep the game at five-on-five as much as possible. Their discipline has improved over the last two contests, particularly in Game 4, where they only took one minor penalty over the 40 final minutes. Their penalty kill has adjusted as well, but based on the five-on-five numbers of this series, they stand to benefit from playing at that game state. 
Through four games, the Devils have a 57.64 xG% compared to the Rangers' 42.36 xG%. They have to find a way to score more goals, but the chances have been there. They generated 30 high-danger chances between Games 3 and 4, so now it's about finding a way past Shesterkin. If their defense plays as it did at MSG and they can find some five-on-five goals, they should come out victorious. 
* * *
Advanced stats from Natural Stat Trick