It's no secret that the New Jersey Devils are struggling in the 2016-17 season. The team is 25th in the NHL in points per game (.98) and could very likely be last place in the Eastern Conference once all teams have played the same number of games. Though just seven points separate them from a wild card spot, there are also five teams fighting for the same spot.
No individual Devil deserves the blame more than others, but some in particular are having ugly seasons. Near the top of the team's list of letdowns this year is Pavel Zacha, who was expected to contribute as a rookie given his draft status – sixth overall in 2015. Unlike the case with other disappointing Devils, the Zacha problem is simple to resolve — general manager Ray Shero can elect at any moment to send the Czech forward back to junior hockey in Canada and at this point, that seems to be the right move.
From Sarnia to New Jersey
Zacha was drafted in 2015 after a 37-game, 34-point campaign in 2014-15. His points per game that season, .91, was one of the lowest of all CHL players drafted in the first round that year, and it was clear that Shero was drafting Zacha for more than his on-ice production.
Shero wisely left Zacha in the OHL for his first season, hoping that the talented forward would pick up two-way ability, discipline and develop his scoring touch in Sarnia. All of those things happened: Zacha was named the most talented penalty killer in the OHL's Western Conference, he was not suspended in 2016 after being punished twice the prior season and he shattered his previous bests in points with 64 in 51 games.
After Sarnia was bounced out of the playoffs, Zacha had the opportunity to skate with childhood hero Patrik Elias in the Devils' last regular season game and impressed with two assists. Zacha finished his season playing for the Albany Devils in the American Hockey League playoffs, where he tallied three points in five games.
A Bad Decision
Zacha made it all the way through preseason with New Jersey when John Hynes and Shero elected not to return him to Sarnia. Without much in the way of center depth and a belief that Zacha would be better than whomever else could fill the third line at that point in time, Hynes and Shero thought they were making the right decision. They seem to be thinking otherwise right now.
It truly seems like Zacha is regressing. By no indications has he been a two-way presence this year, even though he wishes to be. His scoring is way down – two goals and seven points in 36 games – and he's not even shooting the puck consistently. Finally, his discipline seems to be withering away.
Here's Hynes on whether Zacha isn't strong enough: "He needs to get more competitive." Hynes continued by talking about Zacha's lack of scoring of late: "Why is he not scoring? … He's got to shoot the puck more. He has to play harder on the puck in the offensive area. He's got to skate. He's not putting himself in positions to score goals either."
That's not to be taken lightly. Coaches don't often try to light a fire under a player in front of the entire media without, at the very least, throwing a bone in Zacha's direction. Unfortunately, it's been little good for the Czech forward this season, who has been a healthy scratch four times in the last three weeks.
What to do?
There seemed to be a growing misconception early in the season among fans about how to handle prospects. Many saw the Devils' weak scoring capabilities in 2015-16 and knew it couldn't get worse with Zacha in. Further, they thought the blue-chip prospect had nothing left to prove in the OHL after one productive season. The former argument has a lot of validity to it, but the latter one is way off base.
Many players return to the CHL for their second post-draft season (their "overage" season). It's less about new skill development at that point and more about fine-tuning already developed abilities so that they are ready for the next step in their career. Zacha was very good in 2016 but not at all a world beater. He played with one of the best lineups in the entire OHL and still struggled to get anything going in the playoffs.
That said, the Devils can still send Zacha back to Sarnia to help him rebuild his confidence and provide him quality ice time on a winning program. Sarnia could certainly use his help and Zacha is quite familiar with their system after spending the last two seasons there.
Benefits of Returning to Sarnia
For Zacha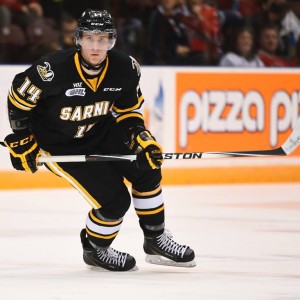 There are numerous upsides to Zacha returning to Sarnia, both for the Devils and for their prized prospect. It allows for a fresh start where confidence comes easily. Zacha has already succeeded there once and after gaining some invaluable NHL experience, he should have no problem further bolstering his resume.He may see the move as a telltale sign of his failed 2016-17 stint in New Jersey, but he is just 19-years-old with plenty of time to learn the ropes in the NHL.
When Zacha returns in 2017-18, he will be able to be sent down to Albany, which is ultimately the best destination for him. He does not have AHL eligibility at the moment and thus can either stay in the NHL or go back to juniors. Plus, he will have momentum in his favor next season when he returns for preseason.
For the Devils
For the Devils, Zacha leaving has both on- and off-ice benefits. On the ice, it gives Hynes and Shero the opportunity to experiment with some of his AHL talent. Currently, two centremen are chomping at the bit to make it to New Jersey, namely John Quenneville and Blake Coleman.
It also may be a case of addition by subtraction. Hynes has given Zacha prime minutes and good opportunities to succeed but the Czech statesman has mostly squandered them. Giving those chances to another young player looking to prove himself – think Beau Bennett, Devante Smith-Pelly, or Sergey Kalinin – could jump-start their careers.
Off the ice, it leaves Shero with the upper hand in future negotiation. First, if Zacha is sent down before his 40th game played (he's currently at 36), then he will not qualify for unrestricted free agency until he turns 27 (the highest age possible). That may seem like a small bonus but keep in mind that Zach Parise became a UFA at 26 and that ultimately led to his departure from Newark.
Second, if the Devils send him back, it will reduce his impact on the team's cap situation in the future. TSN's Bob McKenzie wrote a piece on the topic in 2014 and focused on the financial benefits of sending a player down just before the 40 game threshold.
If a player goes back to junior in a burned first year of an entry-level deal, it's difficult to earn the bonuses available to him. It also makes it more difficult for a player with a lesser body of entry-level work (two years instead of three) to hit a home run in the player's second NHL contract, much more likely to have to take a lower-value bridge deal than a long-term, big dollar pact."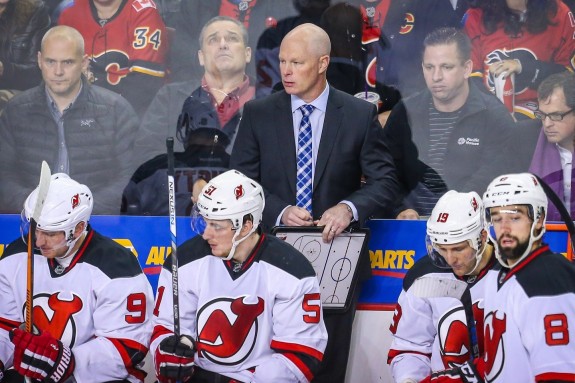 Costs of Returning to Sarnia
Of course, there are costs to both sides if Zacha returns to Sarnia. First, it will hurt the player-manager relationship between Zacha and Shero. Given that Zacha originally held out in the summer of 2015, leaving him more disappointed could play a role in the future if Zacha starts looking for a long-term contract. The chances of Zacha seeing such a deal are relatively high, so the Devils' management needs to ensure that they remain in good standing with Zacha and his agent lest they want to be out-leveraged in future negotiations.
For Zacha
For Zacha, the costs include a slowed development as a result of learning two systems in one season. Not to mention he will need to reacquire chemistry with his Sarnia linemates. Finally it could feel like a backwards step in his career which may hurt his confidence going forward. Zacha is well aware of his success in 2016 in Sarnia and seemed to have his sights set on the NHL, even though his play suggests otherwise.
"The first year in junior, I didn't have that many points … The next year I was the guy who needed to have the points and win the game, and I had a lot of goals. I'm hoping that happens here."
However, given that he was so potent in the OHL in the past, his confidence should return quickly. In fact, as mentioned earlier, Zacha may feel more comfortable after a half season in the OHL because it gives him a fresh start and he is likely to pick up more goals.
Tough times if you're a fan of the Sarnia Sting as Pavel Zacha, Travis Konecny, and Jakob Chychrun all look set to start year in the NHL.

— Corey Pronman (@coreypronman) October 9, 2016
For the Devils
For the Devils, they lose one of their centers. Looking at the depth at center in the NHL, it may be tough for Hynes and Shero to cut ties with any one of them because the next man up is already overstretched for minutes. Travis Zajac, Adam Henrique and Vern Fiddler are all seeing minutes at 5-on-5 and on special teams. The only other natural center, Jacob Josefson, is on injured reserve for the second time in a month.
Also relevant to the Devils' case is an article written about 18- and 19-year-olds playing in the NHL written by NHL Numbers' Brent Morris. The article presents that at the forward position, players tend to average 36 points in 67 games in those teenage seasons. If Zacha is just an average teenager to play in the NHL, then perhaps he will start regressing to the mean and finding the back of the net with regularity. That said, it would be presumptuous for Shero to expect Zacha to do so.
From a management perspective, they effectively burned a year off Zacha's entry-level contract (a modest $925,000 in salary) for a half season of suffering and struggling. Zacha will be waiver eligible one year sooner and will also be able to re-up with the team after his age-21 season, when he will likely ask for well over $1 million. However, this is a sunk cost and should not affect the decision making. Whether Zacha stays or goes, that year has been burned from his contract.
Finally, it means that the team loses one of its draws as an organization. It can be difficult to draw fans when the offense is lacking and the defense is mostly unimpressive. Even with a goalie who stands on his head, the Devils lack drawability in a shriveling hockey market. Owner Josh Harris still has the financial resources to withstand such a hit, but he may be averse to letting his GM send away one of the team's few remaining selling points.
It's not a common occurrence for a player to be sent down to juniors in the middle of the season but the Devils have done something similar, specifically when they sent down Stefan Matteau in 2013 and did not recall him for almost two full years. Sadly, Matteau's development was completely stifled by management's decisions and this ultimately led to his early departure from New Jersey. Zacha's case is more nuanced and less drastic but there are comparable risks.
Shero will be left with the choice on how to handle Zacha's final season of CHL eligibility. When there, Zacha is likely to regain his confidence and find his scorer's touch, but he also may be frustrated by management's decision to demote him. Given that the Devils are well out of a playoff spot and Zacha is toiling in the depths of the lineup, a return to Sarnia appears best for both sides, especially before the 40-game threshold hits.