Unfortunately for the New Jersey Devils, their Round 2 series against the Carolina Hurricanes will not follow the same script as Round 1 did against the New York Rangers. After an impressive 8-4 win in Game 3, the Hurricanes routed the Devils 6-1 to take a commanding 3-1 lead in the series. Here are three takeaways with the team's season on the line ahead of Game 5 tomorrow night. 
Devils Couldn't Capitalize on Fast Start
Based on the way the game started, you wouldn't have guessed the Devils would end up losing 6-1. They came out of the gate hot and were getting north to south, creating scoring chances and keeping the puck in the Hurricanes' end. They capitalized early on a Jack Hughes goal less than two minutes into the first period. They sustained offensive pressure for the first half of the opening frame, but things were downhill from that point on. 
Related: 5 Reasons To Root For a Devils vs. Oilers Cup Final
---
Latest News & Highlights
---
The Hurricanes got their forecheck going and started forcing the Devils to defend in their zone for extended stretches. That led to sloppy puck management, which caused turnovers and poor decision-making. The Hurricanes made the Devils go east-west instead of north-south, and eventually the goals started coming in waves for the Hurricanes. 
Carolina scored five times in the second period because the Devils made poor decisions with the puck or were out of position defensively. While this varies from arena to arena, the Devils had a whopping 26 giveaways compared to two for the Hurricanes. They were trying to force plays that weren't there, and it cost them. It was the most glaring issue of the night, and they have to clean it up to keep their season alive in Game 5. 
Ruff Made a Poor Decision Starting Vanecek
Though the Devils did not play well in front of their goaltender, Vitek Vanecek certainly didn't do himself any favors. He got off to a solid start, with two point-blank saves on Jordan Staal shortly after Hughes scored to make it 1-0. But it went south in the second period, where anything the Hurricanes shot on goal seemed to find the back of the net. 
The Hurricanes only generated 0.85 expected goals at five-on-five in the second period, but they still managed to score five goals at that game state, four of which were when Vanecek was in net. Head coach Lindy Ruff pulled Vanecek after the Hurricanes made it 5-1, but the game was out of reach at that point. At the time of the goalie change, he had given up 2.80 goals above expected.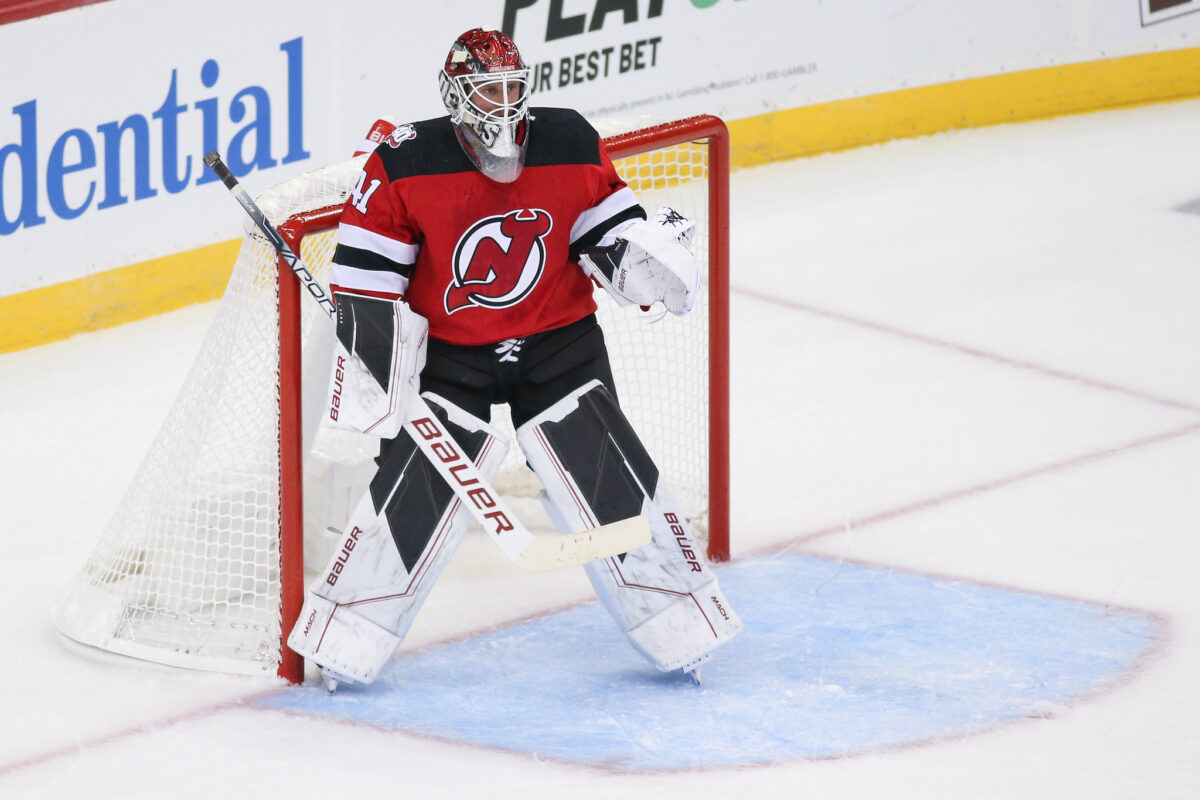 It wasn't a surprise to see Vanecek struggle again. He's been shaky in all his playoff appearances this year, even in the team's Game 3 win, where he gave up 1.39 goals above expected. As mentioned in my takeaways post of that game, I thought it'd be a mistake to return to him for Game 4, which unfortunately ended up being the case. With yesterday's game, he has an .825 save percentage in the playoffs while giving up 8.33 goals above expected. That obviously won't cut it for the Devils to get back in the series, so expect Akira Schmid to start Game 5. 
Ruff also deserves his fair share of criticism for going to Vanecek again. It was pretty clear in the team's Game 3 win that Vanecek was fighting the playoff yips. Even coming into yesterday's game, his SV% was below .850. If a goalie stopped what was expected of him, at least until Ruff made the goalie switch, the Devils would've only been trailing by one goal. Who knows how the rest of the game goes if it's a one-goal deficit. Get a lucky bounce, and it's a tied contest. 
And the most frustrating part is almost everyone knew Schmid should've started yesterday, from fans to pundits alike. Ultimately, it could be a decision that plays a significant factor in ending the Devils' season. 
Hughes Brothers Struggled
In Game 3, Luke and Jack Hughes played big roles in helping the team come away with an 8-4 win. Jack had two goals and two assists, while Luke had two assists in his playoff debut. Yesterday, both players struggled mightily, as the Hurricanes thoroughly controlled play when the Hughes brothers were on the ice at five-on-five. 
The Devils generated just 0.36 expected goals when Jack was on the ice while allowing 1.59, an expected goals percentage (xG%) of 18.5 percent. The team was out-chanced 13-5 in grade B chances and 7-2 in grade A chances with him on the ice. Needless to say that when Jack struggles to that level, it's tough for the Devils to get anything going.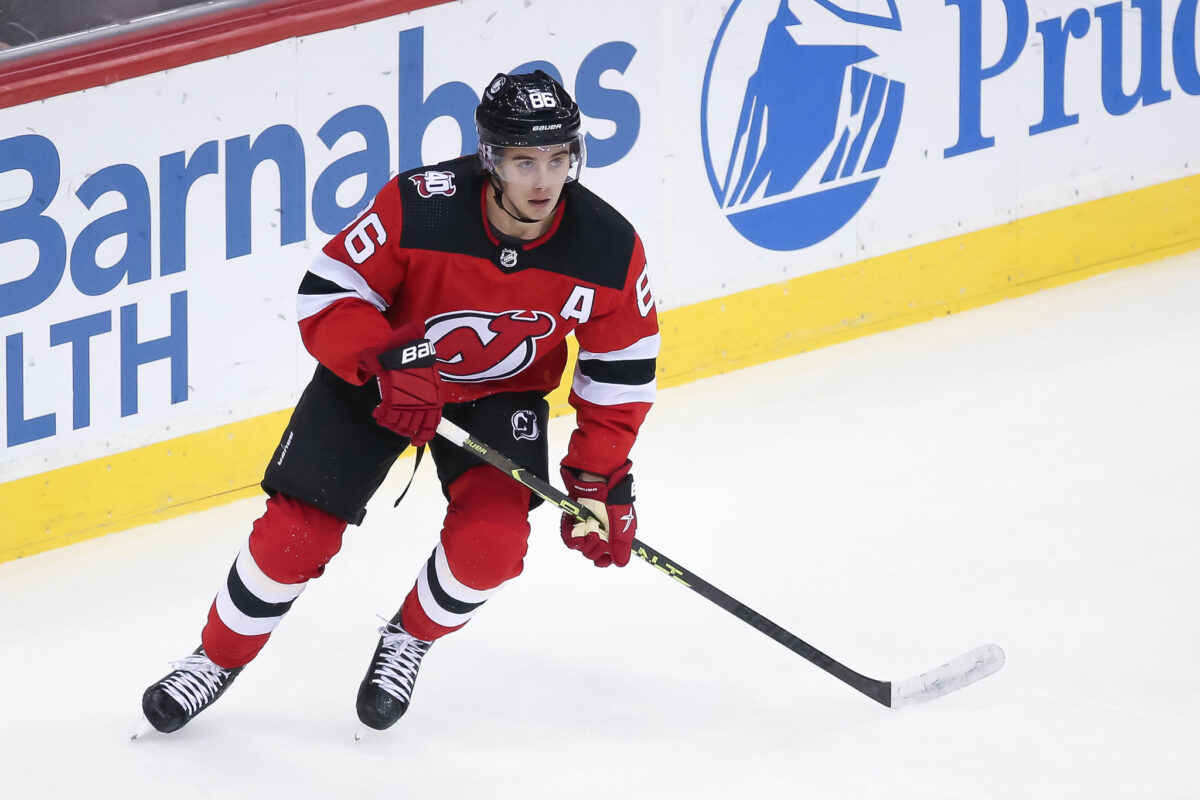 Luke was on the ice for four goals against, though the team only gave up 0.72 xGs when he was on the ice. Some poor goaltending made his game look worse than it did, but he certainly wasn't as impressive as in his playoff debut in Game 3. 
It'll be interesting to see if Ruff takes Luke out of the lineup since the team won't have last change on the road tomorrow evening. Brendan Smith, who had a strong Game 3, struggled yesterday, finishing with an 11.09 xG%. If Ryan Graves isn't healthy enough to return to the lineup, Luke likely stays in, even with the Devils probably returning to a traditional 12/6 setup. 
Devils Quick Hits
One reason the Devils got caved in at five-on-five was the line of Jack Hughes, Timo Meier and Dawson Mercer couldn't get anything going. On paper, it seems like they'd dominate, but they finished with a 20.64 xG% in Game 3. With Jesper Bratt struggling to produce this postseason, Ruff should throw him on a line with Hughes and Meier. There's nothing to lose at this point, so it's worth seeing if they can provide a spark as a line combo. 
The Devils' power play has been an abomination in this series. The Hurricanes are generating more quality chances shorthanded than the Devils are with the man advantage. I'm not sure what the solution is since the Hurricanes' penalty kill has had their power play's number in all of 2022-23. But there's no doubt it has to be much better tomorrow night for the Devils to have a chance at saving their season. 
* * *
Advanced stats from Natural Stat Trick