The New Jersey Devils' first of three matchups against the Tampa Bay Lightning this week did not go well, as they lost 4-1 on Tuesday, March 14. Though they fell 4-3 via the shootout last night, the Devils were still on their A-game and outplayed the Lightning for good stretches. Andrei Vasilevskiy was the difference, and the Devils will have one more chance to solve him when the two teams wrap up their mini-series on Sunday in Tampa. Here are four takeaways and some quick hits. 
Devils Outplayed the Lightning
Last night's game had a similar feel to Tuesday's. Even though the Devils lost 4-1, they finished that tilt controlling just over 59 percent of the expected goals (xG%) at five-on-five. They got off to a slower start yesterday, as the Lightning scored about 90 seconds into the game. They also had the better quality chances in the first 20 minutes over the Devils. 
But by the time regulation was over, the Devils were the better of the two teams. Over the final 40 minutes, they gave up just 0.69 expected goals to the Lightning at five-on-five while generating 2.55. In all, they totaled a 66.91 xG% in regulation, something they've been doing to teams regularly for a month-plus, not just the Lightning. 
One reason the Devils controlled play at five-on-five and lit the lamp more often yesterday is they were able to attack the middle of the ice better. Tomáš Tatar's goal started with a stretch pass from Dougie Hamilton behind his own goal line to Dawson Mercer. That sprung Mercer loose on the rush in the neutral zone, enabling him to gain the offensive zone with a controlled entry. He and Nico Hischier did the rest of the work to set up Tatar: 
On Timo Meier's first goal, Damon Severson made a stretch pass from his own end to Meier along Tampa's blue line. Meier then passed it to Hischier, who was crashing toward the net. He put a shot on Andrei Vasilevskiy, who left a rebound that Meier cleaned up to tie it at 2-2. Both teams will make further adjustments before they play on Sunday, but the Devils have a blueprint of how to beat a team that doesn't give up much off the rush. 
Meier Settling In
Speaking of Meier, it was arguably the best game he's had with the Devils since they acquired him from the San Jose Sharks before the trade deadline. Not only did he tie the game at 2-2, but he scored on a rocket of a one-timer on the power play to tie it at 3-3 while the Devils had the extra attacker out in the final two and a half minutes of regulation.
We'll get to Meier's power play usage in a second, but he was once again a force at five-on-five, finishing the game with a 65.25 xG%. He started on a line with Jack Hughes and Jesper Boqvist, but head coach Lindy Ruff broke up that trio early in the game and used Meier with a variety of line combos. That didn't seem to matter much, as he still made a significant impact.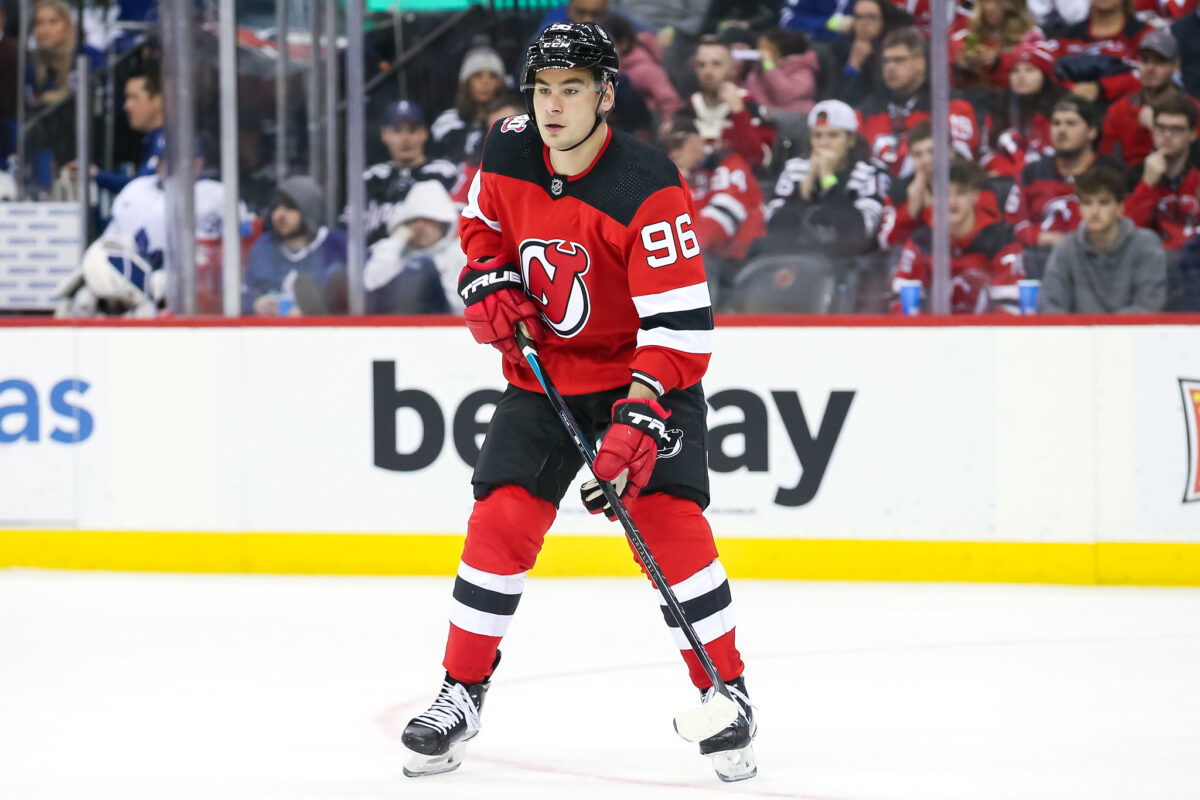 As for the power play, it seems that Ruff and associate coach Andrew Brunette realized Meier is at his best in a one-timer position. Before he scored to make it a 3-3 game, the Devils had been using Meier in the bumper as a net-front presence. That's not all that shocking, considering he's 6-foot-1, 220 pounds, but that's not where he made his money on the man advantage with the Sharks. Look for him to stay in a one-time position on the power play moving forward. 
Hamilton Had a Vintage Hamilton Game
Dougie Hamilton is having a career year, and yesterday's game against the Lightning was an example of why. Though he didn't tally an assist on Tatar's goal, his stretch pass started the play. He would add a helper on Meier's second goal, but there was much more to his game than the one assist. 
The Devils finished with a 28-11 shot attempt advantage with Hamilton on the ice at five-on-five, a Corsi for percentage (CF%) of 71.79 percent, plus a 75.88 xG%. His game score — an all-encompassing stat that measures a player's total value for a single game — of 2.75 finished second to Hischer among all skaters between both clubs. 
Related: Devils Have Found the Perfect 3rd Line
---
Latest News & Highlights
---
Teams need an elite No. 1 defenseman come playoff time, and the Devils have that with Hamilton. His defensive game can be up and down, but it's been sound lately. Add in his quarterback ability on the power play, and he will be a valuable part of this team if they're to make a run in the postseason. 
Hischier Line Keeps Impressing
Even with all the line changes Ruff makes during a game, he's rarely broken up the trio of Tatar, Hischier and Mercer. That's with good reason: they've been the Devils' best line since getting put together and were again versus the Lightning yesterday evening. Here's how they fared at five-on-five:
68.11 xG%
11-2 scoring chances
7-2 high-danger chances
1-0 goals for/against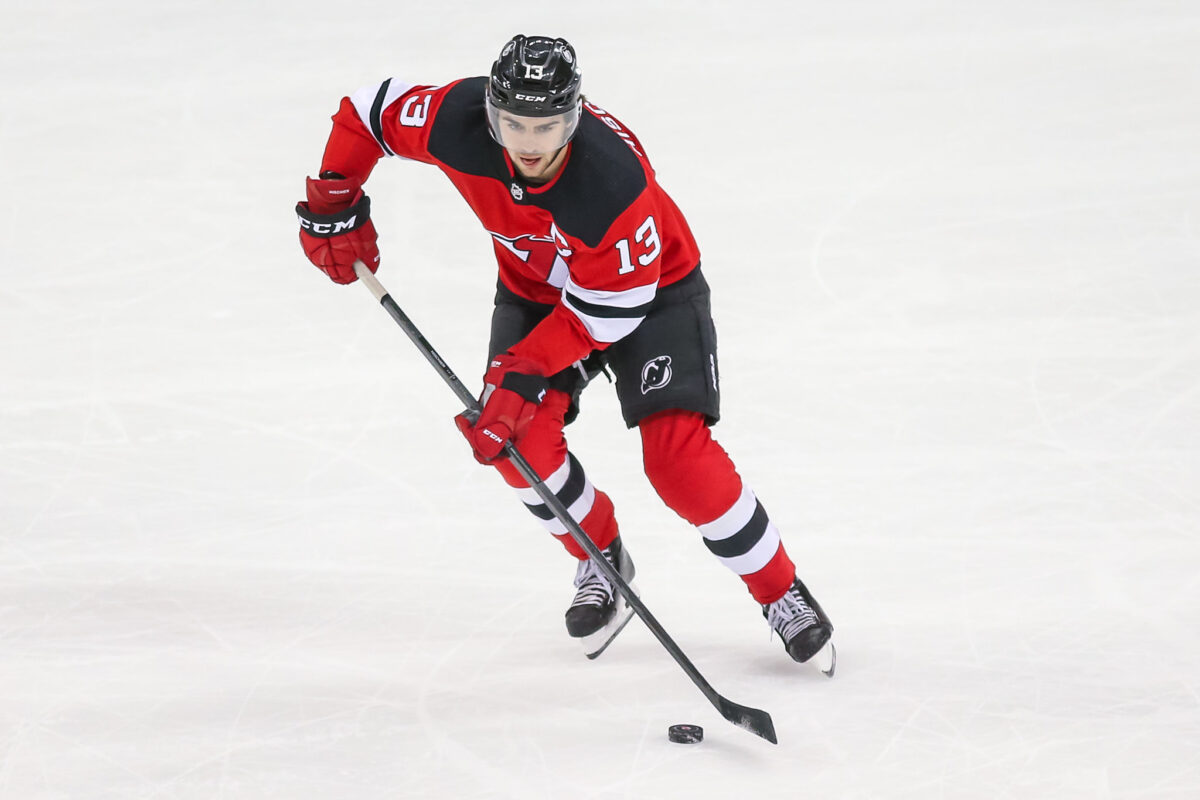 It may be tempting to give Meier a chance alongside Hischier, but with how Hischier's played alongside Tatar and Mercer, it's hard to argue for breaking up that trio. All three players found the scoresheet, as Mercer picked up an assist and his 50th point of the season, while Hischier had two assists. Hischier had one of his best games of the season, as he was highly involved offensively. He finished the night with a 3.55 game score, one of his ten-best outings of the season. Captain stuff, as they say. 
Devils Quick Hits
Ruff started the game with a second line of Meier, Hughes, and Boqvist, but that's probably a trio that shouldn't get much more of a look. They finished underwater in xG% and haven't done much in their previous stints together. Ruff should return to Bratt, Hughes and Meier, with Meier in his natural right-wing position instead of on the left side. That trio has posted a 62.11 xG% and deserves more runway than they've gotten. Plus, Boqvist has played some of his best hockey on the third line with Ondrej Palát and Erik Haula.
With no Miles Wood or Nathan Bastian due to injuries, the Devils turned to a fourth line of Yegor Sharangovich, Michael McLeod and Curtis Lazar. The results were quite good, as they had a 100 xG%. Granted, they only saw 5:17 of ice time as a trio, but McLeod and Lazar had some good moments on the forecheck, while Sharangovich had the Devils' lone goal in the shootout. Depending on how long Wood and Bastian are out, they may stick together for the foreseeable future. 
Before taking on the Lightning for the third and final time this season, the Devils face the Florida Panthers — who scored nine goals against the Montreal Canadiens last night — in Sunrise, Florida, tomorrow evening. Look for Schmid to get the start, with Vitek Vanecek getting the final shot at pulling off a win against the Lightning on Sunday. 
* * *
Advanced stats from Natural Stat Trick, Hockey Stat Cards