The Edmonton Oilers acquired Warren Foegele in July of 2021 in a trade with the Carolina Hurricanes in exchange for former fan favourite, Ethan Bear. At the time, they were trading away a potential top-four defenceman, but the scouting report on Foegele stated that he had size, speed and decent offence, and it was a risk Edmonton was willing to take to add a depth piece they needed up front. The Oilers' winger came out strong out of the gates during the 2021-22 campaign, with five points in the first 10 games, but his point production dipped, finishing the season with 26 points in 82 games.
It's fair to assume that the Oilers would've liked more production out of him in the regular season and Foegele probably expected more out of himself. To make matters worse, he managed to only muster a single assist in 13 postseason games and it's clear that overall, he struggled to find his footing in his first season as an Oiler.
---
---
Yet, in the past 15 games, Foegele has emerged as a more confident and assertive player, producing points and earning minutes in the top six. Despite an inconsistent stint over the last season and a half, the Oilers are now reaping the benefits of the trade with Carolina. Bear couldn't gain traction with the Hurricanes and was traded to the Vancouver Canucks, and Foegele is finally showing to be the scoring depth forward the Oilers had hoped he'd be, just in time for the playoff stretch.
Foegele Has Looked More Confident Over the Last 15 Games
Throughout the last several months, Foegele and his $2.75 million cap hit were the talks of many trade rumours. The Oilers were tight against the cap, and the forward seemed like a logical candidate to be moved; yet, in the end, it was another underperforming forward, Jesse Puljujarvi and his $3 million salary that was traded, just prior to the deadline.  
Related: Oilers Facing 4 Questions Down Playoff Stretch
---
Latest News & Highlights
---
Still, Foegele's inconsistency, combined with his salary, led to his name being mentioned in trade rumours. He'd have a great couple of games but lose momentum over the next few. David Staples of the Edmonton Journal spoke of a possible reason for that on the "Oilers Now" show, saying, "When you're traded for a fan favourite like Ethan Bear, that could be trouble." He alluded that there's a pressure that comes with being traded for a player held in high regard from a big fan base, and that could've been a contributing factor to his subpar play.
Here we are, 20 months since being acquired from the Hurricanes, and now that the most recent trade deadline has passed and he has the security of knowing he'll be an Oiler for the rest of the season, it seems like Foegele is finally settled in in Oil Country. In his last 15 games, he's tallied five goals and five assists. Moreover, he just looks more confident with the puck by the seeing eye test. He's shooting with conviction and he's making smart plays.
For example, let's compare a play from earlier in the season against the Buffalo Sabres in October, to a similar play against the Ottawa Senators on March 14. Against the Sabres, he scooped the puck up behind his net and instead of skating it up ice, he fed linemate Dylan Holloway a suicide pass, and the rookie ended up getting crushed by Ilya Lyubushkin. In contrast, in a very similar play against the Senators recently, Foegele picked up the puck behind the net and instead of passing it off in a panic, he confidently bullied his way down the ice past three Senators, which resulted in an Oilers goal.
Foegele Should Be Given a Top 6 Spot Over Yamamoto
When Zach Hyman didn't dress for the game against the Senators on March 14, Foegele got the promotion to the second line to play with Ryan Nugent-Hopkins and Leon Draisaitl and the trio excelled. The Markham, Ontario native tallied two assists in the game, and according to Natural Stat Trick at 5-on-5, the trio combined for a 91.67 Corsi (CF%), 88.81 scoring chances for percentage (SCF%), and 100% high danger chances for (HDCF%).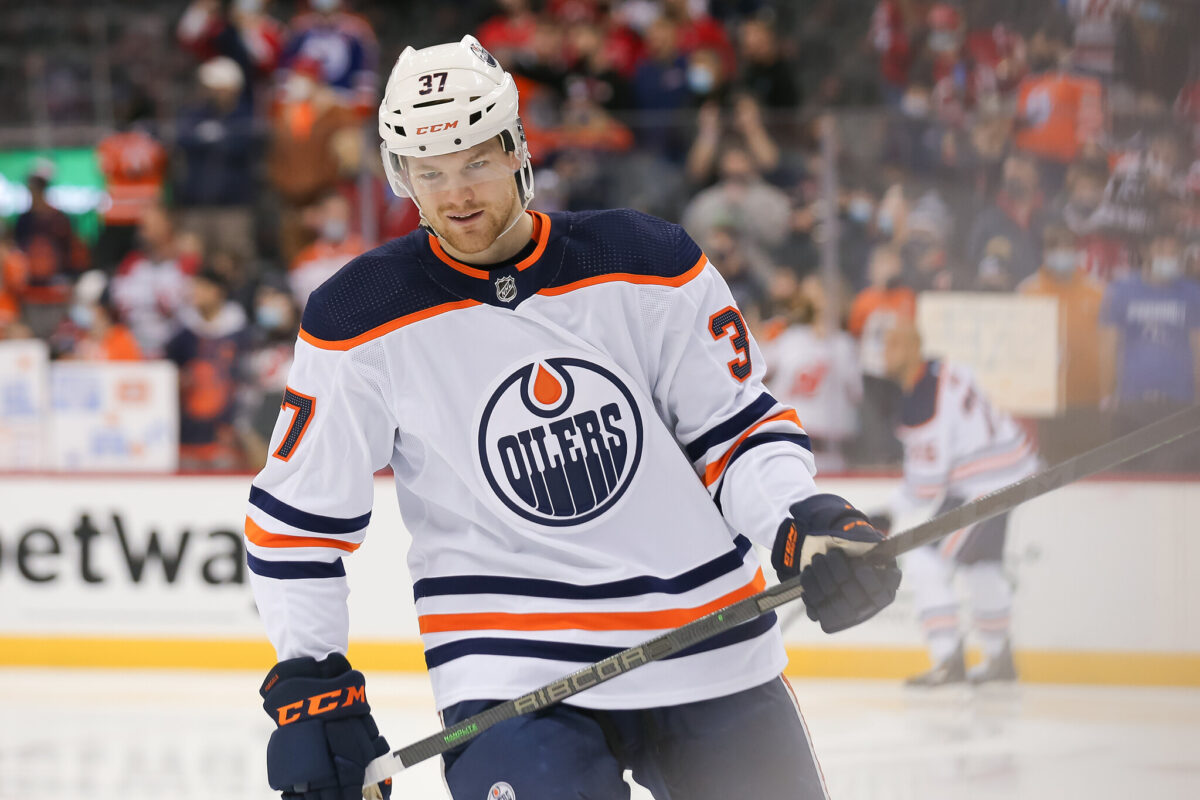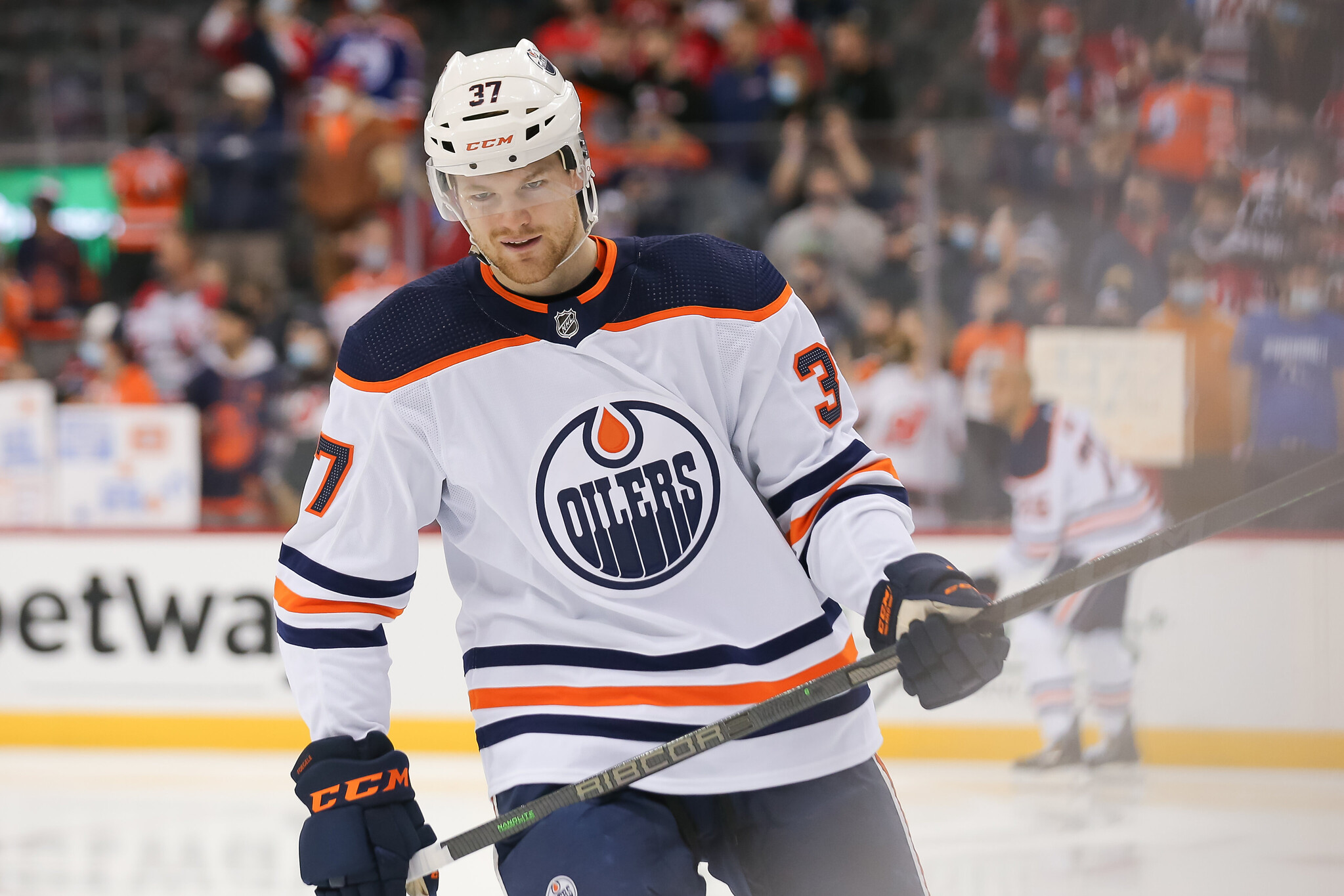 Two nights later against the Dallas Stars, the winger once again received significant minutes at 5-on-5 with Draisaitl and Nugent-Hopkins and he scored a goal in the first period. Moving forward, when all players are healthy, Foegele should play in the top six down the playoff stretch, over Kailer Yamamoto, who is pointless in his last six games. Moreover, the underlying numbers show that Foegele and Draisaitl have good chemistry together. In total, they've played 143 minutes with one another at 5-on-5 this season, outscoring their opponents 12-5 in that span and they also have a 52.76 HDCF percentage.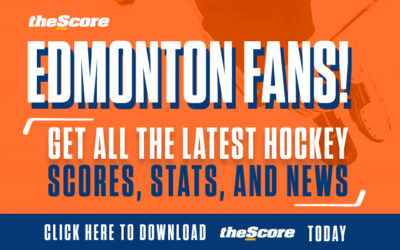 Draisaitl also enjoys playing with Foegele, saying, "He's playing good, he's playing really good hockey. He's tenacious, he's good on the forecheck, he can make a play when time is there. So, I really enjoy playing with him, he's been really good." In addition, their style of play seem to complement one another — both are big and mobile players that can play a heavy cycle game. At the same time, if Draisaitl decides to dish the puck to his winger instead of shooting, Foegele seems like a legitimate scoring threat now with his hard shot, something that he worked on this past summer. Needless to say, with over 400 pounds between them, imagine the trouble they'd give the opposition, wearing down defencemen in a lengthy playoff series.
Overall, it took over a season and a half for the results to fully show, but it seems like the Oilers got the better end of the Foegele – Bear trade. That said, the tenacious winger is picking up steam at just the right time and it seems like the Oilers just added another scoring threat to their already high-powered offence this postseason.
What are your thoughts on Foegele's play this season? Does he deserve more minutes? Have your say in the comments below!