Dawson Mercer is on fire. Not only did he put home the game-tying goal, but he also scored the game-winner in overtime to help the New Jersey Devils defeat the Los Angeles Kings 4-3. The Devils were the better team for most of the contest, but they had to battle back from two different deficits to pull off the overtime victory. Here are four takeaways and some quick hits ahead of tomorrow's tilt against the Philadelphia Flyers. 
Mercer Stays Hot
Mercer has gone through some struggles this season. Before their game against the St. Louis Blues on Feb. 16, he had two points in his previous ten outings. Since then, he's been on an absolute tear. Including the Kings game, he has nine points (seven goals, two assists) in his last five games with 20 shots on goal. 
He helped the Devils get on the scoreboard yesterday with a subtle pass in front of the net to Tomáš Tatar to cut the team's deficit to 2-1 a few minutes before the second intermission. The two of them teamed up about two and a half minutes into the third period, with Tatar making a great backhanded pass to Mercer for the game-tying goal. But wait, Mercer wasn't finished yet. He capped off the night after a slick setup by Dougie Hamilton to the net front for the redirect in OT: 
Mercer had another solid night at five-on-five, finishing with a 52.57 expected goals percentage (xG%). There's been a noticeable difference in his game since head coach Lindy Ruff moved him back into the top-six, this time alongside Tatar and Nico Hischier. When in the bottom-six, he's been a different player and largely invisible. He's now on pace for 25 goals and 54 points, so he should remain in the top-six. 
Tatar Continues to Show Why He's Underrated 
It would be remiss of me not to mention Tatar, who's not only helping Mercer during his hot streak but playing pretty good hockey himself. As mentioned above, he finished with a goal and an assist, moving him to 13 goals and 33 points in 58 games this season. He's not as hot as Mercer, but he does have six points across his last eight outings. 
As is usually the case with Tatar, he was a force at five-on-five, finishing with a 66.83 xG% against the Kings. Dating back to last season, he and Hischier have always posted excellent five-on-five numbers together. Adding Mercer to their line is a new wrinkle that Ruff hadn't used before, but there's no doubt he's found some magic with this trio.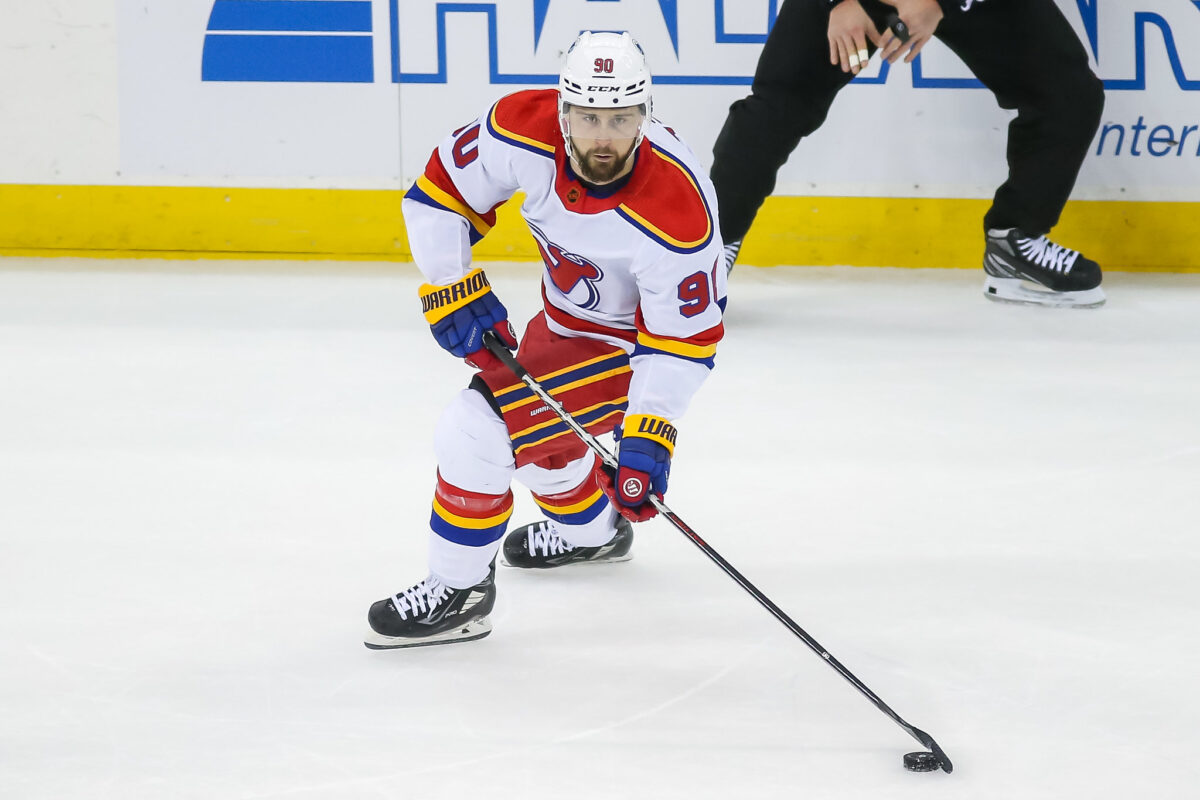 Tatar may not be a traditional first-line winger, but he can play in that spot because he does so many little things well. He plays bigger than his 5-foot-10, 173-pound frame, something you'll notice when he's in on the forecheck. He does a great job of creating time and space for his linemates in the offensive zone, which is why he complements Hischier and whoever is the second winger (Mercer, in this case) on the top line. 
Hughes Line Struggling to Get Going
Though the Tatar, Hischier, and Mercer line is humming, the Devils have had trouble getting the trio of Yegor Sharangovich, Jack Hughes and Jesper Bratt going. While they had a 50.37 xG% against the Kings, it was the lowest percentage among the line combos Ruff used. He even shuffled his units around to start the third period, placing Erik Haula alongside Hughes and Bratt. 
Related: Devils Could Improve Depth With Niederreiter Trade
---
Latest News & Highlight
---
Haula has put up impressive numbers alongside Hughes and Bratt this season, but he's looked much more comfortable at center for the last month. If Ruff bumps Sharangovich off Hughes' line, he should place Ondrej Palát with Hughes and Bratt and move Sharangovich with Haula and Fabian Zetterlund; that trio had some success when Hughes missed four games with an upper-body injury a bit over a week ago. That leaves the Devils with a solid top-nine and a fourth line of Miles Wood, Michael McLeod and Jesper Boqvist that has played well in recent games. 
Bahl & Severson Thrive in 3rd-Pair Minutes
When the Devils were cooking at five-on-five earlier in the season, part of the reason was that their third pair of Brendan Smith and Damon Severson would get cushy offensive minutes. That allowed a puck-mover like Severson to help create offense, with Smith operating as the defensive presence. 
The third pair had a different look last night, with Kevin Bahl drawing in for Smith, but the Devils still dominated at five-on-five with this pair on the ice. In 10:25 together, the Devils had a 19-4 shot attempt advantage and a 92.86 xG% with Bahl and Severson on the ice. They generated 1.63 expected goals, a little more than 50 percent of the xGs the Devils created at that game state.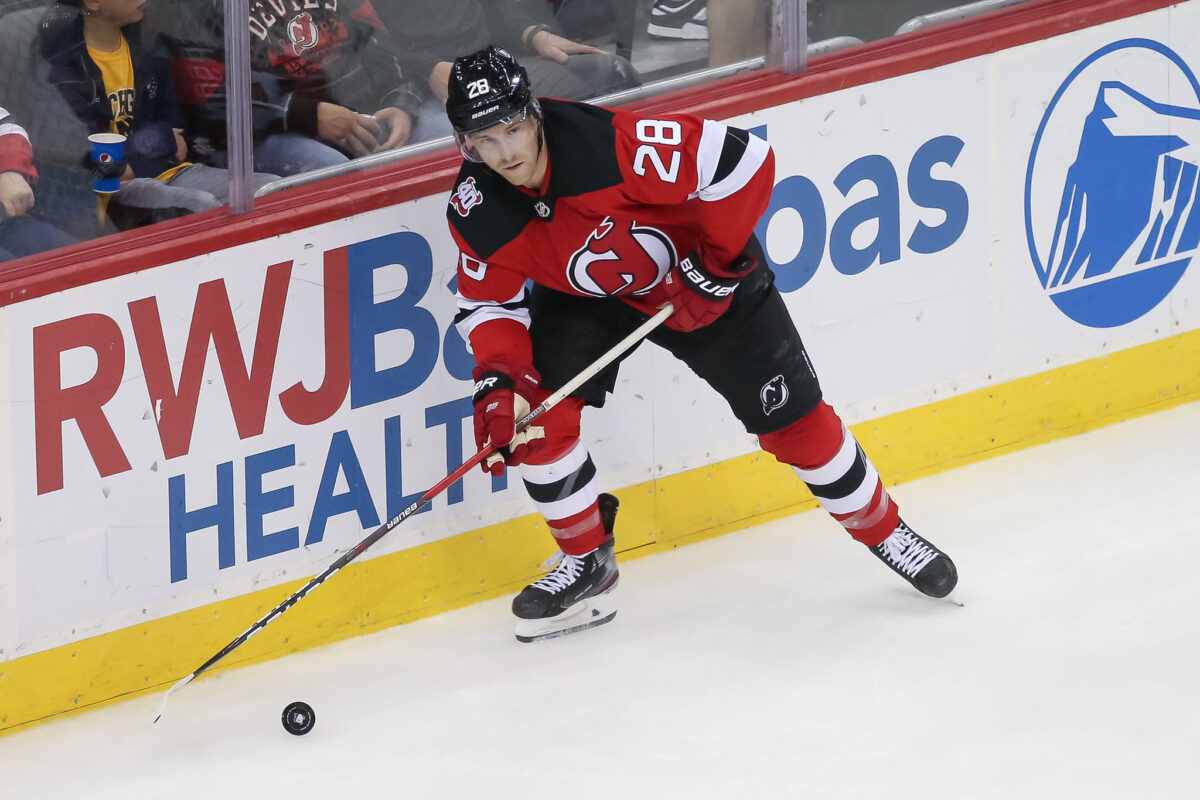 Even though Severson is the offensive facilitator, I thought Bahl had one of his best games of the season. He was excellent defensively and used his 6-foot-6, 230-pound frame to add a physical presence. Smith has been adequate as a third-pair defender, but Bahl should get a bit of an extended run with Severson on the bottom pair for the foreseeable future. 
Devils Quick Hits
The Devils went through some five-on-five struggles for pretty much all of January. But that's changed for the better in February, and it continued against the Kings. New Jersey out-attempted Los Angeles 49-38 and had a 61.51 xG% at that game state. The Kings did a good job of bottling things up, something they do well in general because of their structure, but the Devils still found ways to test Pheonix Copley. It took them a while to break through, but they were the better team, even when they went down 2-0 in the first period.
Hischier was having a quiet game on the scoresheet until he tied it up with 37 seconds remaining in regulation. But even though his only point was that goal, he finished with six shots on goal, five scoring chances, and two high-danger chances. After a mini-slump, he has six points in his last four outings. It looks like he's back on track. 
With the New York Rangers' 4-1 loss to the Detroit Red Wings, the Devils bumped their advantage to six points over the Rangers for second place in the Metropolitan Division with 58 games played. Since the two teams appear on a collision course for a first-round playoff matchup, that will matter for home-ice advantage. The Devils are only three points behind the Carolina Hurricanes for first place, but the Hurricanes have two games in hand. It will be harder to catch them, given how often they're winning. 
The Devils will close out the week with a tilt against the Flyers, where they'll be honoring the 20th anniversary of the 2003 Stanley Cup championship team. If you aren't at the arena for the festivities, tune into MSGSN for pregame coverage at 6:30 PM to see many of the faces from that 2003 team. 
* * *
Advanced stats from Natural Stat Trick