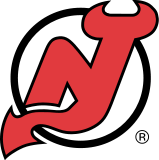 Johan "Moose" Hedberg is always ready. After last night's win over the Los Angeles Kings, the Devils backup goaltender he summed up his approach at this point in his career:
" I always try to stay ready, you never know whats going to happen."
Hedberg, a former NHL starter, was brought in as a free agent during the summer of 2010 to give the Devils depth and to enable them to keep Marty Brodeur fresh for the playoffs. Of course, we're all familiar with how last season played out. Brodeur spent part of last season injured, and the Devils missed the playoffs for the first time in 15 years. Despite the disastrous year the team had, Hedberg was one of the few bright spots, posting a 15-12-2 record with a 2.38 GAA. His performance merited being brought back for another season, and he was signed to a one year deal last summer.
The value of having a goalie like Hedberg on the bench cannot be overstated. Patrik Elias summed it up after the win against Los Angeles, where Hedberg stopped all sixteen shots he faced in regulation:
"It's just nice to have two goaltenders we can count on" Elias said.
Hedberg entered the game at the start of the second period after Brodeur injured his shoulder while making a spectacular diving save in the first. After blanking the Kings for the next 40 minutes, he then stopped Simon Gagne and Anze Kopitar during the shootout to secure the victory for the Devils.
Back to back wins for the Devils, both credited to Hedberg, should help quiet those who felt GM Lou Lamoriello should have let the 38 year old walk after his contract expired and put a young goaltender, like Keith Kinkaid, on the roster this season. Hedberg's experience, veteran leadership, and sharp play in the net make him an invaluable piece of the team. Rarely can a team insert a backup into the lineup and never miss a beat. If the Devils are going to make it back to the playoff in 2011-2012, "Moose" will undoubtedly play a large part in their success.
DEVILS NOTES
– Brodeur made the trip with the team to Nashville. GM Lou Lamoriello said that there was no plan to call up a goaltender at this time.
-Adam Henrique was sent to AHL Albany. The reason was to get him ice time, as he is expected to play in two games this weekend.
– Defenseman Adam Larsson leads all NHL rookies in ice time, averaging 23:46 per game