Did you work late last night? Did your significant other make you run errands while the game was on? Did your dog chew off your TV cable wires?
Have no fear – THW's Monica McAlister has your back, covering everything in the hockey world from From Abdelkader to Zuccarello every morning. Check in daily to quickly get up to speed on all things hockey – recaps, storylines, videos and great links.
It's Sweetest Day. What better way to celebrate with someone you love than to have 14 NHL games on tonight!
While You Were Sleeping
Carolina Hurricanes 4 Buffalo Sabres 3
Buffalo may have put 42 shots on goal last night but it was not enough to stop the building momentum of the Hurricanes.
Thomas Vanek would score first giving the Sabres the early lead before a game of tit-for-tat would start with a game tying goal from Jay Harrison. Minutes after Harrison tied the game for Carolina Derek Roy would score his first of the season to regain the lead for the Sabres.
A late penalty to Carolina's Bryan Allen for interference would give Buffalo the power play; however, it would be a short handed goal from Brandon Sutter in the final seconds of the period to send the game to intermission tied at two.
It would me a second short handed goal for Carolina, this time from Tim Brent, that would give the Hurricanes their first lead of the game.
The Hurricanes held onto the lead until late in the third with Buffalo's Drew Stafford put the puck past Cam Ward with a backhanded shot.
With two minutes to go in the game Buffalo's Thomas Vanek would be called for tripping and set Carolina up for their game winning power play goal by last season's Calder winner for Rookie of the Year Jeff Skinner.
Skinner put a slap shot in past Ryan Miller off of a feed from Jussi Jokinen and Joni Pitkanen.
San Jose Sharks 0 Anaheim Ducks 1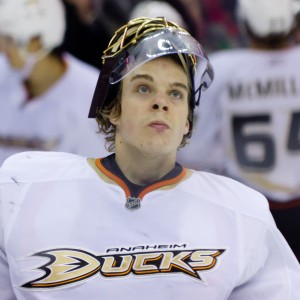 Hiller is back! Clearly no vertigo from the Swiss (not a reference to allowing bad goals in as clearly he did not do any of that last night) goaltender.
The first period saw the Ducks head to the penalty box twice in the first half of the period but the Sharks were unable to take a bite out of Anaheim's penalty kill. The first (and only) goal of the game would come at 13:59 of the first as Rookie Maxime Macenauer scored his first of the season as he tipped-in a shot from George Parros. Not a bad time to score your first NHL goal.
Jonas Hiller stopped all 31 shots he faced from San Jose; while Thomas Greiss allowed the one goal from Macenauer out of the 23 shots the Ducks threw at him.
Up into the Netting
The New York Islanders are in the news as they announced yesterday that goaltender Rick DiPietro is out indefinitely with a concussion. On a nother Islanders note there is a chance for Islanders fans to help out some local families . John Kannengeiser, a former NHL employee and a current Nassau County Police Officer, has the details on a charity hockey game to benifit the families of two police officers that were killed in the line of duty.
Pittsburgh Penguins Arron Asham apologizes for his post-fight gestures in Thursday night's game against thw Washington Capitals.
Speaking of the Capitals… Did Washington Capitals John Carlson start trolling Penguins fans on Twitter after beating them in Pittsburgh? According to the Baltimore Sports Report yes.
Morgan Douglas is also not a familiar name to hockey fans. She's a self described 20 year-old student obsessed with hockey. While Asham backed off his post-K.O. celebration and apologized post game, Douglas tagged in electronically. Just like he on the ice, Capitals defenseman John Carlson took exception. Instead of a damp Bauer glove to the face, Douglas appears to have gotten a direct message from Carlson's twitter account: "Go screw yourself u mutant."
Minnesota Wild captain Mikko Koivu is sponsoring two private patient rooms at the new Neuroscience and Epilepsy Center. The rooms are decorated with Minnesota Wild colors and logos and even have what appears to be fathead's of Koivu himself on the wall.
Was the Dallas Stars acquisition of Eric Nystrom a squandered opportunity? THW's own Derek Neumeier thinks so:
Nystrom signed a four year deal with the Minnesota Wild in the summer of 2010, but was never able to fit into the team's system. His -16 last year on the Wild was a team worst. As the preseason came to a close it appeared that Nystrom was the odd man out in Minnesota, and was sent down to the AHL after clearing waivers. The Stars, needing to add some salary, and the Wild, interested in moving past a signing that they regret, made the trade on Wednesday, with still undetermined future considerations heading Minnesota's way.
The problem, however, is that although the Stars were forced to add someone's salary, they didn't pick the right player to do it with.
Hopefully this puts to rest the legal issue, and we can start talking about Aaron Boogaard's hockey career again, and let the Boogaard family attempt to move on with their lives. Best of luck in all future endeavors to everyone in the family.
A week into the NHL regular season and the newly configured Columbus Blue Jackets are still winless through four games.
Tonight is the OHL's Plymouth Whalers 4th Annual Pink Out! Game for Breast Cancer Awareness.
The Hockey Players Union is trying to raise money for underprivileged children across North America so they may be able to play hockey.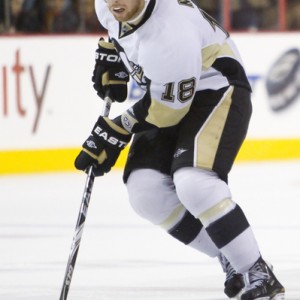 Top Spots:
Points: David Legwand – Nashville (7)
Goals: James Neal – Pittsburgh (4)
Assist: Erik Karlsson – Ottawa (6)
Plus-Minus: Tim Gleason – Carolina (7)
GAA: Johan Hedberg – New Jersey (1.14)
Save Percentage: Kari Lehtonen – Dallas (0.966)
Wins: Ilya Bryzgalov – Philadelphia (3)
Shutouts: Ilya Bryzgalov – Philadelphia (1)
Northwest: Colorado Avalanche
Pacific: Dallas Stars
Central: Detroit Red Wings
Atlantic: Pittsburgh Penguins
Northeast: Toronto Maple Leafs
Southeast: Washington Capitals
Face-Off
Calgary Flames at Toronto Maple Leafs 7:00 p.m. EST
Colorado Avalanche at Montreal Canadiens 7:00 p.m. EST
New York Rangers at New York Islanders 7:00 p.m. EST
Los Angeles Kings at Philadephia Flyers 7:00 p.m. EST
Buffalo Sabres at Pittsburgh Penguins 7:00 p.m. EST
Ottawa Senators at Washington Capitals 7:00 p.m. EST
Winnipeg Jets at Phoenix Coyotes 7:00 p.m. EST
Tampa Bay Lightning at Florida Panthers 7:30 p.m. EST
New Jersey Devils at Nashville Predators 7:30 p.m. EST
Detroit Red Wings at Minnesota Wild 8:00 p.m. EST
Columbus Blue Jackets at Dallas Stars 8:00 p.m. EST
Boston Bruins at Chicago Blackhawks 8:30 p.m. EST
Vancouver Canucks at Edmonton Oilers 10:00 p.m. EST
St. Louis Blues at San Jose Sharks 10:00 p.m. EST
An avid hockey lover that grew up in Michigan and lived in the Washington D.C. area while going school for Sports Management. Volunteer with the American Special Hockey Association (ASHA); and follows as much SM-liiga and Elitserien as possible along with the vast array of North American leagues.