Throughout their history, the New Jersey Devils have employed some great American players. Many of these players have represented their country at the Olympics and team in the Stanley Cup Final. As New Jersey native Bruce Springsteen would say, let's take a look at some of the best Devils players born in the U.S.A.
10.) Cory Schneider
Starting this list with Schneider shows how impressive it truly is. As of this writing, Schneider's .922 save percentage and 2.21 goals-against average rank first in franchise history. That's no small feat with Martin Brodeur, perhaps the best goalie of all-time, in the record books. Schneider was named an All-Star for the first time in 2015-16. The Marblehead, Mass. native's 12 shutouts rank second in club history.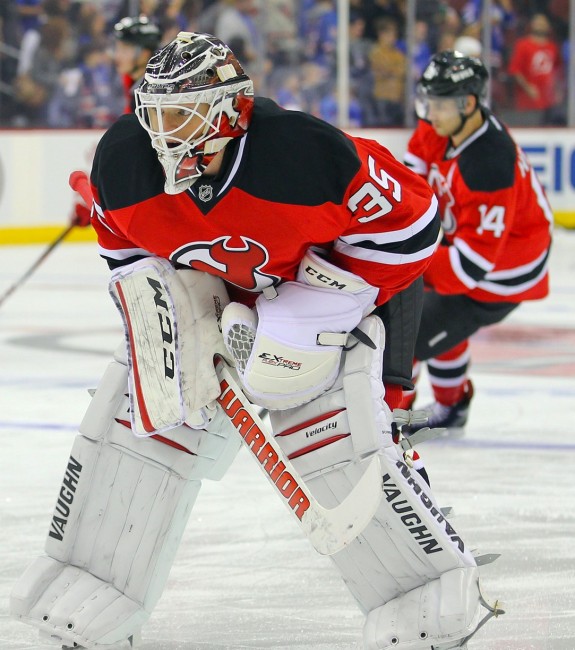 9.) Andy Greene
In 2015, the Devils' longest-tenured defenseman was named the 11th captain in franchise history. The Trenton, Mich. born Greene is a true iron man. As of this writing, Greene has skated in 339 consecutive contests, ranking third in club history. Undrafted and undersized out of Miami, Ohio, Greene has been a scrappy fixture on the Devils' defense.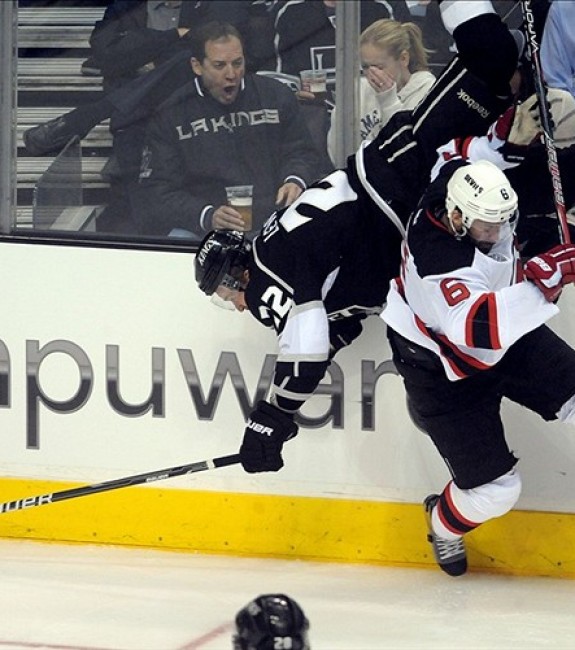 8.) Chris Terreri
Currently the Devils goalie coach, Terreri helped New Jersey win a pair of Stanley Cup titles. The Warwick, R.I. native, is perhaps best known as the netminder with all of the team records before Brodeur. Playing with Providence College, Terreri earned NCAA Most Outstanding Player Honors in 1985, despite a 2-1 title game loss against RPI. Terreri's 118 victories rank second in Devils history.
7.) Bill Guerin
A Worcester, Mass. native, Guerin helped the Devils win the 1995 Stanley Cup. The Devils' right wing also represented his country in the Olympics on three occasions. In parts of seven seasons with New Jersey, Guerin was a three-time 20-goal scorer and posted 108 in total.
6.) Brian Rolston
Sporting a scary slap shot, the Flint, Mich. native, Rolston, played parts of nine seasons with New Jersey. Rolston was a member of the Devils' Stanley Cup title team in 1995 and helped the United States win the World Cup of Hockey in 1996. Rolston was also a three-time Olympian and was a member of the silver medal-winning squad at Salt Lake City in 2002. A solid two-way forward, Rolston netted 10 short-handed tallies in his Devils career. Rolston netted 130 goals with New Jersey.
5.) Jamie Langenbrunner
In 2007, Langenbrunner was elected as the eighth captain in Devils history, serving in that role through 2011. The Cloquet, Minn. native also served in that role with the U.S. men's Olympic hockey team in Vancouver, which won the silver medal. Langenbrunner helped New Jersey win the 2003 Stanley Cup, leading all playoff scorers with 11 goals and 18 points. As the veteran right wing, Langenbrunner skated on the vaunted "ZZ Pops" line with Travis Zajac and Zach Parise in 2007-08. During nine seasons with the Devils, Langenbrunner netted 142 goals, including 32 game-winners.
4.) Brian Gionta
Known as the "Rochester Rocket," Gionta, a native of Rochester, N.Y., played seven seasons with New Jersey. The former Devils right wing was a member of the 2003 Stanley Cup winning squad. Gionta's 152 markers rank ninth in franchise history. In 2005-06, Gionta set a single-season club record with 48 tallies. Gionta also scored the first Devils goal in the history of the Prudential Center. Gionta was also a member of the 2006 Olympic team. In 2000-01, Gionta led the nation with 33 goals and helped captain the Boston College Eagles to a NCAA title.
3.) Scott Gomez
The Anchorage, Alaska native was a star right off the rip with the Devils. In 1999-2000, the Devils rookie Center earned the Calder Trophy. Across eight seasons and two tours with New Jersey, Gomez helped the Devils win two Stanley Cup titles. Like Gionta, Gomez was also a member of the 2006 Olympic team. During the 2003-04 campaign, Gomez dished out a league-high 56 helpers. Playing on the "EGG" line with Patrik Elias and Gionta in 2005-06, Gomez totaled a career-best 33 goals and 84 points. In 2007, Gomez scored the final goal in the history of the Continental Airlines Arena. Gomez ranks third in club history with 361 assists and fourth with 484 points.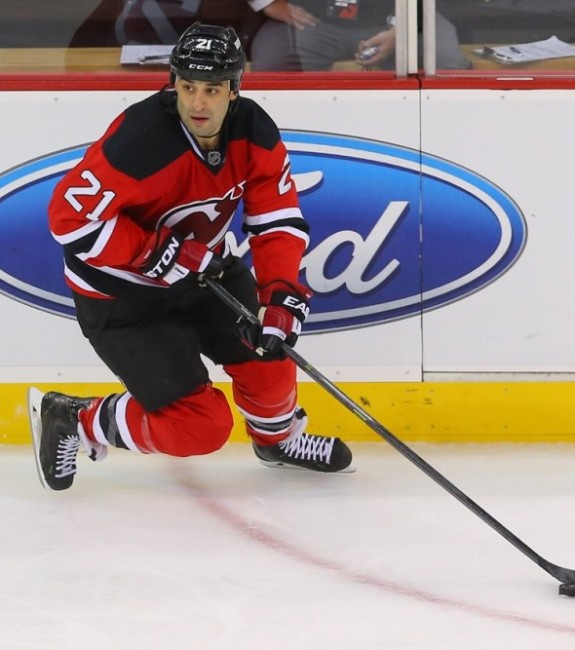 2.) Zach Parise
In 2011-12, Parise was named the ninth captain in franchise history. The Minneapolis, Minn. native played seven seasons with New Jersey, helping them win the Eastern Conference in that 2011-12 campaign. In franchise history, Parise's 194 tallies rank fourth and his 410 points are 10th. The former New Jersey left wing enjoyed his best season in 2008-09, recording 45 goals, 49 helpers and 94 points. Parise registered four additional seasons of more than 30 goals. In 2010, Parise skated on the U.S. Olympic squad, winning a silver medal at Vancouver.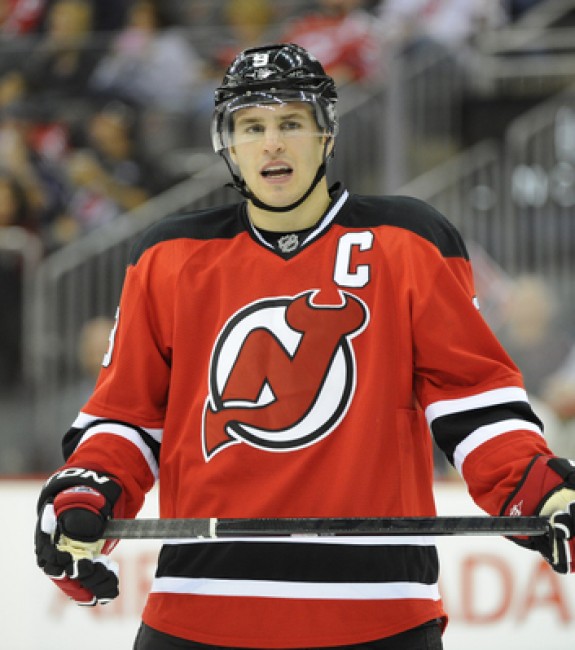 1.) Brian Rafalski
Topping the list is the Dearborn, Mich. native Rafalski. Possibly the most underrated but never underappreciated Devil, Rafalski manned the New Jersey blue line for seven seasons. During that stretch, Rafalski helped the Devils win two Stanley Cup titles. A great puck-rushing defenseman, Rafalski's 267 helpers rank 10th in club history and his plus-100 rating ranks sixth. In 2001, Rafalski set a postseason club record with 18 points by a defenseman, later tied by Scott Niedermayer in 2003. The speedy defenseman was also a three-time Olympian, earning the silver medal in 2002 and 2010. In 2014, Rafalski was inducted into the United States Hockey Hall of Fame.
.