Since the franchise arrived from Atlanta in 2011, the Winnipeg Jets have stayed quiet on the trade front. General manager Kevin Cheveldayoff remained firm in the draft and develop formula, refusing to sacrifice the future for the present. Jets fans were getting impatient with Chevy over the lack of activity. Cheveldayoff made up for it in a big way.
Shuffling Off To Buffalo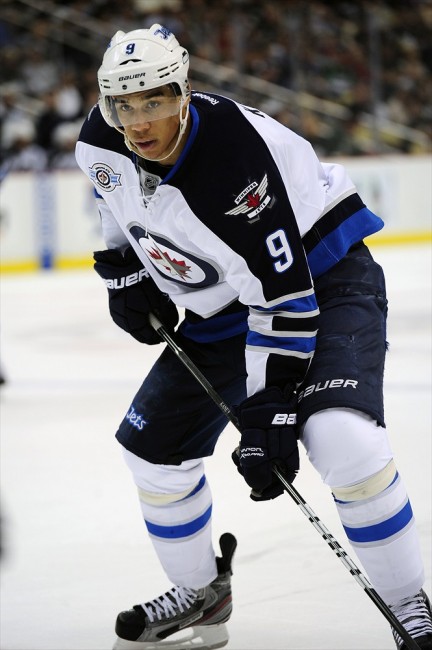 The Jets traded talented but troubled forward Evander Kane,defenceman Zach Bogosian and goalie prospect Jason Kasdorf to the Buffalo Sabres for forward Drew Stafford, towering defenceman Tyler Myers, prospects Joel Armia and Brendan Lemieux and a first round pick of the 2015 draft. (The Sabres did have three first round picks, the Jets will receive the lowest of the three.)
Again principles of Jets-Sabres deal: Myers Stafford Armia and Lemieux plus a first for Kane and Bogosian. Could be other elements.

— Darren Dreger (@DarrenDreger) February 11, 2015
The deal came after Kane being a healthy scratch in Vancouver for violating the dress code in a team meeting. An incident with teammate Dustin Byfuglien which led to Kane's tracksuit being thrown into the shower was allegedly the boiling point. Instead of coming back for the playoff push, Kane opted to have season ending shoulder surgery, an injury that has bothered him for quite some time.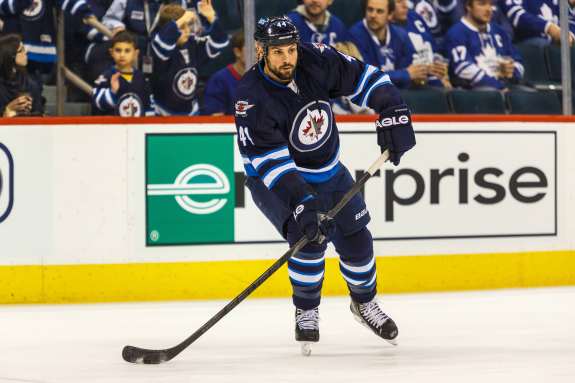 Bogosian had struggled since having wrist surgery following the 2011-12 season. After he was benched in a game against the Dallas Stars for taking two undisciplined penalties, he was deemed expendable.
Kasdorf was behind Connor Hellebucyck and Eric Comrie on the futures depth chart for goalies, thus he was moved.
Welcome The New Jets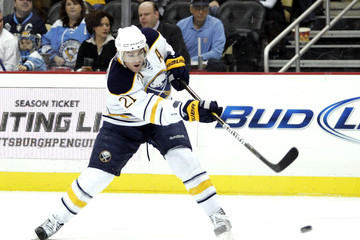 Drew Stafford was the Sabres first round pick of the 2004 draft. The University of North Dakota product had a career best 31 goal season in 2010-11. An unrestricted free agent at seasons' end, Stafford has recorded 9 goals and 15 assists for the Sabres this season. He could slide in on the right side on a line with Mathieu Perrault and Mark Scheifele.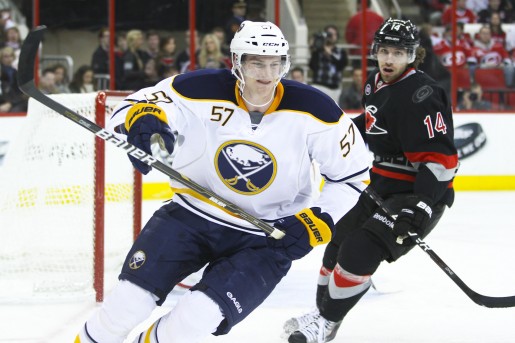 To say that Tyler Myers is big would be an understatement. Standing 6-8 and weighing 219 pounds, the former Kelowna Rocket is looking for a fresh start, after some struggling years in Buffalo. The first round pick in the 2008 draft enjoyed his best season as a rookie, registering 11 goals and 37 assists while playing a shut-down defensive role. The Jets are hoping a change of scenery and some magic by head coach Paul Maurice can turn Myers around.
Joel Armia has yet to crack the NHL on a regular basis, playing only one NHL game so far. The 2011 first round pick was having a decent season with the Rochester Americans of the AHL, collecting 10 goals and 15 assists in 33 games. Armia is big but lacks consistency. He will need more seasoning in St. John's but could see time with the big club, if his game progresses.
Even given the stance of some prospects turn into rejects, Joel Armia and Brendan Lemieux have legit talent. That's a lot to give up.

— John Vogl (@BuffaloVogl) February 11, 2015
Just like his dad, Brendan Lemieux is gaining a reputation as an agitator. The son of the three-time Stanley Cup winner Claude Lemieux was the Sabres second round choice in the 2014 draft. Currently playing for the Barrie Colts of the OHL, Lemieux has put up 35 goals and 15 assists in 46 games this season. He's also amassed 120 minutes in penalties proving he's a chip off the block from his old man. If he can play like his dad in the pros, the Jets will have a clutch player with a mean streak.
Did The Jets Win The Trade?
Honestly, only time will tell. Kane won't play this year and with either Connor McDavid or Jack Eichel most likely joining the Sabres next season, it will be interesting to see how either of those young stars mesh with the mercurial Kane.
Stafford is a pending UFA on July 1 and a good closing stretch could fetch him a big raise. That might be too much for the Jets to pay but if he likes it in Winnipeg, he could stay at a discounted rate.
Myers and Bogosian are eager to turn their respective careers around so consider that swap a wash for now.
The prospects are just that. Prospects. Let us not forgets a first round pick that is coming the Jets way. It will be a late first round selection but with some heady scouting, the Jets may end up with a gem.
Interesting to see the reactions to the trade. I'm not sure it's a slam dunk for one side or the other like some are saying.

— PATRICK WILLIAMS (@pwilliamsNHL) February 11, 2015
I've been harsh on Cheveldayoff in the past, but considering the circumstances I think he did well on this deal. Yes there is risk involved as he is taking a chance that Kane may become another Tyler Seguin.
Given the bargaining position Kevin Cheveldayoff was working from with Evander Kane, that's an extremely solid return.

— Chris Johnston (@reporterchris) February 11, 2015
But with some help coming in for the playoff push as well as getting prospects and a first round pick in return, Cheveldayoff did very well despite having a gun to his head. Jets fans have a reason to be excited.