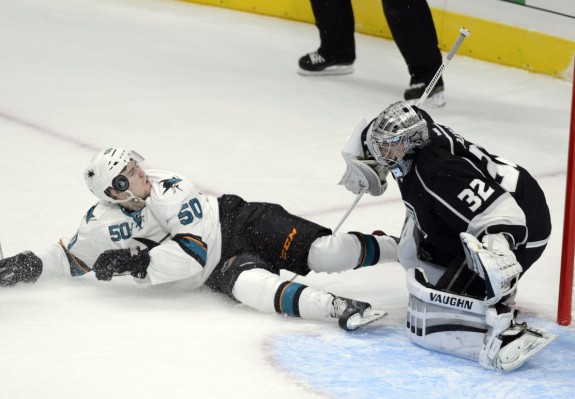 The San Jose Sharks have a problem that they will soon have to deal with. This impasse is the abundance of bottom six forwards the Sharks posses. At this moment San Jose has 22 players on the roster and an additional five on injured reserve. Those five are Tyler Kennedy, James Sheppard, Raffi Torres, Mike Brown and Barclay Goodrow. Besides Torres, these players should be healthy sooner rather than later. James Sheppard was recently sent to Worcester on a conditioning assignment meaning he is likely to return in the next few games. Currently his salary is being counted against the cap at a reduced rate. Due to the 23 man roster limit this will create some cap restrictions that the Sharks will need to address.
Forwards (13+5)

Tomas Hertl*
Joe Thornton
Joe Pavelski
Patrick Marleau
Logan Couture
Matthew Nieto*
Tye McGinn*
Chris Tierney*
Tommy Wingels
Eriah Hayes*
Andrew Desjardins
Adam Burish
John Scott*
IR
Tyler Kennedy
James Sheppard
Raffi Torres
Mike Brown
Barclay Goodrow*
Defensemen (7)

Marc-Edouard Vlasic
Justin Braun
Mirco Mueller*
Brent Burns
Matt Irwin
Jason Demers
Scott Hannan
Goaltenders (2)

Antti Niemi
Alex Stalock
*Player may be demoted without being counted against the salary cap. Source via CapGeek
Flooded
Looking at the roster there is some good news and some bad news. Surprisingly the Sharks are able to send down seven forwards without any repercussions towards the salary cap. This allows for a variety of choices including demoting John Scott for those of you who have not been won over by his exploits yet. Unfortunately, even with the amount of options the Sharks have moving forward none of the choices will be easy. For the duration of the season the Sharks will most likely have seven defensemen, two goaltenders along with their top six forwards in the roster for a total of 15. This means San Jose will have twelve forwards competing for the last eight remaining roster positions.
Options
Eriah Hayes
played 15 NHL games last season, and hopes to stick around longer this season.
The injury to Raffi Torres only complicates matters in the cases of Chris Tierney and Barclay Goodrow. If the Sharks wish to keep these two on the roster and they play ten or more games then it will reduce their waiver exception status. Both Eriah Hayes and Tye McGinn do not have this luxury. In the case of Hayes, he has already cleared waivers once but if he plays over ten games he will have to clear waivers yet again. Tye McGinn has yet to ride the waiver wire this season. With the Torres injury, San Jose needs to narrow their forward roster down from eighteen to fifteen quickly and it will be interesting to see what they decide to do.
Obviously certain players making up the bottom six are unlikely to to move such as Tommy Wingels, Andrew Desjardins and James Sheppard when he returns. Adam Burish and Tyler Kennedy are the most likely trade candidates but doing so without a backup plan would be foolish. Burish missed almost the entire season last year and Kennedy lost his roster position but the possibility of having bounce back years is not out of the question so making an early trade could backfire. One or two of the young forwards are guaranteed to be among the 23 man roster for the duration of the season but increasing that number to three or four could be a recipe for disaster. The Sharks are already putting a lot of faith in the younger core of Tomas Hertl, Matt Nieto, and Mirco Mueller as well as expanding the roles of Justin Braun and Jason Demers. Too much of a burden could wear the team down late in the season. Already the Sharks third line of McGinn, Tierney and Wingels is beginning to show its difficulties keeping up against unfavorable match-ups on the road.
Chris Tierney has three more games left before San Jose will have to make a decision on him. Hopefully by then some of the injured players will be ready and they won't have to make a sacrifice they aren't prepared for. Perhaps Barclay Goodrow will take his place and only play nine games then be demoted as well. Of course the Sharks could make a decision later in the season if need be while they are playing in Worcester. One thing is for sure, with the competition to grab those roster spots on the bottom six no one should feel safe. It may just be the driving force the team needs to create a more well rounded bottom six which is something the Sharks have lacked for a number of seasons.