Well, Ilya Kovalchuk is now well into his second season as a full time KHL player. Hard to believe its only been a year and 2 months since Kovalchuk announced his retirement from the NHL. We can blame Gary Bettman and company for his desire to play back home in the first place. But, now that he's back in his homeland, he seems to be happy and is playing extremely well. The odd part is that in an interview shortly after his retirement, Kovalchuk was quoted saying,"The Stanley Cup remains my target." So, is a Kovalchuk return evident?
What Made Him Leave?
First off, let's have a look at some of Kovalchuk's best NHL moments.
The lockout in 2012-13. During the time off from hockey in North America, Kovalchuk spent the extra break back in his home country of Russia with SKA St. Petersburg of the KHL. He found this to be much more fun for him as he was finally able to have friends and family not only at his games, but also be able to spend time with them off the ice. Obviously, Kovalchuk felt far more comfortable with this lifestyle as opposed to the more independent and 'nothing but hockey' life in the NHL. Once the 2013 season got back underway in the NHL, Kovy returned to the New Jersey Devils for that season, but clearly, with the ability to easily compare his Russia life to his North America life in one year, he decided he would be much happier living and playing full time in the KHL.
Kovalchuk Loving Life in KHL, Russia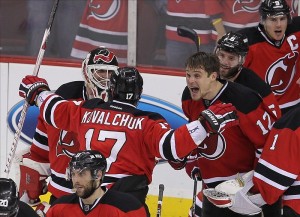 In 2013-14, Kovalchuk's first full KHL season, his SKA St. Petersburg finished second in their conference before falling to underdog Lokomotiv in the first round. In his individual side, Kovy tallied 16 goals and 24 assists for 40 points in 45 games. Perhaps not as great of numbers we would expect from him playing in a league that is knowingly still not at the same level as the NHL, but still acceptable from a guy getting used to a new league and relaxing at home far more often. So far in the 2014-15, it has been an unbelievable run. SKA St. Petersburg is first in the KHL so far, starting 17-1-0. Ilya Kovalchuk is first in league scoring, putting up 16 goals and 14 assists for 30 points in 18 games thus far. There's no question, Kovy should lead the KHL in scoring this year. He is by far the most talented player in the league, and also much more comfortable in the league now.
What are Kovalchuk's Future Plans?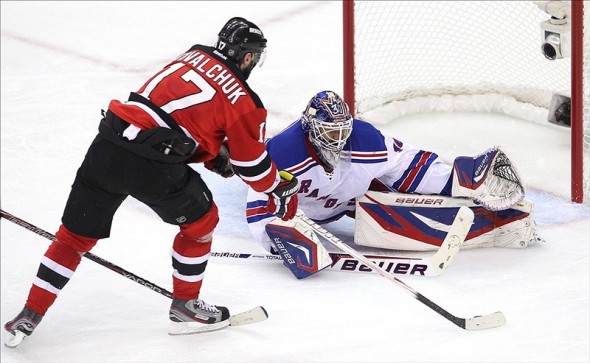 Ilya Kovalchuk is only 31 years old, meaning he still has a ways to go in his career, four or five years would be a fair estimate, barring good health. However, what is unknown is where he will spend the remainder of his career. Shortly after his retirement in August of 2013, Kovalchuk was interviewed and said, "(The) Stanley Cup remains my target. I'm just 30, it's yet to come." Does this mean he has intentions to return to the NHL after his 4 year contract with SKA St. Petersburg? Quire possibly, yes. At the same time, the KHL has been very outgoing in saying that they believe both Alex Ovechkin and Evgeni Malkin will follow Kovalchuk's lead as early as the 2015-16 season. Kovy would still be under contract in KHL at that time, would Ovechkin and Malkin convince him to stay in Russia for the rest of his career? Only time will tell.
In the end, Ilya Kovalchuk is set to remain in the KHL until 2016-17. After that, who knows if he will want to return to the NHL in search of a Stanley Cup. But, to be able to do that, all 30 owners of the NHL teams will have to accept his request to return from retirement. If that goes through, he will be property of the New Jersey Devils. But that's all three years from now. Until then, let's hope he continues to tear up the KHL and remains healthy through his 30's.