It has been a turbulent last few years for the now, Arizona Coyotes. Yes I almost typed Phoenix yet again.
---
How many times have you slipped up saying Phoenix Coyotes instead of Arizona Coyotes?
You know what, I don't think I've made the mistake yet. Of course, now that I say that, I'm sure it's destined to happen but I've gotten into the habit of just calling the team the 'Coyotes,' so I think that's helping me out.
What went wrong last season because it seemed like a playoff spot was there for the taking?
It's easy to pinpoint a seven-game losing streak in March and April as the culprit for why the Coyotes didn't make the playoffs, and it certainly hurt their chances – especially since the skid coincided with an MCL injury for goalie Mike Smith – but there were issues that popped up earlier in the season that hinted they'd struggle to make it in. They departed from their trademark defensive style and fell into the habit of winning high-scoring games early in the season, and that wasn't conducive to getting them to readopt the tight, detailed-orientated identity that's guided them in the past. So when the games got more competitive as the season went on, they had trouble keeping up and watched a handful of third-period leads disappear because they didn't have the defensive principles in place to seal a win.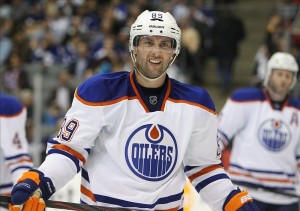 Did you ever expect Sam Gagner to end up with the Arizona Coyotes? Why or why not?
In the past, when I thought of centers the Coyotes might target, Gagner was a name I couldn't rule out. First and foremost, he offers a skill set that isn't common on this team. Although many believe he hasn't reached his potential yet, he has a knack for creating offense and being able to execute. And for a team that's hungry for goal scorers, he seemed like he'd be a complement that way. But I also believed that the structure that a Dave Tippett system offers might be able to catapult him to that next level. It's still too early in the season to make any judgment calls but as he gets more familiar with the expectations in Arizona, I could see him continuing to grow as a playmaker in this league.
Max Domi was deemed not to be ready for the NHL just yet? Why is that?
There's speed and then there's quickness and although Domi can motor around the ice, he needs to make decisions and move the puck faster. That's not a knock on where he's at as a 19-year-old. He simply needs more maturity and seasoning to be able to keep up with the men in this league. Once he combines that with the talent he already has, he'll be ready to assemble what many predict will be a lengthy and successful NHL career.
Among forwards, defense, and goalies, which one is your biggest worry?
Offense is usually the chief concern for this team and although they've had a few hiccups on defense and in net to start the season, I think putting the puck in the net is most likely to be the issue that bothers this team down the road. I think Smith will improve. Same with the defense – which could also be bolstered via a trade. But adding goal scorers deep into the season isn't a guarantee, especially since this team isn't typically an active buyer at the trade deadline. So I think a lack of consistent offensive performers is the problem that could hinder the Coyotes the most.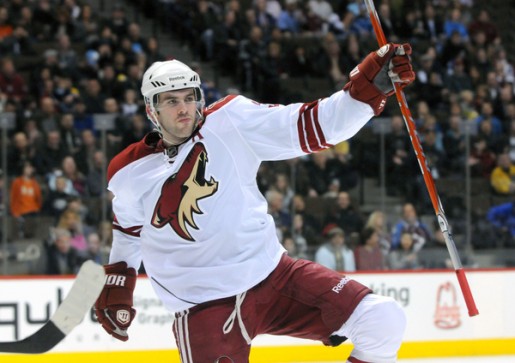 Keith Yandle has been the center of a few trade rumors the last year or two. Is this the season he gets moved or does he stay?
I think he has to stay. With a team short on offensive options, it seems foolish to move a player who is dynamic enough to produce from the back end. Yandle has led this team in points the past two seasons and although he's working to improve his play in his own end, offensive-minded defensemen like him are rare. He's their power play quarterback, as assist machine and has unique vision from the blue line. At this point, he's too valuable to this team's success to move.
Is there a point where the Arizona Coyotes maybe consider doing a rebuild?
Maybe, but I don't think they're ready for that step just yet. Too many of their leaders are into their 30s, and jostling for top draft positioning isn't an attractive option to them. Plus, they have a competitive coach in Tippett and preparing as a bottom-feeder just doesn't seem to be in his DNA. And if Smith can rebound and be a top-10 goalie, he gives them a chance to win every night. This season could be telling and eventually the Coyotes will have to mix younger pieces into their core, but I don't think they'd consciously seek a rebuild until they're convinced they can't compete with the veterans they currently have on the roster.
With the new ownership that means a little more money to go around, does that change spending at all?
That remains to be seen. Until Andrew Barroway is officially inducted into the ownership group (and that'll happen once Board of Governor approval is given likely at the end of October), we won't know his answer. It's possible a change in the ownership does bring an infusion of capital that could spike payroll but until Barroway lists that as a priority of his, I'm hesitant to label it as a given.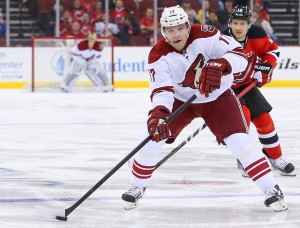 Who was the toughest player to lose in free agency or via trade this summer?
Without a doubt it was winger Radim Vrbata. He was a perennial 20-goal scorer for the Coyotes and had solid chemistry with center Martin Hanzal. The Coyotes weren't able to reach a deal with Vrbata, who decided to join the Canucks, and his departure definitely left a hole in their offense. It's likely they'll have to fill that gap by committee.
Who is the one team in the division that concerns you the most?
In the Pacific Division, it's hard to pick just one. The obvious choice is the defending Stanley Cup champion Kings, and I'd agree with that. Although the Coyotes have matched up well with them at times in the past, the Kings get even more dangerous as the season inches closer to the playoffs. And once they're in, they seem to kick it into another gear that other teams just can't match. Their forward depth is top-notch, and they have a mix on the blue line that wins. A healthy Jonathan Quick in net isn't too shabby, either. When they're on, they're hard to beat.
What prospects are on the farm that we should know about in the future?
It's possible the Coyotes call up forwards Henrik Samuelsson, Tobias Rieder and Lucas Lessio at some point this season. All had quality performances at training camp but just weren't ready to pry a roster spot away from a more established player. Samuelsson has the skill and size but has needed to work on his skating. Rieder is a smooth skater with a slick shot, and Lessio has speed and energy that a veteran team like the Coyotes might need. They all could be fixtures for the Coyotes in the future.
Where do you think the Arizona Coyotes will finish in the Pacific? Playoff berth? Cellar? Somewhere in between?
Probably somewhere in between, vying for a wild card berth until the final days of the season. They're too prepared with a coach like Tippett at the helm to be irrelevant by Christmas time, but do they stick to their style enough to outlast the likes of Anaheim, San Jose and Vancouver? That remains to be seem. I think if the Coyotes are still in the hunt late in the season, that's a good sign for a team that many expect to not be able to qualify for a playoff spot.
Simply a hockey writer who is a jack of all trades. No question is too big or too small and in fantasy hockey there is no such thing as a stupid question. Now a proud, accredited member of the FSWA. I am also a New Jersey Devils lead writer, prospects writer, humorist, and so much more. You can find me on Twitter at @ChrisWasselDFS