Well, the hiring of Mike Babcock certainly changes things for the Toronto Maple Leafs, especially when it comes to team captain Dion Phaneuf.
When the Maple Leafs finally finished their 2014-15 season, Brendan Shanahan quickly tore down the management and coaching staff. The players were assumed to be next. Dion Phaneuf, Phil Kessel, Tyler Bozak and Joffrey Lupul were just some of the names that were thrown around.
Now that Babcock is in Toronto, could Phaneuf end up staying with the Leafs?
Mike Zeisberger of The Toronto Sun pointed out some of the impact that Babcock will have on different storylines for the Leafs. One of them is about Phaneuf. He mentions that Babcock was said to be supportive of the Red Wings acquiring Phaneuf at the Trade Deadline. Could that mean Babcock wouldn't mind having Phaneuf as one of his players?
Phaneuf was asked if he was ready for the pain that Babcock mentioned introductory press conference.
"Yeah, I'm in… I signed here for seven years for a reason. To be part of it. I'm fully prepared to go through the process."
Phaneuf wasn't holding back his view on how he felt about the Babcock hiring.
"I'm excited. And the guys are excited, too. It's big for our fans and our organization… There was a lot of interest in where he was going to go, and rightfully so. You want to play for a coach of his calibre… You can see how prepared he is, how he makes a plan. He's won at every level and I'm looking forward to working for him."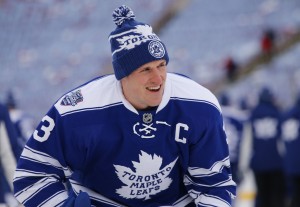 Will Phaneuf get the chance though? Will the Leafs still end up trading Phaneuf for whatever they can get for him? Is keeping Phaneuf really worth it with the rebuild. He's already 30 years old. That means he'll be 38 by the time Babcock's contract is over. Even if the Leafs were to never trade him, would the Leafs even want to retain him after his seven-year is finally over? Unless he finds a way to become the next Chris Chelios and play into his 40's, how useful will he be by the times the Leafs are ready to contend again?
Even though he has a better chance of staying with the team now, the Leafs should stick to their plan to trade Phaneuf sooner rather than later. It might not happen at the draft, maybe not even during the coming off-season at all, but it will happen. Even if Babcock wouldn't mind having Phaneuf in his lineup, the Leafs should move forward without him. He might want to stay but he has been part of the problem for so long that it's hard to imagine that he could be part of the solution as well.