Throughout their history, the Boston Bruins have boasted many dynamic duos, such as Phil Esposito and Ken Hodge, Rick Middleton and Barry Pederson, Cam Neely and Adam Oates, Jason Allison and Sergei Samsonov, Joe Thornton and Glen Murray, and now Patrice Bergeron and Brad Marchand. Here's a look at each of these dynamic Bruins duos and what these pairings accomplished together.
Phil Esposito and Ken Hodge
Esposito and Hodge formed an iconic duo in the late 1960s and early 1970s, forming two-thirds of what became known as "the Nitro line" alongside Wayne Cashman. The Bruins made the playoffs every season that the Nitro line played together and helped Boston win the Stanley Cup in the 1969-70 and 1971-72 seasons. The two were acquired in a trade with the Chicago Blackhawks ahead of the 1967 Expansion Draft. Boston sent 22-year-old defenseman Gilles Marotte, center Pit Martin and minor-league goaltender Jack Norris to Chicago in exchange for Esposito, Hodge and Fred Stanfield. 
---
---
In Boston, Esposito became the greatest scorer of his era and the first player in NHL history to hit the 100-point mark. He set many NHL records playing alongside Hodge, including the most goals and points in a season with 76 goals and 152 points in 1970-71. He was crowned the league scoring champion five times during the Nitro line's dominance with the Bruins. Through 625 games, Esposito amassed an incredible 459 goals and 553 assists for 1,012 points, which rank fourth all-time in franchise history.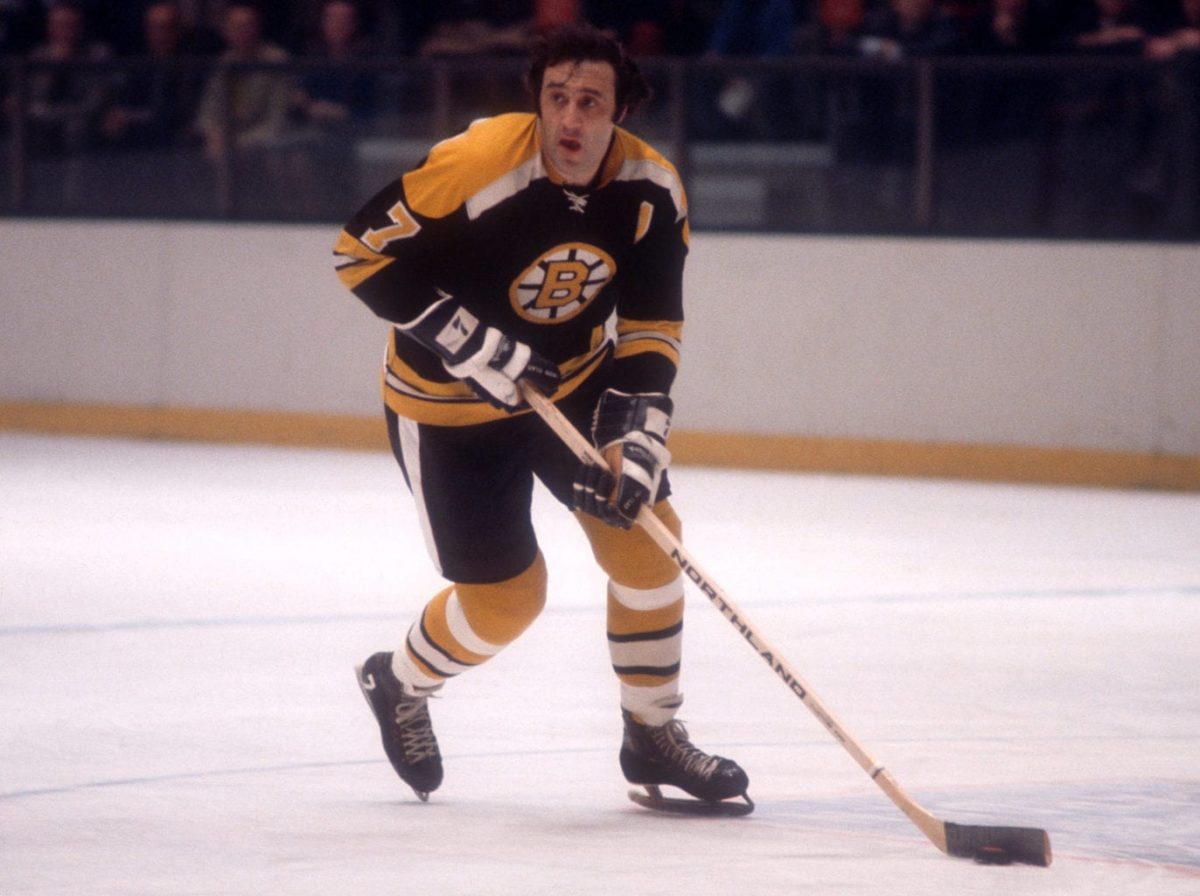 Hodge scored just 10 goals and 25 assists in his final season with the Blackhawks. However, he quickly benefitted from playing alongside Esposito, scoring 25 goals and 31 assists in his first season in Boston. He went on to play 652 games with the club, scoring 289 goals and 385 assists, ranked 10th on the Bruins' all-time points list.
The 1975-76 season marked the end of the Nitro line's run as Esposito and Hodge were traded to the New York Rangers in two separate deals. Esposito was devastated; he thought he would be a Bruin for the rest of his NHL career. "It took me probably a year to accept that I wasn't a part of the Boston Bruins anymore," he said years later.
Rick Middleton and Barry Pederson
During the 1980s, a new dynamic duo emerged for the Bruins. Coincidentally, Rick Middleton was the player Boston received from the Rangers in the Hodge trade ahead of the 1976-77 season. Middleton consistently improved his offensive output through his first four seasons with the club. He then scored 40 goals or more in five straight seasons, including two seasons where he eclipsed the 100-point mark.
With their first-round pick in the 1980 NHL Entry Draft, Boston selected center Barry Pederson 18th overall. Pederson played in the Western Hockey League (WHL) with the Victoria Cougars, with 52 goals and 88 assists in 72 games before the draft. Following the draft, he returned to the Cougars where he had a monstrous season, posting 65 goals and 82 assists in 55 games. He made his Bruins debut in 1980-81, playing in nine games and scoring one goal and five assists.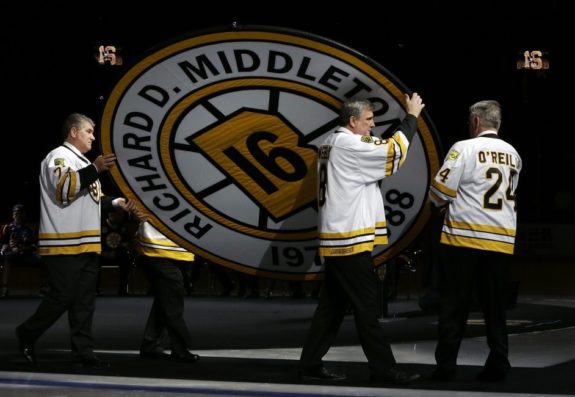 After becoming linemates with Pederson in the 1981-82 season, Middleton scored a career-high 51 goals in 75 games. With Pederson playing in his first full season in Boston, he continued to show his offensive prowess, scoring 44 goals and 48 assists in 77 games. The duo played most of five seasons as linemates, with Middleton posting 191 goals and 224 assists in 364 games. Pederson also boasted impressive numbers, with 165 goals and 412 points in 370 games. Middleton's 402 goals rank fourth all-time in franchise history.
Following the 1985-86 season, the Bruins sent Pederson to the Vancouver Canucks for Cam Neely, who formed half of the Bruins' next great duo.
Cam Neely and Adam Oates
Neely became the quintessential Bruin. His game exploded in Boston, and he produced at almost double the rate. While some may argue that Neely and Craig Janney should be on this list, when the Bruins shipped Janney to the St. Louis Blues for one of the greatest playmakers in NHL history, Adam Oates, they formed one of the most iconic duos in Bruins history. Many will forever remember Fred Cusick, the legendary voice of the Bruins, often calling Neely's name after scoring a goal.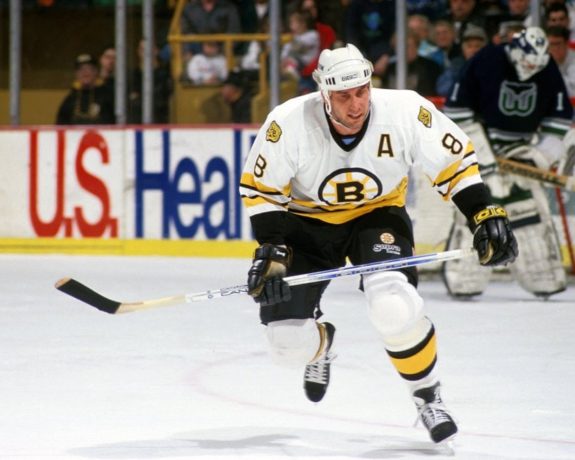 Oates was acquired during the 1991-92 season and formed instant chemistry with Neely. In 1992-93, Oates posted a career-high 142 points with 45 goals and 97 assists. While Neely was limited to just nine games, he scored at a goal-per-game pace, with nine goals and three assists. Alongside Oates, Neely scored at a 0.75 goals-per-game rate compared to a 0.62 goals-per-game average when playing with Janney. Through 153 games together, Oates scored 114 goals and 65 assists, while Neely scored 50 goals in 49 games during the 1993-94 season. From 1992-93 to 1995-96, Oates scored 114 goals and 285 assists before Neely was forced into early retirement.
Jason Allison and Sergei Samsonov
On March 7, 1997, Jason Allison came to the Bruins in a blockbuster deal with the Washington Capitals. Allison had torn up the Ontario Hockey League (OHL) with the London Knights, but he had not yet replicated his offensive success at the NHL level. That changed when Bruins head coach, Pat Burns, paired Allison with rookie Sergei Samsonov.
Related: Diving Deep: Bruins' Matt Grzelcyk, The Hometown Kid
---
Latest News & Highlights
---
Samsonov was selected with the Bruins' eighth-overall pick in the 1997 NHL Entry Draft, and despite selecting Joe Thornton first overall, it was Samsonov who turned heads as a rookie, winning the Calder Trophy that season. After a slow start, he heated up after being deployed alongside Allison, scoring 22 goals and 47 points in 81 games.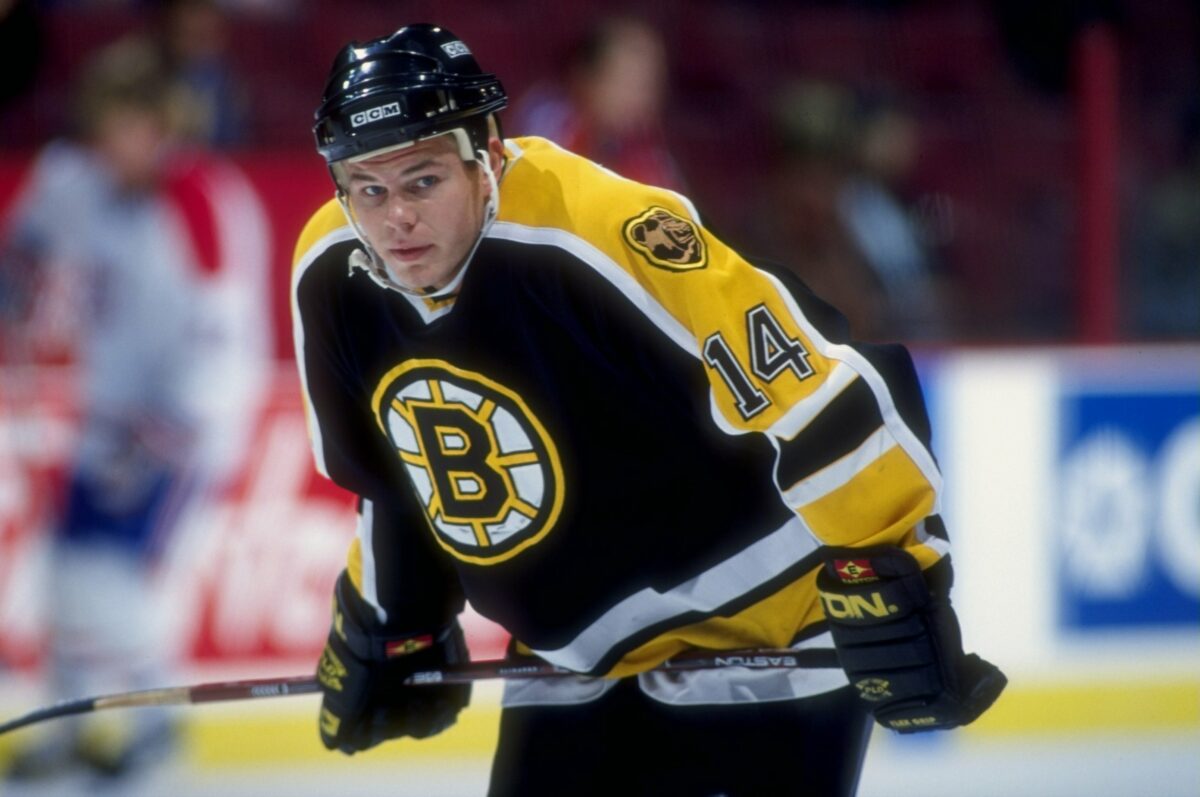 The duo was sometimes referred to as one of the best lines in hockey, as Allison put his playmaking skills on full display playing with the young Russian forward. Through four full seasons in Boston, he scored 102 goals and 282 points in 282 games and was briefly named captain following Ray Bourque's departure to the Colorado Avalanche. Allison also had a career-high 95 points during his final season with the club, while Samsonov provided highlight-reel offense alongside him, with 95 goals and 123 assists.
In Oct. 2001, amid contract negotiations, Boston traded Allison to the Los Angeles Kings to bring back Glen Murray, another formidable piece of the next great Bruins duo.
Joe Thornton and Glen Murray
At this point, Joe Thornton was establishing himself as the premier playmaker and quickly formed chemistry with Murray. They played three full seasons together on the top line before the Bruins sent their young captain to the San Jose Sharks in a blockbuster deal that did not turn out well for Boston.
During their time as the Bruins' dynamic duo, the team had plenty of regular-season success, but they were unable to go far in the playoffs. In four seasons with Thornton, Murray scored at a career-high rate, totaling 117 goals and 223 points in 245 games. He also had the best season of his career in 2002-03, posting 92 points (44 goals and 48 assists). He retired a Bruin after the 2007-08 season.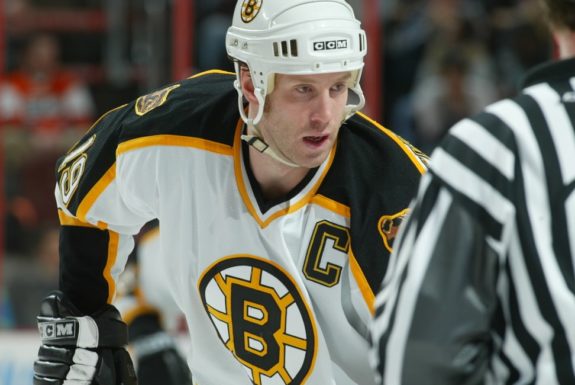 In his three seasons centering Murray, Thornton scored 81 goals and 161 assists in 220 games. In the same season he was traded to the Sharks, the future Hall of Famer won the Hart Memorial Trophy as league MVP and his only Art Ross Trophy as the NHL's top scorer.
Patrice Bergeron and Brad Marchand
Patrice Bergeron and Brad Marchand have formed one of the most dynamic duos in franchise history. Bergeron has been a role model for Marchand while also helping mold him into a reliable two-way player. On March 18, 2023, against the Minnesota Wild, the pair broke a franchise record for the most times factoring in on the same goal. They have combined for 407 goals together, topping Esposito and Hodge, who previously held the franchise mark at 406.
Related: Bobby Orr's Landmark Season
Marchand had only 20 NHL games under his belt before head coach Claude Julien put the rookie alongside Bergeron during the 2010-11 season. The chemistry was there right from the beginning, and Marchand scored 21 goals and 20 assists during the regular season before they played a vital role in the Bruins' 2011 Stanley Cup championship. In Game 7 of the Cup Final, both players scored two goals to clinch the victory over the Canucks.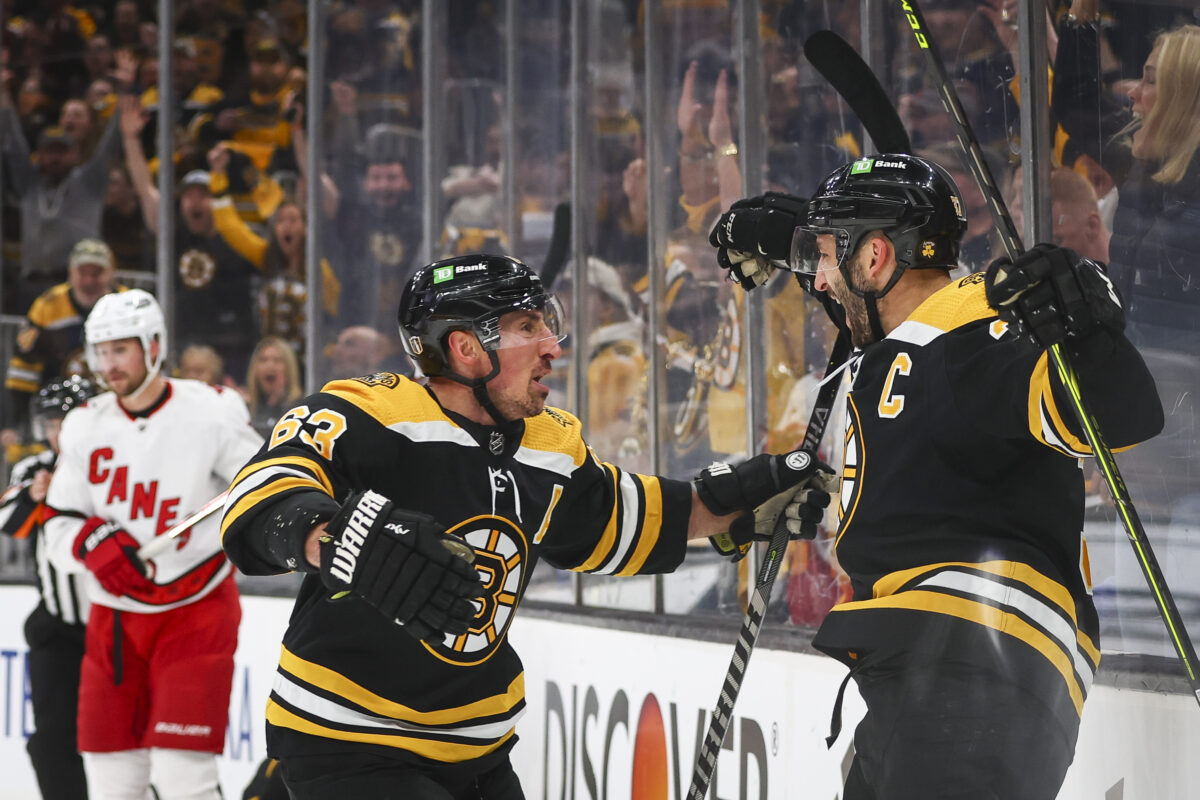 Over a decade later, the two remain on the same line and whoever has joined them has had their share of success as well. Early on, Tyler Seguin occupied the right side before he was traded to the Dallas Stars. David Pastrnak then joined the iconic duo to form "The Perfection Line." In 2022-23, Jake DeBrusk joined the legendary duo and has put forth a career year. Not only are Bergeron and Marchand premier offensive performers, but they also form an elite penalty-killing tandem and are a shorthanded threat. Marchand ranks first all-time in Bruins' shorthanded goals with 33 and Bergeron is fourth with 22.
On a recent episode of 32 Thoughts with Elliotte Friedman, Bergeron said this of their special bond: "Over the years, you know, you play with someone for so long, he's on your left side, or you go through ups and downs, and you create connections beyond just being friends. You're best friends. It's a special bond. It's something I'm very lucky to have."
Both players continue to climb the franchise leaderboard, as Bergeron sits third in goals with 426, while Marchand sits sixth with 371. The Bruins' captain also ranks third all-time in points, with 1036, while his linemate ranks seventh with 856.
Bruins Easy Transition from One Duo to the Next
It is incredible that the Bruins transitioned so easily from one duo to the next. Hodge being traded for Middleton directly led to the duo of the 1980s. The Pederson trade not only brought Neely to Boston but also gave the Bruins a first-round pick, which they used to select defenceman Glen Wesley. In turn, they traded Wesley to the Hartford Whalers for three first-round picks, one of which they used to draft Samsonov. The Oates trade brought back Allison, who eventually brought Murray to the lineup. We'll have to see if the Bruins decide to trade Marchand when Bergeron retires in an attempt to create the next dynamic duo.
Who Is the Greatest Bruins Duo Ever?
Esposito and Hodge helped Boston win two Stanley Cups, a feat no other duo has been able to accomplish. Middleton and Pederson were great during the regular season but never won Boston a championship. Neely and Oates might have become the best-ever Bruins duo had it not been for Neely's injuries and early retirement. Although Allison and Samsonov were great, the Bruins of the late 1990s did not have great team success, while Thornton's time in Boston will be forever judged by his inability to lead the team on a deep playoff run despite great regular-season success. This leaves the current duo of Bergeron and Marchand as the greatest duo since the Esposito era.
Bergeron and Marchand haven't won a second Stanley Cup, but they came close with Cup Final appearances in 2013 and 2019. It's hard to argue against putting these two superstars at the top of the list, given their longevity and chemistry together. Fans have been blessed to witness one of the NHL's greatest duos suit up for the black and gold for over a decade. With the historical season they are putting together this year, there is no telling how this ride may end.