In today's NHL rumors rundown, could the Dallas Stars pursue Tyler Bertuzzi in the offseason? What are the Columbus Blue Jackets making their offseason priority? And, in both of these situations, could the Boston Bruins lose two significant players? Finally, Rasmus Sandin clears the air about his exit from Toronto.
Bertuzzi on Stars' Radar?
Jeff Marek and Elliotte Friedman had a long discussion about the Dallas Stars on Monday's 32 Thoughts podcast and Marek noted that he believes Tyler Bertuzzi might be someone the Stars heavily pursue this coming offseason. Bertuzzi was traded to the Boston Bruins ahead of the deadline and he's a pending UFA that the Bruins might have a hard time retaining if the ask on a long-term deal is a priority for the player. The Stars might be willing to accommodate Bertuzzi.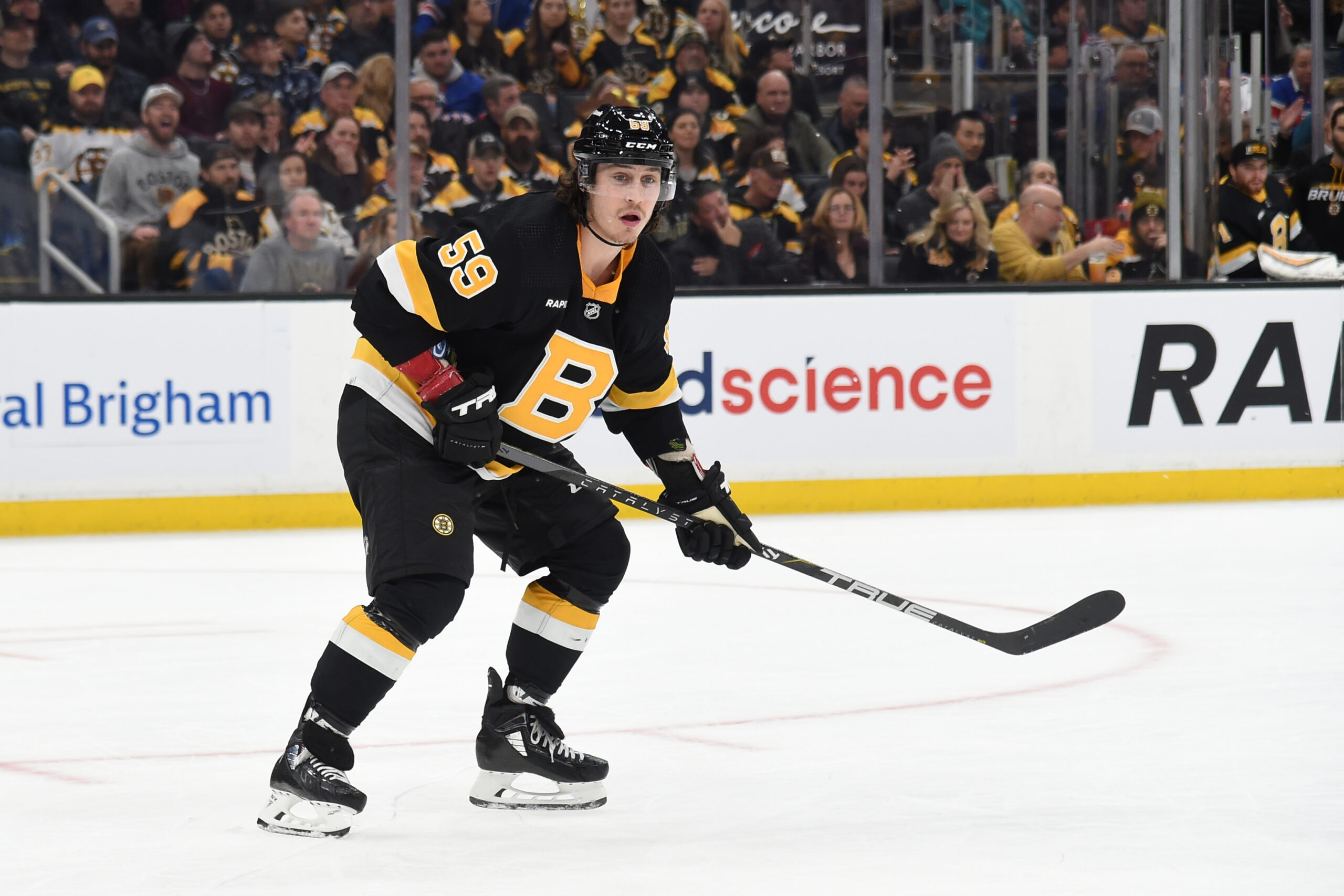 Marek notes that Bertuzzi's style of play is the thing that's been missing from the Stars lineup and they have a need there. He notes there was interest from Dallas ahead of the deadline, but ultimately the Bruins made the pitch by sending a first-round pick back to Detroit. That wasn't something the Stars wanted to do.
Blue Jackets Looking for a Defenseman
After trading Vladislav Gavrikov and not successfully trading for Jackob Chycrhun, the Columbus Blue Jackets are in the market for a defenseman, writes The Athletic's Aaron Portzline. He believes they'll be looking for "a left-shot defenseman who can average 18 minutes per game, is strong defensively and kill penalties."
Related: Sharks and Oilers Could Make Huge Campbell and Karlsson Trade
Among the names he mentioned that might be on their radar, Portzline notes that Ian Cole, Brian Dumoulin, Ryan Graves, and Dmitry Orlov, and Dmitri Kulikov could be targeted. When it comes to Orlov, Portzline isn't sure that the defenseman would leave a contender for a team that isn't. He writes:
The Bruins acquired him from Washington at the trade deadline, and he's been terrific. They'll probably try to keep him, but if he hits the market there will be intense competition to sign him. Would Orlov, who turns 32 this summer, look Columbus' way after playing for winners in Washington and Boston? That's a good question.

source – 'Blue Jackets Sunday Gathering: 6 free-agent defensemen who would make sense in Columbus' – Aaron Portzline – The Athletic – 03/19/2023
If the Blue Jackets win the lottery and the right to draft Connor Bedard, it will be intriguing to see if free agents look at the team differently. Orlov might see there's something there, plus he'll get the big money he might not get from other teams.
Rasmus Sandin Did Not Request Trade Out of Toronto
In speaking with the media, Joshua Kloke of The Athletic writes that defenseman Rasmus Sandin said unequivocally, "I did not request a trade out of Toronto." He added, "I had literally no idea I was getting traded."
---
---
Sandin has been highly productive in elevated minutes for the Washington Capitals since being traded by the Maple Leafs. The defenseman noted that GM Kyle Dubas advised him at the time of the trade it wasn't a deal he wanted to make, but felt it was best for the team and a good opportunity for Sandin. The latter certainly appears to be true.
---
Latest News & Highlights
---
Kloke adds that there were rumors Sandin might have asked out and explains:
Despite rumours to the contrary, likely a by-product of an emerging talent who didn't get the kind of playing time that talent might dictate in Toronto, Sandin insists he never once thought about requesting a trade either. After he was drafted in the first round in 2018, Sandin moved from the Soo Greyhounds to the AHL's Toronto Marlies. He had the on-ice smarts, the vision and the puck-moving skills that made him look like a decent grab at No. 29.

source – 'Capitals' Rasmus Sandin reflects on shock of Maple Leafs trade, finding role with new team' – Joshua Kloke – The Athletic – 03/21/2023
When it came to why Sandin didn't quickly sign this past offseason and a similar deal to Timothy Liljegren's, Sandin noted, "What people don't know is that my mom got sick in the beginning of 2022. She got cancer. …That's a big part of why I stayed at home, so I could spend time with her." It was only when she told him to go back to the team that he did and signed an identical deal to Liljegren's. Sandin noted that Toronto didn't have any hard feelings about this.